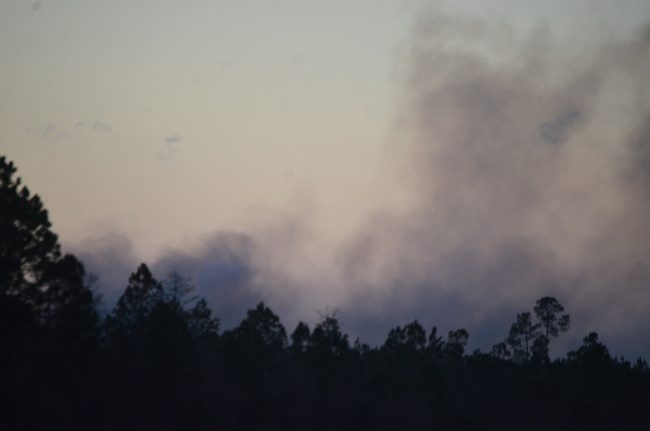 A forest fire broke out in mid-afternoon today (Feb. 15) in the vast, largely uninhabited woods between Old Haw Creek Road and State Road 11, southwest of Bunnell. The fire, aided by winds that reached 50 mph, spread rapidly, so that by sunset it had consumed between 250 and 300 acres and was still burning, uncontrolled, as Flagler County Fire Rescue and Florida Division of Forestry crews were attempting to contain it.
The fire was still several miles from the nearest homes to the east, however, and by evening firefighters were getting reports that the wind might shift and push it back in a westerly direction.
"There's no immediate houses in danger right now," Flagler County Deputy Fire Chief Joe King said late this afternoon as he was at the scene with Fire Chief Don Petito. The fire was moving from SR11 toward Old Haw Creek Road. "It's moving decent because of the wind, it grew 100 acres in 45 minutes to an hour," King said.
Reports had rapidly gone from it being a 50-acre fire to a 150-acre fire to nearly double that size.
The county's fire trucks have been deployed on State Road 11 and on Old Haw Creek Road, near homes, while the Division of Forestry brought in five tractors to plow containment lines around the fire. The evening's calmer winds are expected to help better control the emergency. Flagler County Fire Flight, the county's emergency helicopter, has been in the air for much of the afternoon, dousing the flames in water. County units at the scene include Engines 71, 51, 92 and 16 and battalion chiefs in addition to Petito and King.
Fire Flight was still flying after nightfall.
"We're definitely between 250 and 300 acres right now," King said.
The fire has closed Route 11 northbound from County Road 304 (Cody's Corner), and southbound 11 from Old Haw Creek Road. Haw Creek Road itself remained open.
Firefighters were actually on another, much smaller fire, south of that scene earlier in the afternoon. A unit was returning to Bunnell to get more water when its crew spotted the smoke from the Haw Creek fire. Battling that fire began at just before 3 p.m.
The fire is not easily accessible to regular traffic, but crews have reached it through access roads. Asked if there was any way to specify if any part of the fire zone has been contained, King said: "Unknown at this time."
Power is also down in the affected, purposefully so, so as not to endanger work crews in case of severed power lines.
This is the largest fire in Flagler County since the significant emergency of 2011, when the Espanola fire that June started over a few dozen, then a few hundred acres, in two separate fires that joined, then grew to over 5,000 acres, burning for three weeks and exhausting crews before rain and containment slowly drained it of flames. That fire required the intervention of a crisis management team from Jacksonville and other large-scale means of firefighting.