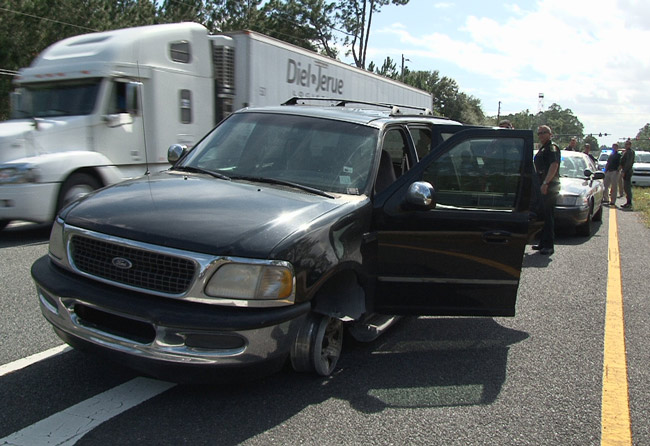 An intensely busy day for Flagler County police and rescue authorities got even busier just after noon Monday as three police agencies and Flagler County's Fire Flight were able to chase and stop an eluding pair of suspects wanted in a series of burglaries in Palm Coast and elsewhere.
The two alleged burglars made news in Flagler County just before the weekend, when a homeowner–and victim–along with the Flagler County Sheriff's Office released video of the burglars scoping out a house at 105, Covington Lane, then, out of the camera's view, breaking in. They got away with a box containing valuables, cash, a checkbook, a passport and other items. (See the video below.)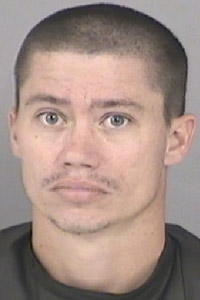 That burglary took place on Oct. 5. But the burglars may have been involved in several other burglaries as well. In the surveillance video, a woman who appears to be in her 20s, and a lanky man, also relatively young, are clearly visible in several sequences, as is their black SUV, what appears to be a Ford Expedition with chrome mirrors.
The vehicle, or one identical to it, appeared today in conjunction with a burglary that may have taken place in the Parkview area of Palm Coast. Those details have yet to be confirmed. But at about 12:30 p.m., Flagler County Fire Flight–which has had an extremely busy three days, conducting three trauma evacuations between Saturday and Monday morning, the last at 8:30 a.m. from White View Parkway–was called into action again to assist in a cop chase.
The vehicle in question: a black Ford Expedition with chrome mirrors, carrying a woman in her 20s and a lanky man. The man turned out to be William Fulkerson, 36, of 2125 Woodstork Ave. in St. Augustine, who'd been arrested once in Flagler County for loitering or prowling, back in April. His companion was Carmen Kilgore, 28, a transient.
Deputies had matched the vehicle to the surveillance video, and tried to stop it on North Parkview Drive in Palm Coast. The driver refused and fled from deputies on a route that snaked through Palm Coast at speeds of between 30 and 40 miles per hour, according to the sheriff's office. Its route: Parkview Drive onto Belle Terre Parkway, then north to Cypress Point Parkway to Walmart to Cypress Edge Drive and onto Palm Coast Parkway eastbound, until it reached the northbound ramp to I-95. At one point, deputies deployed stop sticks on Cypress Edge Drive, causing damage to the two tires on the driver's side.
The vehicle reportedly struck another car at the Dunkin' Donuts shop on Palm Coast Parkway. A Florida Highway Patrol trooper, who happened to be driving along Palm Coast Parkway, was able to pick up the chase almost immediately, along with the sheriff's office–and Fire Flight, which caught up with the suspects around the Matanzas Woods Parkway, as the SUV was speeding north on I-95.
The vehicles tires began to deflate, but the vehicle kept driving even as the rubber shredded off. The chase continued into St. Johns County, where it was joined by the St. Johns County Sheriff's Office, as the SUV made a turn onto County Road 206 and drive roughly five more miles east, past Pedro Menendez High School. But as the SUV approached U.S. 1, cops had arrayed themselves with weaponry, and Fire Flight hovered over the vehicle, giving it nowhere else to go.
The two suspects in the vehicle were apprehended. The vehicle was processed to some degree at the scene, then towed by John's Towing to the Flagler County Sheriff's Office's impound yard. The sheriff's office is investigating, as is the St. Johns County Sheriff's Office.
The pair may be tied to as many as two dozen burglaries in a three-county area in the last six months, the sheriff's office said in a release. Flagler detectives are working with investigators from St. Johns and Voluisa Counties to clear up what is expected to be at least 24 burglaries between the three counties.
Fulkerson is being held at the St. Johns County Jail on charges of felony fleeing and eluding a police officer and criminal mischief. Kilgore is still being questioned by detectives. Both are facing additional charges in Flagler, St. Johns and Voluisa Counties.
It wasn't the end of Fire Flight's long day: it was back in the air just after 5 p.m. on a report of an elusive brush fire. (A fire was eventually spotted in the area of County Road 95, near County Road 2006, but it was a controlled burn.)
---
Raw Footage of the Escape Vehicle at U.S. 1 and CR206[media id=304 width=500 height=400]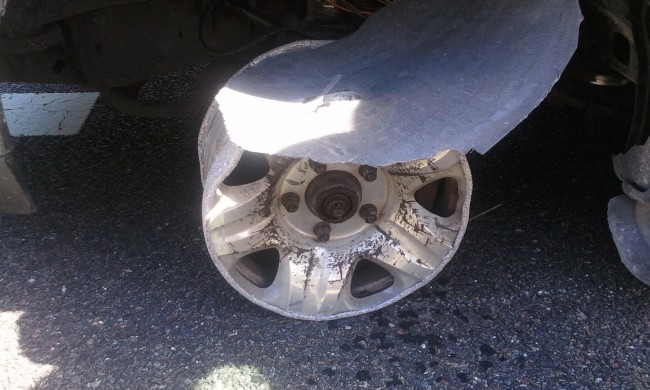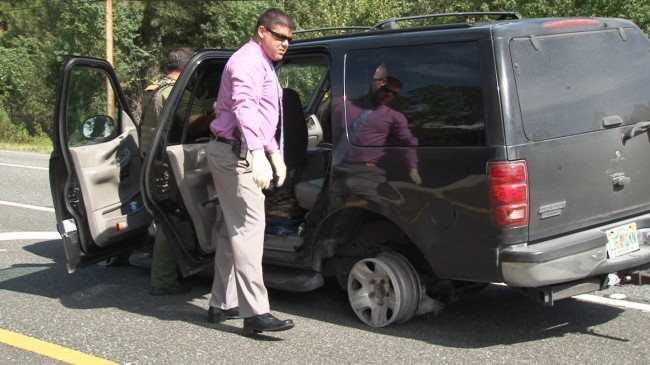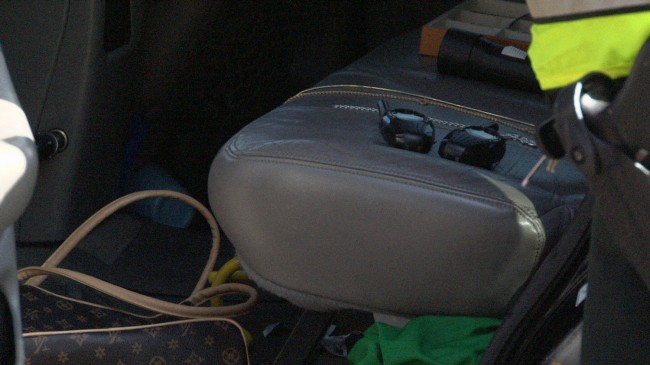 ---
Surveillance Video from 105 Covington Lane[media id=302 width=500 height=400]