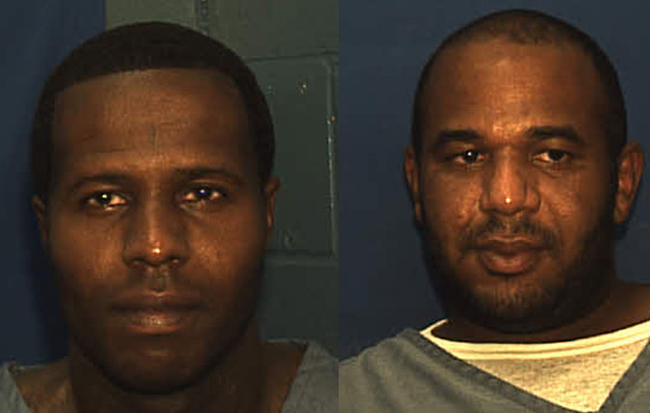 Florida Department of Law Enforcement Commissioner Gerald Bailey announced the arrest of four suspects in connection with the investigation into the successful escape of two convicted murderers who used forged documents to get out of Franklin Correctional Institution in Carrabelle (on the Gulf coast south of Tallahassee) in September and October.
The escapes of Charles Walker and Joseph Jenkins deeply embarrassed the Department of Corrections and raised grave questions about the state's security measures, down to the office of the Orange County Clerk of Court, where the forged paperwork landed on desks that cleared the way to free the inmates on bogus reduced sentences. Walker and Jenkins were both serving life sentences for murder. Jenkins escaped on Sept. 27, and Walker escaped on Oct. 8.
They were re-arrested in late October.
The suspects FDLE arrested in the scheme are all current and former Department of Corrections inmates, and are charged with a combined 37 individual crimes. They are:
Nydeed Nashaddai, 48, Suwannee Correctional Institution, two counts conspiracy to commit escape, two counts principal to escape.
Jeffrey Forbes, 30, Florida State Prison, one count of escape, forgery, uttering a forgery and conspiracy to commit escape.
Willie Slater Jr., 36, Orange County Jail, two counts principal to escape, two counts conspiracy to commit escape, four counts uttering a forgery, one count tampering.
Terrance Goodman, 37, Panama City, Fla., one count harboring a fugitive, two counts conspiracy to commit escape.
In addition, Jenkins, 34, is charged with escape, principle to escape, two counts of conspiracy to commit escape, 6 counts of forgery, 6 counts of uttering a forgery. Walker, 35, is charged with one count of escape.
"FDLE investigators believe Nashaddai was the engineer of the scheme," said FDLE Commissioner Gerald Bailey. "He was the first to use it before passing his knowledge onto his fellow inmates."
But the arrests and FDLE's news release about the matter did not explain how the Orange County court system was hoodwinked.
"The Department of Corrections takes very seriously its primary mission of protecting the safety of Florida's families," Bailey continued. "The Department continues to work closely with our partners in the courts and law enforcement to prevent fraudulent inmate releases, and we have moved forward to outline additional verification requirements, review modified release orders, and evaluate existing inmate law library procedures."
The investigation shows Nashaddai taught and assisted Jenkins and Forbes in their escape attempts and Jenkins' subsequent escape in Sept. 2013. Jenkins forged release documents for inmate Walker who escaped in Oct. 2013.
Former inmate Slater helped on the outside ensuring the forged documents were delivered to the Orange County Clerk's Office.
Goodman, a friend of Jenkins, drove Jenkins and Walker to Panama City and rented them a motel room.
The Florida Department of Law Enforcement, along with the Bay County Sheriff's Office, Panama City Police Department and the U.S. Marshals Service Task Force arrested both inmates on Oct. 19, 2013 at Coconut Grove Motor Inn in Panama City Beach.