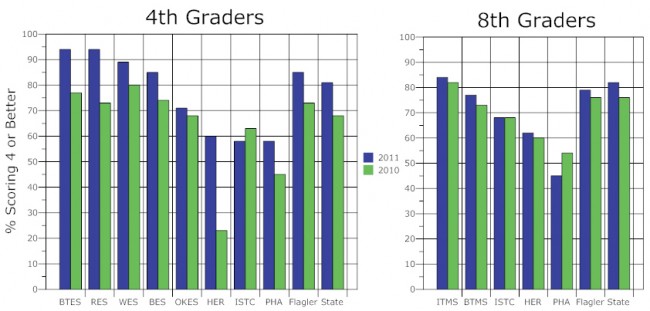 The Florida Department of Education released the first of several batches of FCAT scores today: Results of writing tests for 4th, 8th and 10th graders, which show marked, and in some cases unusual, improvements in almost every Flagler County school and across the state.
In fourth grade, 81 percent of students scored a 4 or better on the Florida Comprehensive Assessment test's six-point scale, up from 68 percent. "You don't usually see something like that," Jim Devine, the Flagler school district's assessment and accountability coordinator, said Wednesday. "It's a huge increase, it's very abnormal to have that large of an increase. The good news is that in the district we made the increases as well."
District-wide, 81 percent of 4th graders earned a 4 or better, up from 73 percent last year. The mean score in the county was 4.2, compared to 4 last year. Some 1,000 students were tested this year, about 30 more than last year.
Every school improved, some dramatically so: at Belle Terre Elementary and Rymfire Elementary, 94 percent of students scored a 4, up from 77 percent at Belle Terre last year and 73 percent at Rymfire.
The charter schools improved their 4th grade scores as well: from 23 percent getting a 4 last year at Heritage Academy to 60 percent this year, and from 45 percent at Palm Harbor Academy to 58 percent this year. Only Imagine School at Town Center declined, from 63 percent last year to 58 percent this year.
Among 8th graders, success rates increased slightly at Indian Trails Middle School and Buddy Taylor Middle School, but the overall district success rate of 79 percent with a 4 or above was three points below the state rate of 82 percent. That's definitely a red flag for us," Devine said.
Among the charter schools, the rate at Imagine stayed flat, at 68 percent, it rose slightly at Heritage, though the number of students tested was less than 20.
Among high school students, improvements were slight–from 76 to 79 percent getting a 4 or better at Matanzas High School, and from 75 to 78 percent at Flagler Palm Coast High School. The district average was three points better than the state's. (The district had originally reported FPC's percentage at 77 percent. It corrected that figure Thursday.)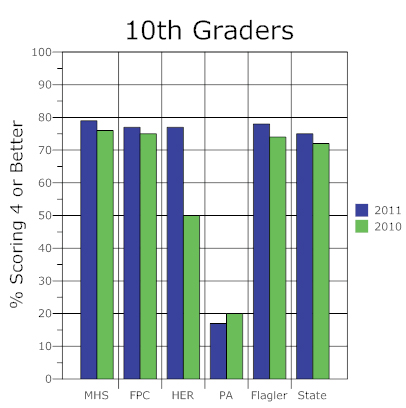 Devine says 4th graders this year were tested on expository skills, as opposed to narrative skills last year. There are slight differences in the two tests, but he said on the whole, the numbers are comparable–even though, from year to year, comparing one group of 4th graders to another isn't entirely fair: they're not the same students, it's not the same test, and the circumstances are different. Nevertheless, the state does make the comparisons and weighs a school's grade based in part on those comparative scores.
Middle schoolers were tested on expository skills both years. High school students were tested on expository skills this year, and persuasive skills last year.
Students never know from year to year whether they'll be tested on their expository or narrative skills: teachers are responsible for preparing them for both. The state randomly chooses between the two tests.
Another caveat in the scoring: until last year, two people scored each writing test–a subjective scoring system quite different from the multiple-choice tests with results that are either right or wrong. Applying two scorers to each test was to reduce the subjectivity factor. Last year, to save money, the state eliminated one of the two scorers, so that every test is now scored by just one person.
Writing scores count for only 12.5 percent of a school's eventual grade, once all FCAT and other factors are calculated. In high school, the writing score counts for even less. In coming weeks, the state will release results of high school "re-take" exams–for those high school students trying to pass the FCAT to graduate. That'll be followed by the reading and math test results.
Note: in the graphics, the acronyms for schools in Flagler County represent the following schools:
BTES: Belle Terre Elementary
RES: Rymfire Elementary
WES: Wadsworth Elementary
BES: Bunnell Elementary
OKES: Old Kings Elementary
ITMS: Indian Trails Middle School
BTMS: Buddy Taylor Middle School
MHS: Matanzas High School
FPC: Flakler Palm Coast High School
PA: Pathways (district's alternative school)
HER: Heritage Academy
PHA: Palm Harbor Academy
ISTC: Imagine School at Town Center