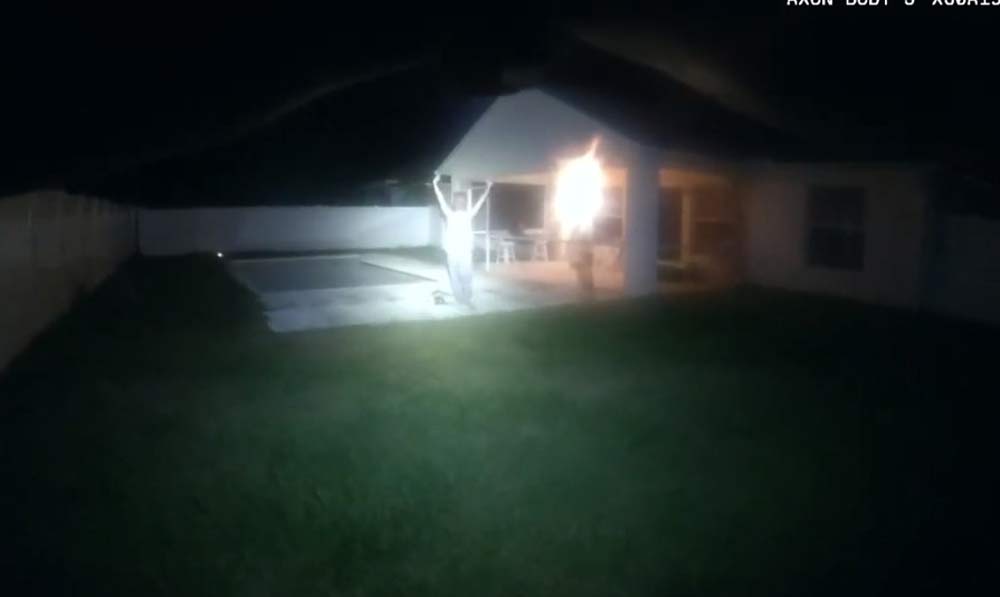 M.A.F., a 19-year-old resident of Evanston Lane in Palm Coast with a record of mental health issues, was arrested and charged with two counts of aggravated assault and two counts of battery on law enforcement officers after apparently experiencing a mental episode at his home Tuesday night.
According to his arrest report, M.A.F. started "manically taking things from around the house and throwing them," then tried to lock members of his family out of the house as he continued to rampage through the house before a family member tackled him as M.A.F. was swinging an electric guitar around in an assaultive manner.




The confrontation escalated, involving others, as M.A.F. got hold of a kitchen knife and pepper spray and made death threats to his family members before running through others' backyards, entering a home's lanai and causing property damage there and banging on a glass door with a shovel in an attempt to gain entry inside. "I am not here to hurt you," the residents there reported him saying, when they described the scene to sheriff's deputies.
Sheriff's deputies arrived at the scene, their presence and yells immediately stopping him from using the shovel against the door. They ordered him to get on the ground. As he continued to walk in the yard, telling a deputy to shoot him, a deputy fired a Taser dart, which missed, but got M.A.F.'s attention. He raised his hands, followed directions and deputies took control.
He was not exactly cooperative. "Let me up now. Kill me. Shoot me," he told them angrily, saying something about a lawyer as deputies took him to an ambulance.
They put a surgical mask on him as he attempted to spit on deputies, which is considered assault under the law. Using his exposed nose, he allegedly "forcibly fired mucus" at a sergeant and a commander, striking them in the arm and chest.
M.A.F. "did not have any obvious injuries but due making several statements of ingesting narcotics, his erratic behavior, and several suicidal statements," his arrest report states, "he was transported to AdventHealth Hospital by Flagler County Fire Rescue #92 where he was evaluated and released." He was then booked at the Flagler County jail.




"Outstanding work by our deputies in deescalating this tense situation," Sheriff Rick Staly was quoted as saying in a release. "They followed their training and managed to get him in to custody quickly without any citizens being hurt." He said it was an example of what deputies have to deal with when trying to arrest an individual who may be attempting to hurt them or others.
M.A.F.'s court record relating to mental health issues is sealed, but his family was attempting to have him Baker Acted.