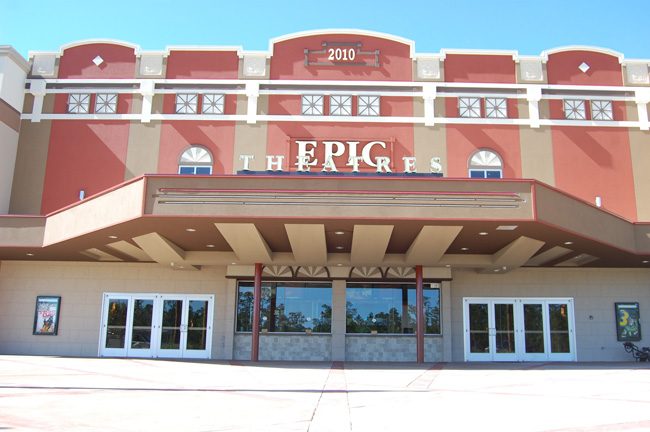 In the wake of the latest in a series of incidents at Palm Coast's Epic Theaters in Town Center Friday night, Flagler County Sheriff Rick Staly has a message for theater management: get your security under control, or else.
"I'll be making a phone call to the manager for a sit down with me because this is not going to continue," Staly said today. "This is not about money. This is about making sure that it's a safe environment for the guests." He added: "I want to get in front of this and work with Epic before something happens, because something will happen if we don't get in front of it."
Epic Theater was again cause for a swarm of law enforcement response Friday, this time bringing in cops from Flagler Beach, Bunnell, a half half dozen units of the Flagler County Sheriff's Office, and the sheriff himself, who was out on one of his Friday night patrols.
The response was triggered by a brawl in one of the theaters and fears of a gun being brandished, which caused something close to a stampede out of the theater. Later rumors flew that there were more than one gun and that knives too were involved.
In fact, no gun was found, nor were knives. There was a fight inside the theater. No one was injured. There were no arrests. But the theater was bedlam with popcorn and other concessions all over the grounds and the seats, and the required police response drew law enforcement away from other segments of the county for a good part of the evening.
"It was a good-size disturbance," Staly said, with fear ramped up over rumors of a gun because of today's anxious climate in the wake of the Aurora, Colorado movie-house shooting in 2012 that killed 12 people and injured 70. "We didn't notice any indication of gunpowder or anything like that," Staly continued, "other than rumor mill amongst the crowd that someone had a weapon. The manager asked us to clear out the theater, which we did, there were also adults who'd taken their kids there and they were not happy, because they basically closed that theater, with no refunds."
The theater was cleared of between 300 to 400 people, though Staly said other screening rooms were not affected.
The disturbance took place in theater #8, where "The Bye Bye Man" was showing.
"We proceeded to enter the theater," deputy Daniel LaVerne reported, "found that people (majority juveniles) were out of their seats and running out of the emergency exit as well as the main exit. No disturbance was observed in the theater; however, many people in the theater appeared to be nervous or in a panic. I then proceeded to speak with multiple adults in the theater who advised that there was a disturbance up in the front of the theater between numerous juvenile males, but that they did not observe a firearm nor did they hear one discharged. One adult stated that he observed a juvenile male walk from the area of the front row to the emergency exit. The juvenile then opened and then slammed shut the emergency exit door. The male stated that the juveniles up front then yelled, 'Gun! Gun!' which caused the mass disturbance/panic. It should be noted that no Deputy within the theater located any firearms, shell casings or knives nor did they detect the odor of gun powder which would be indicative of a firearm recently being discharged. No damage related to a bullet was observed in the immediate area of the disturbance and no injuries were reported."
LaVerne continued: "We then assisted with escorting the remainder of the customers from the theater and followed the last customers out of the theater and into the main lobby. Once into the main lobby, Epic management advised that they did not wish for any customers from theater #8 to remain on the property and asked for assistance with escorting them off of the property. With the assistance of the Flagler Beach Police Department and the Bunnell Police Department, we continued to assist with crowd control and eventually escorted approximately four hundred people out of the theater and off of the Epic Theaters controlled property."
The sheriff credited the majority of patrons, including juveniles, for their cooperative attitude, saying whatever the trouble was returned to a small group of people, as it usually does.
It's not clear why Epic management opted to evacuate the theater and not give refunds. Epic officials did not respond to emails sent to their corporate office, nor did Michael Toth, the supervisor on duty Friday evening, return a call to his cell phone.
"Any further details or information regarding the cause of the disturbance and the displaying of or discharging of a firearm are unknown," LaVerne concluded in an incident report.
Staly after the incident called Undersheriff Jack Bisland and told him he wanted to know the number of calls that have required a police response to Epic and McDonald's nearby in the past year. McDonald's is included because incidents have often spilled over from Epic to the restaurant–as Friday's incident did as well: Staly and his deputies found themselves at McDonald's not long after the Epic scene, with another disturbance on their hands that ended with the arrest of an adult for cocaine possession.
"They need to come up with a solution, whether it's security guards or off duty-deputies," Staly said of Epic. "I'm not going to allow it to continue without putting the theater on notice that they have a problem and they need to work with us for a solution." Staly, who spoke by phone from Orlando, where he was attending the funerals of two law enforcement officers killed in the line of duty this week, says he can remember issues at Epic going back four years to when he was undersheriff.
"If they don't address the matter, the only thing that we in law enforcement can do is work with the city for nuisance abatement and code enforcement violations, and do strict enforcement of violations," Staly said. But the theater would be hurting itself if it doesn't address the situation assertively. "A couple of parents told me that they will never come back here, so eventually it's going to hurt their business. So they need to work with us to solve this problem, because I know it's been a problem for four years."
Epic's policy allows weapons in its theaters as long as the carrier has a concealed-carry permit (and may subject patrons to bag searches). "But obviously if a juvenile has a weapon, that's illegal to begin with," Staly said. He noted that was the case with Friday's police response, even incidents that prove less serious than feared cause potential problems across the county. "It potentially endangers the entire community when I have a third of my patrol people tied up at one location, and it backs up calls. So our emergency calls to other locations get delayed. It's a domino effect."
His priority is to analyze both issues at Epic and McDonald's and get both businesses to address the problem, in partnership with law enforcement. "I'm not willing to sit back and wait for something serious to happen," Staly said.