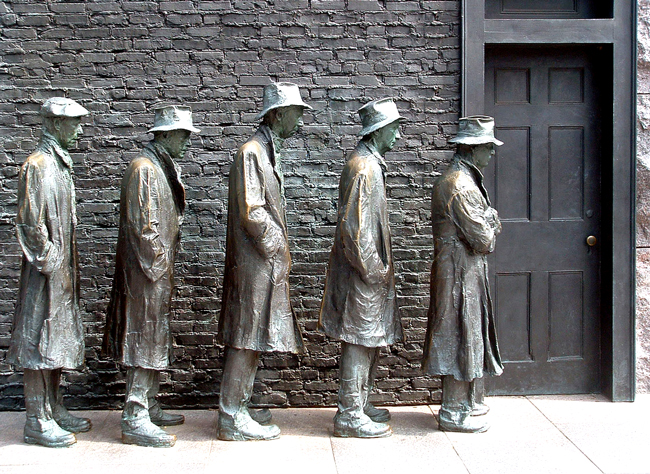 The Flagler County Economic Development Council narrowed down its list of candidates for new county department's executive job to 17 on Tuesday, from about 65 applicants. Not one applicant is local. The council hopes to narrow the list to 12 and hold a round of phone interviews by mid-December, which would then cut the list in half. Those survivors would be invited to Flagler for in-person interviews, possibly at the beginning of January.
The nine members of the economic development council each provided a list of their top favorites. Most members picked a dozen names each. Some picked fewer. There were scant stand-out choices. Not a single candidate got unanimity from all nine council members. Only one candidate got eight votes—Robert Barnes, the ex-CEO of the Casper Area Economic Development Alliance in Wyoming—and apparently unbeknownst to all but one of the council members (the one who didn't vote for him), the circumstances of his departure from his last job remain very cloudy, and his manner with an inquiring reporter on Wednesday was rude.
No candidate garnered seven votes. Two got six votes, and three got five votes. (See the full chart below, matching candidates–and their resumes–with council members' votes.)
Still, council members spoke of a "deep" field of candidates, and were relatively satisfied with the pool. "I think it's pretty obvious for nine people to make a selection and to have so many agreements on a number of candidates that I think that they obviously stand out," Barbara Revels, the county commissioner who chairs the council, said. Degrees alone won't be the deciding factor. "If I were to apply on paper, no one would hire me," Revels said. "I don't have any education. I'd be eliminated first round because I don't have a degree behind my name. So we have to think about—I strongly think about what titles and degrees say, because I know that there are a lot of very capable people that don't have them."
The council meets again on Dec. 6 to further narrow the list. Until then, Joe Mayer, the county's human resources director, will do basic background checks on the candidates through media, the internet and the candidates' own references, which tend to be one-sidedly glowing since they're the candidates' own picks.
Paul Manning raised issues with two of the top picks—Barnes and Steve Czarnecki, the latter fired on April 30 from his executive job as director of the Elk Grove Economic Development Corp., an organization in northern California similar to the now-defunct Enterprise Flagler, the local economic development public-private agency the county dissolved to replace it with its own organization. Czarnecki got five votes from council members.
"I found the same thing on my first Google search for some of these folks, yeah, OK, one gentleman was fired from his position," Mayer told the council on Tuesday, "but again, if you look around the state of Florida and you find this county administrator here was fired for this and they saw all bad things about him, two months later he's hired in another county because they see something in him that the other county I guess didn't or whatever, so you really can't take—you go by the old adage, there's no reporters in here"—Mayer lowered his voice—"you can't believe everything you read in the newspapers. It's not totally true."
Moments earlier, Mayer had said he would be reading newspaper articles on the candidates, when available, and likely came across the clearer circumstances that led to Czarnecki's departure. "Czarnecki," the Sacramento Bee reported in early May, "who earned $120,000 annually, took heat in recent weeks following a city of Elk Grove report showing that despite the city's $750,000 in payments over five years, the organization fell far short of its goals to raise additional private funds and to create 1,500 new jobs."
A report on Czarnecki's tenure showed just 70 retail jobs had been created during the period, with government continuing to pay the larger share of the agency's budget. That share was reduced considerably in the wake of Czarnecki's firing. Flagler County is budgeting $400,000 a year for its economic development effort, with no money from private business, and ambitious job-creation goals.
The circumstances surrounding Barnes's abrupt end at the Casper Area Economic Development Alliance are murkier. The Alliance, too, is like the former Enterprise Flagler—a public-private partnership, but even less transparent than Enterprise Flagler was. Barnes was suddenly suspended from his post in early February, though he was still paid (his last-available salary, in 2009, was $97,700). The agency board never revealed why he was suspended, or why Barnes left later that month, a departure termed as a resignation. Barnes himself never commented on the matter to reporters at the time. Contacted at his Wyoming home on Wednesday, a reporter filled him in on his making the top of the short-list. But when asked about the circumstances of his leaving his last job, Barnes—who described himself as a "firm believer in community collaboration" in his cover letter to Flagler's council, and said it was "important to maintain lively, active and collaborative relationships throughout the community"—would not say. He said he'd answer what questions council members would pose to him in interviews, wished the reporter a good day and hung up on him. Repeated calls to Steve Elledge, the interim CEO of the agency Barnes headed, were not returned.
Months before the end of Barnes's tenure, which had lasted five years, Barnes was in the middle of a controversy over the bidding process of a federally funded incubator project. Local businesses, none of which was picked for the project, were upset about that process, which involved pre-bid interviews selecting bidders. The entire process had to be restarted, placing federal funds and some local funds in jeopardy (one local agency threatened to pull its funding from the incubator project). It's still not clear whether there was a connection between the incubator issue and Barnes's departure.
Revels on Wednesday stressed that interviews will be more revealing than paper to show what candidate can handle the demands of the job in its present context, from interaction with government and business to interaction with the public, prospective employers and openness to public scrutiny. It'll take "an exuberant salesman, marketing person who handles all of those details well," Revels said, one who simultaneously knows finance and government well, and seeks to learn Flagler County "backwards and forward. That's going to take a very specific person."

Economic Development Council CEO Picks (Click on the Names for Resumes)
Five individuals got two votes each, and nine individuals got one vote. By mid-December, the council hopes to have narrowed down the list to a dozen candidates, who'll be interviewed by the council by phone. Those interviews will narrow the list to six candidates who'll then be invited for in-person interviews.