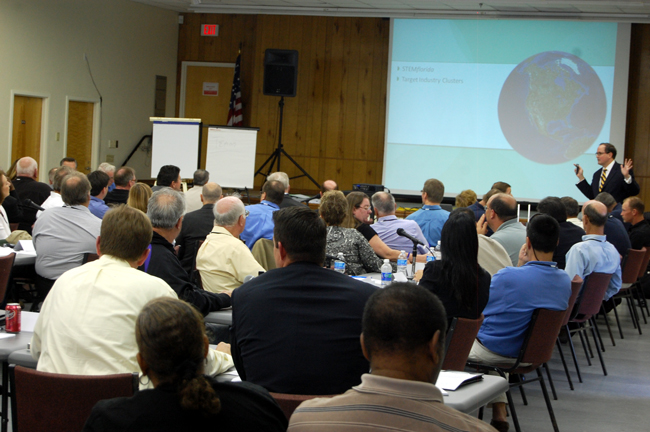 Government meetings rarely draw big crowds when matters in question don't affect people directly. Economic hardship, chronic unemployment and foreclosures presumably affect large portions of Flagler County residents not only directly, but dramatically. Some 15.7 percent of the labor force was unemployed at last count, and Flagler remains among the top 20 most economically "stressed" counties in the country, based on foreclosures, lousy property values, unemployment and the like.
It was telling that the economic summit presumed to be of the highest importance by those who convened it—every local government agency in the county and then some—drew some 60 government representatives and their nominees, plus a few members of the chambers of commerce. But it drew no more than half a dozen individuals not somehow in government or running for office. Maybe it was the time of day, the day of the week, the location: starting an economic summit at 1 p.m. on a Friday in an ag extension center off the county fairgrounds doesn't scream ga-ga popularity.
But if the public at large is either looking to its elected for solutions to the local economic crisis, you wouldn't know it from the skeletal audience. If the public is trusting those elected to break through rivalries and debates on economic development as chronic as the crisis itself, it didn't turn out to verify its trust.
Nor did Friday's portion of the two-day summit break through either: Don Upton, the "facilitator" the county hired from Tampa-based Faifield Index Inc. to herd the congregation toward the achievable ("We help companies and communities become more competitive") didn't try. If he's aware of the fault lines between governments, he didn't tread on them. Upton's aim was more in the role of cheerleader, motivational speaker and diagnostician than mediator.
In that, he was successful: after an hour-long introductory session affording every one of the 60 a chance to introduce himself, herself and the "skill sets" in tow, Upton, who vaguely looks like a 60s version of what Jack Lemmon would have looked like if he'd been a marketing specialist, spoke to the group from an assumption of unity: "This is a family and we're well prepared to take on these issues." He suggested everyone should honor new ideas and "think like a board for this marketplace for now." There was no absence of good will to those ends, though good will has never been the issue.
The ensuing discussion was focused on known questions, not exploratory solutions: Is Palm Coast still a retirement community? Does Flagler County belong to the northern economic region of St. Johns and Jacksonville or to the central region of Daytona Beach, or even Orlando? Is it still the "red-headed stepchild" of economic regions? Do the county's elected still think of hospitality and tourism as a dominant force? (Upton heard a hearty yes to that, though curiously, and aside from a Flagler Beach representative from that city's museum, the group's dearth of anyone connected with culture and the arts was striking.)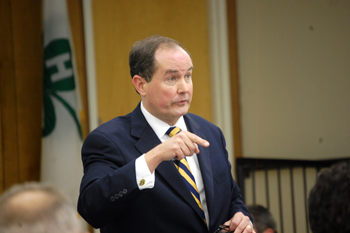 And comment after comment was more diagnostic than analytical: what the county is competing against. What the county can offer (lots of unemployed workers looking for work, or being willing to be retrained). What got the county where it is: a mass of construction and real estate related workers busted out of work by the housing crash. What "industry clusters" the county should target. What streamlined systems governments could adapt to make it easier for businesses to thrive, and new businesses to migrate to Flagler. What makes communities tick, and what could make this one work (transportation, railroad service, ocean-point accessibility, low crime rate, recreation, good climate, cultural opportunities).
Upton had alluded to Florida's economic trend over coming years, seen to be heavy on "STEM"—science, technology, engineering and medical jobs. But that didn't grab too many imaginations in the subsequent hours.
Upton asked the assembly, in groups, to come up with versions of the county should look like in five to 10 years. The results were bracing for their optimism, but in a pie-in-the-sky sort of way. Commissioner Barbara Revels's vision included a diversified county with a balanced tax base, a vibrant and varied economy, a flexible workforce, a still-attractive quality of life, a public transportation system, a county with a national presence and a self-perpetuating funding source for economic development. "Thank you, nice job," Upton told her.
Upton's strongest drive for an insight into Flagler's sense of itself was question: "prove it." Whenever someone spoke of the county's qualities, he didn't want to hear only those qualities. He wanted to know what set them apart from everyone else's. He wanted to get past the echo chamber of self-congratulations. Answers to that question were elusive.
So when Upton finally summed up the essence of Flagler's qualities, based on the assembly's various visions, he came up with this:  Location, quality of life, a desire for clean technology ("not a heck of a lot there"), basic beauty and the environment, good schools.
Upton was not impressed. "You look like the rest of America," he said. Then again, Upton did not quite show how his skills were applied to this assembly any differently than they might have been to an assembly in Dubuque, Iowa. His promise that the county could rise above its competitors if the assembly could list its goals as the raw material for a county-wide strategic plan had something of a Lake Wobegon effect (where manages to be above average): if it's that simple, why aren't other counties zooming forward? But that was everyone's homework for the evening: drafting strategic goals.
"Give me one place that I can go to tonight and look up on their website that you could say would most represent what we want to be," Rich Smith, a developer, asked Upton. Upton, the length of whose resume had just been commended, punted: "Can I take that as homework tonight?"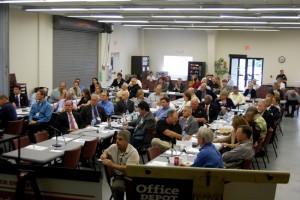 Last month when this economic summit was set, it was clear that this county's governments all had the same goal (more economic development), but very different ways of getting there. That's not necessarily unexpected or bad: Palm Coast's interests aren't the same as the county's, for example. But some differences amounted to deal-breakers, including two cities' opposition to a sales tax to fund economic development, and serious disagreements over who would be the leading economic development agency, if anyone. Because of those differences, the chamber of commerce suggested—and others agreed—a mediated meeting where common interests would be ferreted out and perhaps built on, understanding that some differences would remain. What the county lacked was a clear way to some common, pragmatic solutions every agency could agree on.
Those roads were not explored Friday. The first day, in other words, was given over to the overly familiar from a perspective that never questioned the happy premise that, in Upton's words, everyone in the room was one family, ready to have its own, common "strategic goals."
If there is a method to Upton's madness, several congregants said afterward, maybe it will seem more apparent on Saturday. (Yes, they do it all over again Saturday, beginning at 8 a.m. and running possibly all day.)
Mary DiStefano, the Palm Coast city council member, said she didn't hear anything that she hadn't heard before. Milissa Holland, the county commissioner, said she had participated in several similar sessions where at first nothing seemed cohesive, only for the process to work itself out into a clearer picture by the end. She's hoping for just such a framework by Saturday: a solid strategic vision for the county that would also have every agency's buy-in. But she pointed out another striking characteristic of the day: the cliques were in evidence. Each government sat in a cluster, with its own couple of nominees from the community. There was little cross-fertilization.
Barr, too, was hopeful about Saturday. "The groundwork that he's been laying is that we do have a lot in common," he said, referring to Upton. But he wasn't betting on Upton managing  the assembly through a resolution of its fundamental differences. "It's going to be a hat trick if he does, because it's not going to be easy."