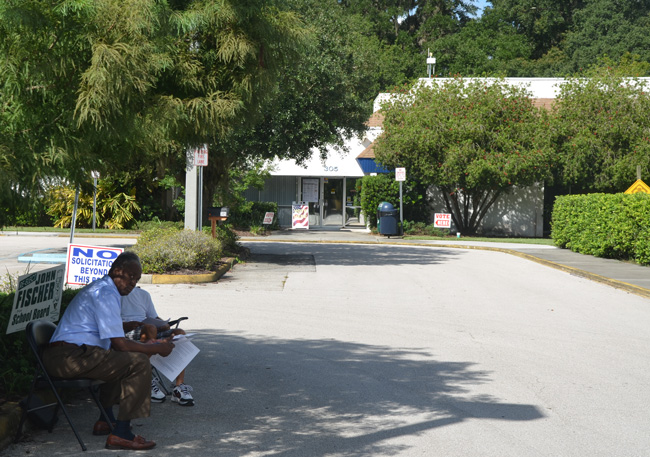 It appears that Flagler County's and Palm Coast's crackdown on campaign signs at early voting sites did nothing to deter early voters from turning out. If anything, it may have encouraged a remarkable turnout, when compared to other counties.
In the two weeks of early voting at three sites, 4,665 voters cast ballots for a turnout of 6.58 percent–the highest turnout among 20 counties in Central and Northeast Florida, according to a FlaglereLive tabulation of the counties' figures. Those numbers do not include absentee ballots. Those rates tend to be higher.
Flagler County's rate is not only comparatively high: it is double the average turnout rate in the 20 counties, some of which had turnout rates of less than 2 percent: Brevard and Broward were just short of 2 percent, though both counties have considerably higher rates of voting by mail. Polk, Marion and Pinellas had rates lower than 1 percent, though over 100,000 voters cast a ballot by mail in Pinellas, for a vote-by-mail rate of close to 17 percent.
"It just goes to show you voters are going to vote when they feel concerned about the issues," Flagler County Administrator Craig Coffey said in a brief interview from Washington, D.C., where he was meeting with U.S. Army Corps of Engineer officials on Flagler's beach-protection issues. "We have some very civic minded folks in our community that are going to vote regardless, whether there's a sign there or not. It's low voter turnout still but it's still good to be at the upper end of the turnout."
Flagler's figure may lead the region, but it is still less than a third the early-voting turnout rate of the last general election, in 2012, when 20.2 percent of voters cast a ballot early statewide–and 28.9 percent did so in Flagler.
This year, Elections Supervisor Kimberle Weeks made an issue of Flagler County's ordinance prohibiting campaign signs at early voting locations including the public library in Palm Coast (which is county property) and the Government Services Building in Bunnell. Palm Coast's sign ordinance also prohibits campaign signs at the Community Center, where early voting was held for the first time in a primary this year. Weeks claimed that the prohibition would encourage more candidates and their volunteers to clutter the grounds by "camping" there, holding signs (which is legal), and "intimidating" voters trying to vote. Weeks claimed the county was "interfering" with the election process, and causing voters to choose not to vote.
That has clearly not been the case.
According to Weeks's tallies, the early voting location at the Government Services Building–inside the supervisor's offices–drew 1,107 voters. The library drew 2,554. And the community center drew 1,004 voters.
Weeks in an email this afternoon said the tallies could have been higher absent "interference" from local governments.
"We have made every effort to make sure voters could access their early voting locations freely and conveniently without interference," Weeks wrote. "The numbers may even have been higher if voters attempted to find a disabled parking spot at the Palm Coast Community Center and were unable to do so because the six spots may have been occupied (for hours) by those attending another function scheduled at that building as the pictures and poll deputy can confirm. Regular parking space was also impacted by the interference of the city at the direction of the director of the facility; it is said she told other guests (other than voters) to lay down the voter parking signs and park in reserved voter parking anyway. The staff at the community center on nearly a daily basis parked in the designated voter parking area despite open parking was available."
There is no evidence, however, that voters turning out at the Community Center had trouble parking or had to walk any distance to the building. On most days, the Community Center location was quiet, averaging fewer than 10 voters an hour, or 77 voters a day, for the 13 days of early voting. Nevertheless, Weeks credited her efforts to explain Flagler's comparatively high numbers.
"Had we not given the parking issues the attention we had at all the three early voting sites, our numbers may have been lower, so maybe our efforts reflected in the results. We never gave up the challenge, and made the voters our priority," she said, reiterating at length her criticism of the city and the county and concluding: "My efforts were for the people, they elected me to do a job for them and I will continue to do what I can to provide the best service possible for the voters of Flagler County. It is your opinion that signs were not an issue. Parking makes a difference, if you can't park and access the polling room, you can't vote and this affects the ballots box."
Weeks earlier this month pressured the County Commission to change its ordinance. Some commissioners said they might consider revisiting that ordinance, but the turnout issue may dissuade some to stick with the current version.
"I don't think there's any intend to change the ordinance that's in place at the present time," Commissioner Charlie Ericksen, an alternate member of the Canvassing Board, said today. "We've been bombarded with emails showing pictures from other areas from a select few people in the county but I don't think that's going to cause us to change the ordinance at all. Of course I'm only 20 percent, but I don't have any reason to change it from the way it is right now."

Early Voting Turnout, 2014 Florida Primary
| County | Registered Voters | Early Voters | % Voting Early |
| --- | --- | --- | --- |
| Flagler | 70,921 | 4,665 | 6.58 |
| Sumter | 81,722 | 4,936 | 6.04 |
| Bradford | 15,689 | 878 | 5.60 |
| Citrus | 96,286 | 5,024 | 5.21 |
| Putnam | 44,931 | 2,015 | 4.48 |
| Nassau | 55,324 | 2,212 | 4.00 |
| St. Johns | 158,718 | 6,206 | 3.91 |
| Clay | 135,397 | 4,892 | 3.61 |
| Indian River | 97,227 | 3,128 | 3.22 |
| Lake | 205,470 | 6,223 | 3.03 |
| Duval | 553,346 | 15,194 | 2.75 |
| Volusia | 326,507 | 8,729 | 2.69 |
| Seminole | 262,694 | 6,908 | 2.63 |
| Hillsborough | 756,328 | 19,401 | 2.57 |
| Orange | 715,402 | 17,269 | 2.41 |
| Brevard | 375,832 | 7,316 | 1.95 |
| Broward | 1,058,603 | 19,277 | 1.82 |
| Polk | 354,299 | 3,515 | 0.99 |
| Marion | 216,391 | 2,091 | 0.97 |
| Pinellas | 617,925 | 1,856 | 0.30 |
Note: Early voting tallies do not include voting by mail, which typically draws a higher proportion of voters than does early voting in person. Source: FlaglerLive research.