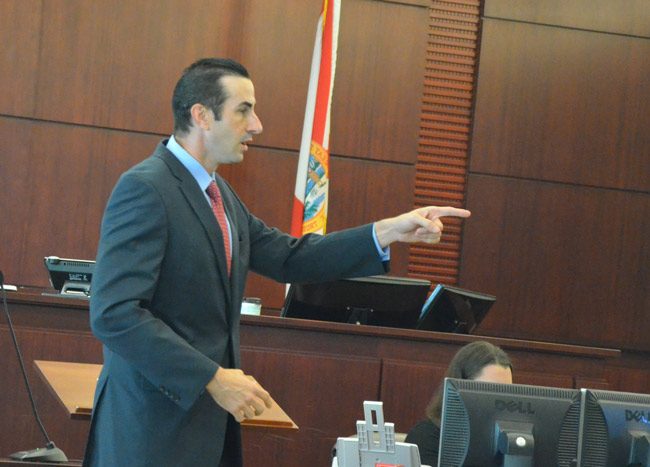 Note: the following contains sexually explicit and disturbing accounts of evidence presented to the jury at trial today.

Trials are often won or lost as evidence accumulates over hours and days of testimony, culminating in closing arguments that seal a fate. Paul Dykes may have lost his trial in the first two minutes of Assistant State Attorney Jason Lewis's opening argument Tuesday morning.
Dykes, a 21-year-old Palm Coast resident with the cherubic look of a boy still 14 or 15, in this trial faces 24 charges, including the charge of raping a 1-year-old child, molestation, solicitation to rape a child and numerous counts of possession of child pornography. The case centers not on Dykes himself raping a child, but rather directing Erin Vickers to violate her own daughter–which she did: Vickers video-recorded herself in the act, and she and Dykes chatted about the acts repeatedly, with Dykes directing her from his home by computer as he gratified himself. Vickers, 23, was found guilty of nearly identical charges at trial in September.
Both were aware of the laws they were breaking and chatted about it as they went on with their acts, which took place in the winter and spring of 2015 in Palm Coast. Dykes and Vickers have been at the Flagler County jail since April 2015.
After a jury of six women and one man was seated Monday, trial began this morning with opening arguments at 9:15 before Circuit Judge Dennis Craig, at the Flagler County courthouse.
"Good morning ladies and gentlemen of the jury," Lewis said to the jury. He then paused. Stood in front of the jury box, clasping his hands. Eleven seconds passed in silence. Then he said things most jurors, most people, never expect to hear in their life:
"Rub it. Finger it. Eat. Chow down hard. Make sure she's not loud. Gag her. Tie her, Stick her foot in your pussy. Finger her pussy and ass at the same time. I'm going to pump her ass and deep throat her. Not my words, ladies and gentlemen, the words of the defendant sitting right here, the words describing actions that he wants to do, or that he wants someone else to do to [a child]. Here's the twist. [The child] is a 1-year-old baby."
Lewis named the child, though her name and parentage have since been changed legally to protect her.
He went on: "This often is said: life is stranger than fiction. And this is one of those cases, ladies and gentlemen. This bizarre tale starts back in January of 2015. The defendant sitting right there began to date a woman named Erin Vickers." He summarizes their brief physical relationship, which then led to their off relationship by chatting and video applications. "And what you will find out is in February 2015, the defendant sitting right here developed a sexual fixation on [Vickers's daughter.] You're going to hear how he and Erin Vickers, her mother, talked about committing sexual acts against [the girl]. You're going to hear, ladies and gentlemen, that the most unspeakable thing a mother could do, she decided to commit sexual acts on her child in order to gratify that man sitting right there."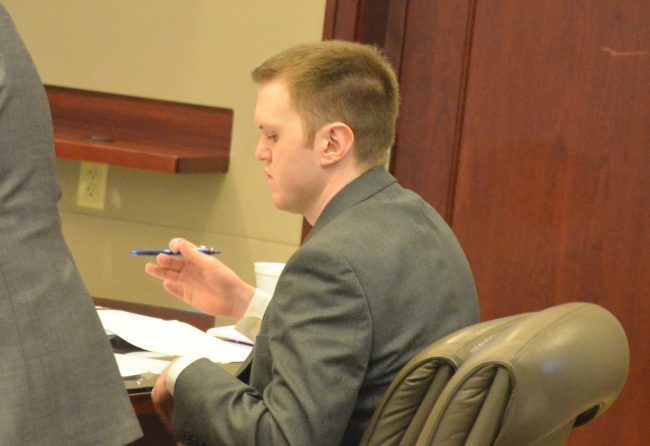 Again and again Lewis, the State Attorney's most theatrical prosecutor since Jacquelyn Royse left the office a few years ago, whirled from the jury box to point at Dykes, who sat in suit and tie next to his attorney, Bill Bookhammer, the genial expression he'd worn through jury-selection day now gone.
Lewis described to the jury explicitly what Dykes would ask and what Vickers would do. It sounded shocking, but not nearly as shocking as what the jury would hear later this afternoon as transcripts of the actual chatting sessions were read out loud, detailing written desires and alleged acts that transgress even the most obscene pages of the Marquis de Sade, who didn't indulge his rape fantasies past adolescents: these involved a toddler. "All the while he's watching on video and he gratified himself," Lewis went on. "You're going to hear evidence that he masturbated while he watched all this, ladies and gentlemen."
As became evident from their subsequent reactions, the opening statement was barely prelude to much more explicit evidence the prosecution had lined up in three rounds of unrelenting evidence, dripped hour after hour as if to annihilate jurors. Some were annihilated. When Assistant State Prosecutor Joe LeDonne went through 17 successive images of the 1-year-old being violated, jurors physically, perceptibly shrank in their seats, if only from the sheer duration of what turned into a ritual.
The idea was to impress on the jury the volume of pictures depicting a variety of sexual acts involving Vickers and her child, and found on Dykes's laptop. But it had to be done picture by picture, to get former Florida Department of Law Enforcement Special Agent Clifford Whiteside to identify each and certify that he'd seen each on Dykes's laptop during his analysis. It's part of the rules of evidence, a tedious process, but also dramatically useful to the prosecution.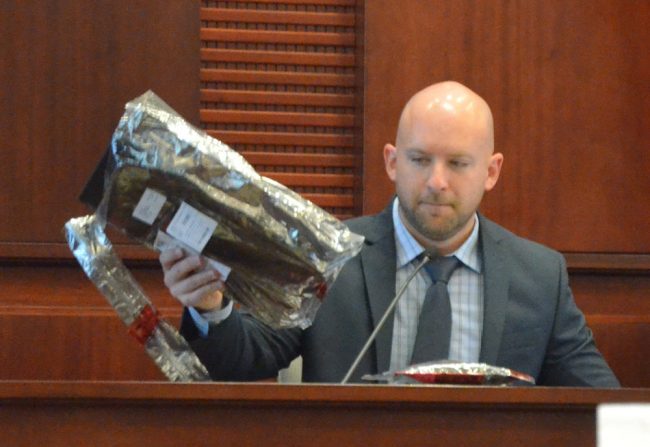 Every time, LeDonne would hold up the 8-by-10 color photograph at eye level with both his hands, within a couple of feet of jurists' eyes, slowly moving down the length of the jury box, then stepping forward for the back row of jurors to have a better look. He showed pictures that would be illegal to look at in any other setting–so illegal that even prosecutors are not allowed to look at them except in severely controlled circumstances. But here they were, being shown to a group of mostly middle-aged Flagler County residents who likely had never imagined they'd be forced to look at what they will never un-see. They looked impassively, sometimes fiddling with a pen, sometimes holding a hand to the chest, but mostly just looking, sighing, occasionally taking notes. Dykes meanwhile seemed to be studying the series of photographic documents with his attorney, taking notes and going through printed documents.
When the video of the act was shown one juror looked down at least half the time, her eyes darting from her notes to the screen, back to her notes. When the second, more brief but more piercing video was shown, one juror immediately flinched, looked down, tried to look again, then hid her eyes with her right hand before making another effort to look. She was clearly disturbed. It was the video clip that had most likely doomed Erin Vickers in her case a few months ago, the clip that features her child's staccato sobs and cried as her mother rapes her. No one in the courtroom could see the screen that only the jury could see. But everyone could hear. And the jury's response was explicit enough.
The jury had also sat through a half-hour audio interview between Whiteside and Dykes the day of his arrest, in the hours just beforehand when Whiteside projected himself more as Dykes's buddy than his arresting officer, convincing him to speak on the record, without an attorney, in a state law enforcement vehicle, where he'd been in effect snagged on his way to work at Publix one morning. By then FDLE had had his house under surveillance and had traced child porn to a computer in the house. Agents had in their possession incriminating evidence of illegal images. What they didn't have was Dykes in his own words owning up to having a thing for children, soliciting them on the Internet and collecting images. It's clear from the audio that he had no idea what noose he was tying around his own fate as the agent, trained to do exactly what he was doing, legally, got him to confess, but also to suggest that he had merely cut and pasted the pictures, not really looked at them, even as he spoke of his desires for younger girls.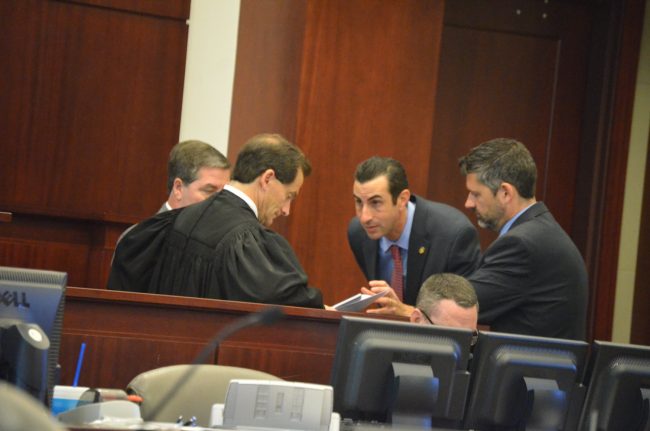 At one point Whiteside asks him about one particular picture: "She's got the penis of a dog in her mouth?"The question was key for the prosecution in two ways, though the jury never heard it: it was ushered out just so that line would pass outside its hearing, by agreement between the prosecution and the defense, even though bestiality later, in the jury's hearing, was revealed to have also been part of Dykes's desires: that was to emerge in the fourth and final blast of evidence, the chat transcripts that LeDonne read, playing the role of Dykes, with Whiteside playing the role of Vickers.
If the jury by then thought it had seen and heard it all, it was wrong. The exchanges reveal the unspeakable degree to which two young people would go to gratify each other, at the expense of a toddler who's always in the picture, if only in her mother's heart-wrenching words and in Dykes's inexplicably cruel ones. That's when Dykes tells Vickers to violate the child in every way, and when Vickers tries to negotiate her child's response: "I have to calm her down." "I try every time not to make her cry." "She almost peed in my mouth." She would perform all the acts he asked for until he'd climaxed on the other end, then he would discard Vickers and the chat as readily as he'd directed her, and she would ask: "Did I do good?" and tell him she'd do anything for him–including rape his own child with him, after he asked.
In subsequent chats, the rapes, torture of a child in themselves, turned to more explicit tortures as Dykes, becoming impatient with the child interfering with the the unfolding of his directions, would not cooperate. So he ordered Vickers to stuff her mouth with a sock and to tie her up. He didn't want her screaming, waking up Vickers's mother and interrupting his session. "That's why we need to gag her and tie her," he wrote. He'd tell Vickers he wanted to impregnate the child when she is 13. ("My family won't like that ," Vickers said, apparently OK with it herself.) Then he'd move on to suggest what he would do with the child's various limbs and Vickers's genitalia.
Jurors had been provided copies of the transcript, which they followed along as the two male voices in the room read, Whiteside with more animation, less neutrality, than LeDonne's intonations. Some jurors shook their head. Others just read along. It went on for half an hour or more.
When it was over, Bookhammer, Dykes's attorney, tried to return to the theory he'd maintained since his opening argument: that nothing in the images and the video the jury saw ties Dykes to the acts being performed that day.
That was true. The prosecution has no direct, incontrovertible evidence that whatever Vickers was doing in the video or in the pictures was at the direction of Dykes, because what evidence exists stamps the images and video with a Feb. 22 or late February dates. The chats took place in early March.
"So there's no forensic evidence that he was actually physically present when those photographs were taken, there's no text messages that he was telling her what to do," Bookhammer asked Whiteside, who had analyzed the evidence. Whiteside said no, not strictly speaking, though he said that evidence appears to have been deleted. But that was speculation.
"Given that, It's entirely possible that Ms. Vickers did these acts on her own," Bookhammer said, drawing an immediate objection from the prosecution, which claimed that was speculation. The judge sustained the objection.
Ironically, Bookhammer's defense, his opening arguments describing a leap between the state's evidence and Dykes's connection to it, would have been a strong opening argument for the prosecution in Vickers's trial a few months ago. It was a dangerous road to take, as Dykes's and Vickers's cases, their behavior and their desires, were so inextricably intertwined: Vickers could not be incriminated alone, nor could Dykes, which was just how the two cases quickly developed as echoes of each other for law enforcement and, later, for prosecutors. But suggesting a separation simply because Dykes was not physically present when Vickers was committing the acts on her daughter was the defense's only option, in light of the overwhelming evidence against Dykes.
Bookhammer pressed the point at the end of the day in a fruitless motion for acquittal, which Dykes lost, That was not a surprise.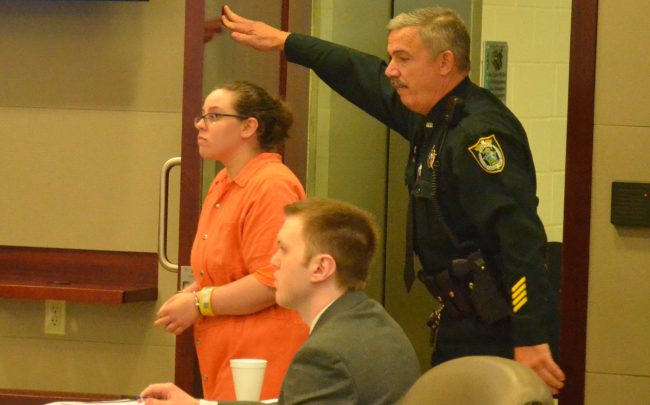 An appearance by Vickers was.
By then the jury had been dismissed for the day. But the matter of a deposition of Vickers, taken by the defense at the county jail in November, in the presence of the prosecution, was in play. The prosecution had given Vickers select immunity for that deposition: what she said in it would not be used against her. But the state said it would withdraw that immunity if she was to testify on the defense's behalf at Dykes's trial.
In the deposition, Vickers claims she never touched her daughter. She only pretended to, to gratify Dykes. That, incidentally, was also her argument at her trial, which she lost. But to Lewis, the prosecutor, the statement was perjury, because he had her statements in chats with Dykes stating explicitly what she was doing to the child.
Vickers herself was brought in on the chance that she would testify. If she did so, the state would not grant her immunity, Lewis said, which led Vickers's attorney, Garry Wood, to say that she would plead the Fifth instead: she would choose not to testify for the defense. (Vickers's mother, who had testified at her trial for the state, again testified today late in the day, but only to the extent that her testimony placed Vickers in her house as her child and identified the 1 year old as Vickers's child.)
Bookhammer has moved to have her deposition admitted at trial, even though depositions are usually not admissible as evidence. Lewis is objecting. The judge has asked both sides to reconvene at 8:30, but unsettled by appearances of lies by Vickers in her deposition, he's also cautioned Bookhammer: "It behooves you to show me that in the deposition testimony Ms. Vickers was more consistent with the statements in the chats and more consistent with the statements she made to law enforcement," Craig said. ""That's what we're going to do at 8:30 in the morning."
It would amount to a last-ditch effort by the defense on Dykes's behalf. The defense is expected to rest sometime Wednesday morning, with closing arguments and deliberations starting in late morning or at midday.
If convicted, Dykes faces the possibility of life in prison without parole, the jury is not aware, and will not be made aware before deliberations, of the various levels of his charges, nor the potential penalty they carry.