It took Hurricanes Matthew and Irma and a couple of lesser storms a matter of hours to demolish Flagler County beaches' dune system.
It's taken 15 months since Matthew to put together the $25 million necessary to start the repairs, money cobbled together from the Federal Emergency Management Agency, the state Department of Environmental Protection, homeowners, and a big loan from a local bank, secured by Flagler County's tourist tax. It will take 48 weeks, nearly 1 million tons of sand brought in with 26 trucks making 100-mile roundtrips three to four times a day each, and workers putting in 50-hour weeks for the duration to rebuild the dunes.
Assuming another storm doesn't wash out the works along the way.
That momentous rebuilding work began earlier this week, and Saturday, state, county and municipal officials, contractors, road and bridge workers and a handful of residents and sentinels of the Hammock gathered at the end of Malacompra Road, the location of the much-battered Malacompra Park, for a ceremonial ground-breaking of the project. After they spoke, officials lined up along a cream-white sand mound prepared for the occasion and twice shoveled up some sand in the air for the cameras.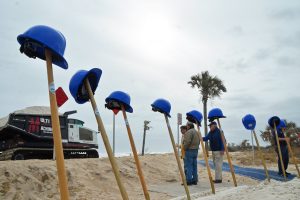 The sand had a significance of its own reflective of the paradoxes of this project: it's from a quarry near Keystone Heights. It's considerably whiter than the sand Flagler County residents are used to on their beaches. It has none of the crushed coquina that gave local sand its character. But that's the sand that was permitted for the project. It provoked its share of questions and hand-wringing on the County Commission. But not even nature sets its stones in stone: like imported vegetation or like new migrants into the county, who'd never consider themselves unfit for their new grounds, the new sand will mix with its more native sort and over time, sea rise and climate permitting, become as much a part of the landscape as overbearing condos on the beach.
It'll take the form of 6 cubic yards to 8 to 10 cubic yards for every foot of beach for 11 to 15 miles, with the dunes spreading from around 75 feet at the base to 25 feet at the top, at heights of 5 feet. (The difference in cubic yards reflects what each agency pays for: FEMA pays for thinner dunes, DEP for thicker ones.) It is nevertheless one of the largest projects of its kind ever undertaken on a Florida beach without the involvement of the U.S. Army Corps of Engineers. It entails the involvement of innumerable agencies and divisions of local government, as County Administrator Craig Coffey–the George Balanchine of it all–described it, from engineering to finance to legal to state and federal labyrinths, all the way to the bulldozer driver who'll be shaping the dunes at a 5-to-1 slope for 10 hours a day, five days a week.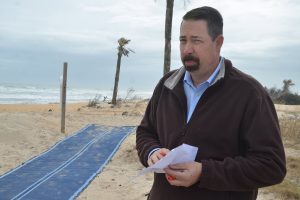 "You can't imagine how difficult it is in terms of permitting and all the boxes that had to be checked," Rep. Paul Renner, who attended the ceremony said.
This morning, in any case, was an occasion for thanks.
"I want to say thank you to the public for your patience and strength to endure all these storms and hardships we've gone through," Coffey said, "and know that your strength and your support has helped in supporting our boards, supporting our legislature, and lastly thank you in advance for helping us support and protect the dunes in the future, and help us promote dodge-the-dunes campaign, because we've got a lot of visitors, they don't always understand what means to you, and to you guys it means protection, it means your lifestyle, it means tourism, it means a lot of things. But thank you everyone so much for all your support along the way."
One absence stood out: though Palm Coast officials never hesitate to talk up their town's benefits for its proximity to the beach and often as if it were, as its name incorrectly implies, on the beach, there was not a single Palm Coast official present, administrative or elected. The city often doesn't take part in commemorative events where the light shines mostly on the county, though the reverse is not nearly as true. Flagler Beach City Commissioner Rick Belhumeur represented his town, and the sheriff turned out, as did all five county commissioners and the county's two state legislators.
More money is not forthcoming from the current legislative session. But More money may be needed beyond the completion of this project. "We're going to have to keep continuing to fight for these dollars," Sen. Travis Hutson told the small crowd this morning, "because the next storm is coming, we don't know when but it is coming, and we want to make sure that there's a system in place for all of our beaches so that we continue to renourish these dunes, because it is very important."
Hutson was unwittingly alluding to an undercurrent of at least potential futility in all this, given how rapidly it could all be washed away again. Officials are aware.
"I have interviewed two very smart Ph.d. people on beach erosion," Commission Chairman Greg Hansen said, "and the thing that they made clear to me is that beach erosion is natural and you can't stop it. It will gradually either accrete sand or lose sand but there's nothing you can actually do physically other than hardening the dunes, like build a wall, that can actually stop it. But they both iterated that what we're doing is critical, this dune rebuild is critical, because that will protect us from a hurricane. It will protect the homes and the land and people's possession from a hurricane. If a hurricane is bad enough it may chew it up, and we might lose it, but it will do its job, and that's protect the people and their property."
Renner countered the notion of futility. "I don't think after two storms you can declare it a futile exercise. It is an expensive exercise," he said. "I suppose in the hypothetical there's a point at which you do have to ask how much do you spend, but I think at this point we haven't had storms here in years and years, decades. We happen to have had two in the last two years. So what happens in the future–is it another 10 or 20 years before we have a storm, is it next year? If we're seeing storms every single year then that's going to become an issue for discussion in how we build our homes and how we build our beaches, and there are other proposals out there."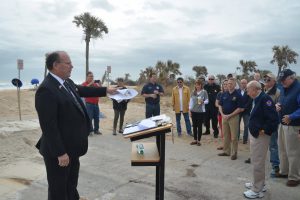 The county administration had arrayed two of the six beach-ready dump trucks on the seaward side of a dune, behind the small berm of ceremonial sand and its dozen shovels. They were filled with the somewhat denser whitish sand being trucked. It was easy to overlook the nature of their cargo, and of this entire multi-million dollar, million-ton effort: it all comes down to grains of sand.
There may yet or even soon be another day when Flagler will tremble and fear the sea, but if a fear of futility is one undercurrent, so was a recurring sense of faith, or at least hope, in most of what was said this morning. Had an epitaph been written in this morning's ceremonial sand, it would have been Jeremiah's, which does not shrink from fear: "For I have placed the sand as a boundary for the sea, an eternal decree, so it cannot cross over it. Though the waves toss, yet they cannot prevail; Though they roar, yet they cannot cross over it."

Watch Christopher Goodfellow's drone shots of the work in progress, and keep up with the work at Goodfellow's channel: