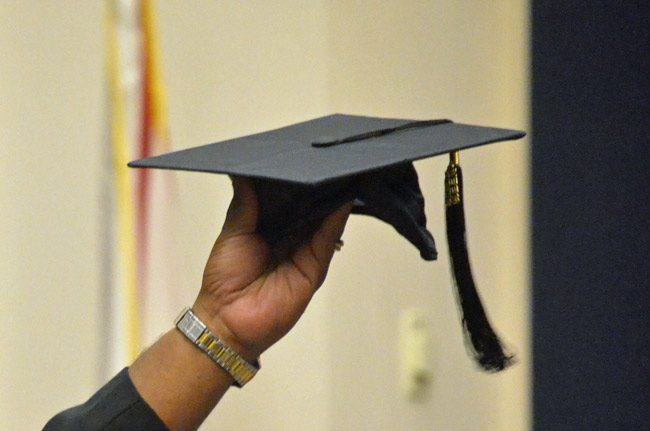 Daytona State College is offering a new scholarship opportunity for high schools students. Starting this fall, the college will award five Presidential Excellence Scholarships totaling $10,000 each to qualified 2019 high school graduates. The application deadline is April 30, 2019.
According to Admissions Director, Karen Sanders, "Students will receive $2,500 each semester until degree completion (up to four semesters). With DSC's affordable in-state tuition, this scholarship will not only cover the cost of tuition, but also books and other educational expenses, for an associate degree."
To be eligible, students must:
Be on target to graduate from high school in 2019 with a minimum 3.5 unweighted cumulative high school GPA;
Begin an associate degree in Fall 2019 at Daytona State;
Attend DSC full-time (at least 15 credits both fall and spring semesters) and maintain continuous enrollment in major semesters until graduation;
Agree to fulfill the requirements of DSC's Student Ambassador program by volunteering at the college, 100 hours per semester;
Successfully complete 100% of courses attempted at DSC and maintain at least a 3.2 GPA per semester to continue receiving the award.
To be considered for the Presidential Excellence Scholarship, 2019 high school graduates should download and complete the application form, submit with official high school transcript, two letters of recommendation and essay by Tuesday, April 30, 2019. Candidates may be invited to an interview with the Scholarship Committee in early May. Successful applicants will be notified by May 15, 2019. Recipients must accept the scholarship and register for classes by June 1, 2019 or the scholarship will be forfeited.
"This is a terrific opportunity for traditional students embarking on their college career," stated Dr. Erik D'Aquino, vice president for Enrollment Management. "It's a competitive process to earn the scholarship, but we know the talent pool from our area high schools will step up to the challenge and we look forward to welcoming new Falcons to DSC."
Earning an associate degree at DSC opens new opportunities for students continuing their pathway to a bachelor's degree.
For additional information about the Presidential Excellence Scholarship, visit DaytonaState.edu/Scholarships, call (386) 506-3642 or email [email protected].