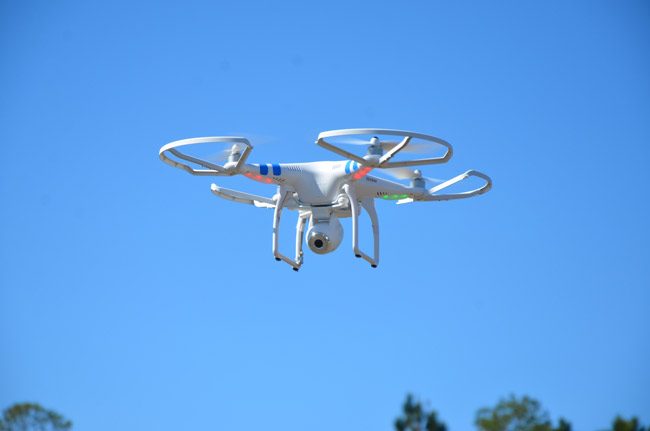 "I got a call from a resident about a drone hovering over her backyard," Flagler Beach City Commission Chairman Jane Mealy said at the commission's Jan. 12 meeting. "She was very unhappy about that. I don't blame her." City Attorney Drew Smith proposed presenting a draft ordinance regulating drone use to the commission at a future meeting.
That draft ordinance is now before commissioners. (See it in full below.) It is an almost word-for-word reproduction of the ordinance the Orlando City Council approved unanimously at its Jan. 23 meeting, after the city's police department requested it, and against much oppositions from drone enthusiasts and businesses that have turned to drones as an aid in their work. But Flagler Beach's ordinance goes even further than Orlando's. (See Orlando's ordinance in full here.)
Flagler County and Palm Coast have no drone ordinances. "We go by state and federal regulations," a Palm Coast spokesperson said.
The ordinance before Flagler Beach city commissioners is a draconian set of regulations, restrictions and prohibitions that would make vast areas of the city off limits to drones without a permit from the city or permission from private businesses, schools or other property owners enumerated in the ordinance.
"I think the question is why, for me, and that's going to be a good discussion this evening," City Manager Larry Newsom said this afternoon. He had not read the ordinance in detail nor discussed it with Drew Smith, the city attorney, but was aware of Orlando's, and state discussions about drone regulations. "I'm not going to say it's just one resident because it's part of the League of Cities' concerns as well," Newsom said.
Drones, he said, are in increasing use, and pose a challenge for residents and local governments when it comes to establishing a line between what is private and public. But enforcement is also a challenge any time a government comes up with an ordinance that would require more of it, he said. "You have to be very careful when you try to adopt things that require enforcement," Newsom said.
The seven-page ordinance, again copying Orlando's word for word, begins with a set of recitals that summarize the increasing use of drones through "a vibrant community of hobbyists, and impacted commercial applications in a profound way that can positively stimulate growth and increase economic efficiency for a diverse and expanding array of businesses." The proposed ordinance states Flagler Beach's "wishes to increase the ability of hobbyists and commercial users to operate unmanned aircraft."
Then it proceeds to lay out restrictions, prohibitions and requirements that would do the exact opposite.
---
Flagler Beach is already a no-fly zone absent permission from the airport. So why seek draconian measures?
---
The ordinance would prohibit the flying of drones within 500 feet of any "enclosed building owned or operated by the City of Flagler Beach," which would then include such places as the Pier, City Hall, city utility facilities, the fire department, the police department and any other location with an enclosed structure. (The Orlando ordinance, in comparison, does not have as broad a prohibition. Rather, it lists specifically the five "venues" that are off limits without a permit, leaving open the council's authority to add other venues. Those include the Amway Center and the Citrus Bowl.)
The Flagler Beach ordinance would prohibit, absent a permit from the city, flying drones within 500 feet of any public assembly of 50 people or more, which could theoretically include such news events of public concern as the recent gathering of federal, state and local officials surveying the damage left behind by Hurricane Matthew, the gatherings of First Friday at Veterans Park, or Flagler Beach's Christmas and July 4 parades.
Remarkably, the proposed ordinance would also ban the use of drones (absent a permit) from within 500 feet of any park, which would mean that even someone flying a drone over the Intracoastal Waterway would be prohibited from doing so near Betty Steflik Park, for example, or much of downtown, because of the presence of Veterans Park. The ordinance also would prohibit drones within 500 feet of day care centers, public or private schools, pre-schools, medical clinics, hospitals, and urgent care centers, without permission from those institutions' administrators. The city's authority to impose such regulations is unclear.
Finally, the proposed ordinance prohibits flying drones "to secretly observe another person when the other person is located in a dwelling, structure or conveyance where such location provides a reasonable expectation of privacy."
"That's the part I like," Mealy said this afternoon, referring to the call from a Flagler Beach resident that had prompted her concern. She is also looking to protect children. But many of the other parts of the ordinance, such as the restrictions over public buildings, did not elicit the same reaction from here. "I did feel it was a little bit too restrictive."
And there's the problem of enforcement. "I have that question too, I had that question when I first brought up the issue," Mealy said. "How does that get enforced, I have no idea."
The prohibitions exempt government drones, as it does drone operators who have authorization from the Federal Aviation Administration to fly drones.
The proposed penalty in the ordinance would be a code enforcement violation, not a criminal violation, but it gives authority to police or code enforcement officers to seize drones in violation of the ordinance. The penalty clause is overly vague, leaving it to a police officer or code enforcement to make the determination of violations but without defined standards: it's not easy to measure distances in the air.
"If they decide you're in violation of something, they can just take your stuff," said Jon Hardison, a Palm Coast business owner who flies a drone (and has shot footage for FlaglerLive). The proposed ordinance, he said, is counterproductive on many levels, redundant, and damaging to the sort of enforcement that would foster a better drone culture.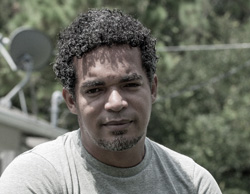 "The first thing that's really, really important to note is that Flagler Beach from its northernmost border, all the way down to pretty much within a couple of feet of Gamble Rogers park, where you can't fly, is all within the five-miles radius of the airport," Hardison said. "That basically means that for every flight that's occurred without getting clearance from the airport has been illegal. Every single one. You basically can't fly in Flagler Beach right now. You can, if you ask the airport for permission, but most people aren't doing that."
The Federal Aviation Administration has been issuing fines to drone pilots, overwhelmingly on the East Coast. "So they already have the mechanism for enforcement," Hardison said. "The police can go to anyone today and say: did you call this in, and they can check with the airport. Now, that area is just based on the Flagler County Airport. The hospital heliport is actually closer to the water, so that actually makes the area larger. You have no viable area where you can launch and land. So them doing this really doesn't make any sense."
FAA fines aren't cheap: $1,100. Many operators won't risk it. The federal system also plays a large role in overall safty and record management.
"All of these violations, fines, incidents, crash reports and so on and so forth, they're all supposed to end up in one bucket so they can make sense of all of it, so they can monitor this group," Hardison said. If localities start changing the rules on their own, "every single time you cross an invisible line, you're going to have to be incredibly aware of it."
"What I would like to see is for them to develop something less predatory and more fostering of a culture of responsible UAV use," Hardison continued. "They're not assuming responsibility. The greatest likelihood is over-enforcement," with the information the FAA needs not ever making it to the agency. Hardison also sees over-enforcement as motivated by potential fines, not responsibility. "I have no issue with strict enforcement of the rules, I think it's a huge part of this, but the answer isn't who gets to the head of the line on who gets these pilots' money, because that's really all this does."
The proposed ordinance is up only for discussion tonight—not a vote on first reading. It would likely have to go before the city's Planning and Architecture Review board first, Newsom said, and be advertised for a public hearing before the commission.

Flagler Beach's proposed ordinance to regulate drones (2017).