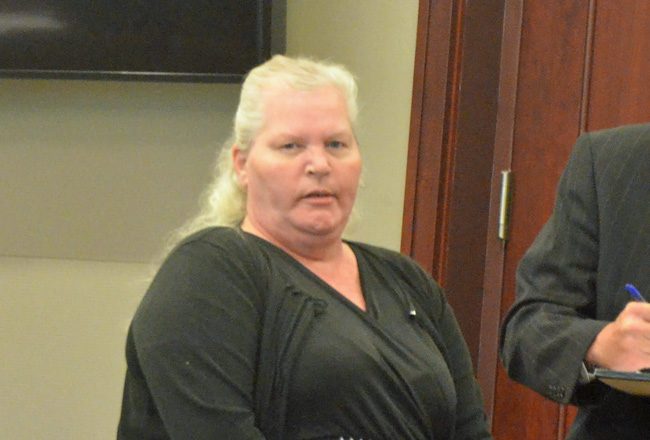 The lies, the mounds of lies, were too much for the jury. The lies had piled up over four days of trial like the garbage and debris Dorothy Singer dumped on on top of Charles Singer's makeshift grave to hide him after shooting him to death five times–like the lies and deceptions Dorothy had weaved around the murder for three months after killing Charles in February 2017 at the couple's home in west Flagler, until she was caught in her final lie: an attempt to fake her death and escape Flagler.
This evening, after deliberating three hours and 45 minutes, a jury of seven women and five men found Dorothy Singer guilty of first-degree murder in the death of her husband of three years. Charles Singer was 48 when Dorothy shot him at their rented property at 80 Pine Tree Lane in west Flagler, apparently after a fight the two were having, when one or both were drunk. Whether she shot him inside the house or outside by a hog pen became less relevant than the defense wanted it to be, less relevant than the five shots that ended Charles's life and that did not look like self-defense, as Dorothy Singer had claimed.
Singer could have been sentenced at a later date. She chose to be sentenced tonight: Mandatory life in prison with no possibility of release or parole.
She did not react differently than she'd reacted throughout the week at various turns in her trial: she was the same impassive, expressionless Dorothy Singer who had stood before a judge in her first-appearance hearing immediately after her arrest, when she was piped into a courtroom by video.
It was different in back of her in the courtroom, where some 15 to 20 people had gathered, including five people on Dorothy's side of the aisle and 10 on the opposite–the prosecution's–side (not counting reporters or court personnel, who often drift in for verdicts). Charles's mother and sister had attended the trial almost throughout, avoiding only its more gruesome moments. They next to each other, the mother holding hands with victims' advocate Knoeidia Hill, the sister cradling a baby, presumably Charles's grandchild. His mother had wept when seeing him on a screen or hearing how Dorothy was lying about him. She wept again after the verdict.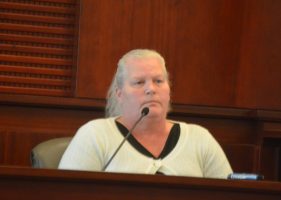 Dorothy may have had a troubled marriage. Charles may have been a mean, angry drunk who at least twice had left marks on her from beating her. But after Dorothy shot him, she spent three months fabricating lies about Charles's whereabouts, pretending the two of them had split, that he'd gone to Georgia or Kentucky, all the while as she used his bank cards, added mothballs to his burial site, cleaned up the crime scene of its bullets and blood, and lied to detectives again and again.
In the end the lies weighed heaviest against Singer, as likely did her testimony today, which did not help her cause.
Assistant State Prosecutor Jennifer Dunton managed what until then had seemed impossible: she made Singer look briefly sympathetic–not because of the stories of violence and hurt she had sustained from Charles, but because Dunton was relentlessly demolishing her on the stand, exposing Dorothy's deceptions lie for lie, catching her in more lies Dorothy was attempting to assemble right then and there in the jury box, as if she was assembling her latest weapons (she worked at a gun manufacturer in Daytona Beach where she made parts for the AR-15 and the M-16 assault rifles). Dorothy looked shellshocked, retreating in what became her last refuge: "I don't remember." The jury had heard the lies in Dorothy's voice through recorded conversations with detectives. But today jurors heard them out of her own mouth as she sat a few feet from them–not once looking at the jury (as defendants who choose to testify are sometimes trained to do).
Jury selection had taken a full day Monday. The prosecution then took two days to put on its case (Wednesday and Thursday), finishing up with one witness this morning–a Florida Department of Law Enforcement analyst who specializes in cellular communications technology, and who explained how cell calls Singer placed from her phone and from Charles's originated from the same area, at the same time. It was the technical explanation behind Dorothy pretending to be Charles and making it look as if he were texting or calling, though the two phones of course were pinging the same cell tower as Dorothy sat in the trailer, adding to her fabrications.
The prosecution then rested. The defense made the usual motion for a judgment of acquittal, Circuit Judge Dennis Craig made the usual denial of the motion, and defense attorney Junior Barrett began to put on the defense.
It did not last long, and it did not go well for Singer.
It featured five witnesses, including Singer. It lasted just two and a half hours, including the time the prosecution spent cross-examining the five witnesses, which was about double the time the defense used: not a good sign when the prosecution has a strong case, and one that suggests that, even if the defense had nothing to disprove (it's up to the state to prove every element), the defense had little work with.
That became obvious as Barrett questioned two daughters of Singer's, Charles's on-and-off employer at Flagler roofing, and an "acquaintance" of Charles's from west Flagler. None proved effective at solidly establishing what Barrett was looking to establish: a history of violent domestic abuse with such instances documented beyond the hearsay or assumptions of the witnesses. The daughters seemed to agree on one particular violent confrontation, which only one of the two said she witnessed several years ago, before the couple was married. Police were called at the time. But the charge was dropped after Charles went to a domestic violence class. Then he and Dorothy got married. The second physical confrontation took place in the run-up to the killing.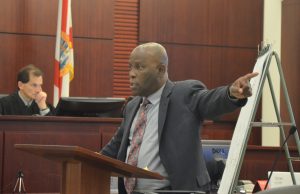 The witnesses lacked clarity and at times sounded more like witnesses for the state rather than the defense. None had seen pictures of the injuries Dorothy had claimed to have sustained from her husband. One of her daughters spoke of constant arguments she knew of between Dorothy and Charles, but only from her mother's accounts: she lived too far away to witness them.
The defense also relied on Enrique Perez, a friend of Charles's for two decades. His unsteady memory seemed to echo that of Dorothy, for different reasons. Perez is battling a brain tumor and sometimes has trouble remembering recent events. He'd never known Dorothy. "I never really set eye on her," he said. But he saw her a couple of times at the store, around the time of the killing. She had physical marks on her that looked as if she'd been in a fight. But, Perez said, "I couldn't tell you if she got drunk and fell because they drank all the time." That was not what the defense was angling for.
Barrett tried again, relying on Perez's deposition to get him to use the word "battered," which Perez finally almost did. "I don't recall saying she definitely got beaten," Perez said. Barrett showed him his deposition, where he'd used the words "beat to shit" to describe Dorothy. Do you remember saying that? Barrett asked. Perez finally said yes.
But the defense attorney had to struggle considerably in front of the jury with his own witness to get to that conclusion–a defense attorney whose patience with witnesses has not made a name for itself this week.
When Barrett questioned Charles Singer's boss at Flagler Roofing, he said he'd never seen Singer in a physical altercation. Only in verbal ones. And yes, he could party. "You're talking about the partying and the drinking and such? Of yes, he could do that, there's a few of us that could," the business owner said. None of the defense's witnesses had proved clear-minded and assertive.
Then came Dorothy Singer. When she took the stand in late morning the table had not been set for her testimony. The opposite had happened. She became a last resort. But she was no more compelling a witness for the defense–for her own defense–than the previous four. She looked put off. She spoke in short, clipped sentences, as if not wanting to say a word more than she had to. (The jury didn't know it but she had refused to appear in person for pre-trials.) If Barrett's or her intentions were to elicit any sense of sympathy from the jury, the testimony failed. She too was was giving Barrett little to work with, and he didn't spend much time with her: 22 minutes.
Barrett–a public defender-equivalent called a regional counsel for the state's fifth judicial district–asked her how many instances of domestic violence had taken place between her and Charles. "Maybe twice," she said, in a tone as emotionless as if she were talking about the weather, which was turning gray. She described the incidents.
Then she described what happened in the hours before the killing, revealing something that hadn't been mentioned until then–not by her in any conversations with detectives or with her own daughters or her sister, not in the fake suicide note she wrote for a detective when she attempted her getaway, not in any conversations with her attorney, who'd never noted it in his opening argument or at any time until then: she'd come home from work to find her four kittens killed, and splayed on the steps to her trailer. Charles had killed them, he told her, because "Charlie," the adult cat, hadn't been fixed. It was then that Dorothy displayed the first hint of emotions. (The prosecutor ridiculed the story in her closing later, calling it a transparent ploy: when all else fails, bring out the dead kittens. "It's a ploy on your sympathy," the prosecutor told the jury.)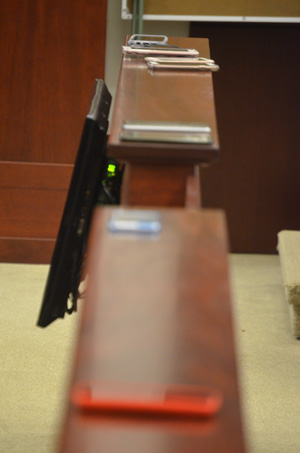 Barrett continued to elicit her story of abuse, and to explain how he'd allegedly threatened to kill her the night of the fateful confrontation, when he somehow took a blanket and a pillow with him in one hand, the gun in the other, yet managed to drag Dorothy out by the hair, all the while keeping the blanket and pillow with him (the blanket and pillow he was later found wrapped in, in the makeshift grave). He was threatening her to shove her in the hog pen. "We were struggling and it went off and it hit him in the chest. After that I don't remember too much," she said of the gun.
She never told her family because she was "afraid and embarrassed. I didn't want to go to jail and I was afraid they wouldn't believe me," she said. "I convinced myself that he was gone." That's how the lies started. It's right about where Barrett stopped his direct examination and Dunton started what would turn into 36 crucifying minutes.
There's no rule in court against hitting a defendant when she's down. That's what Dunton was doing, unraveling every story Dorothy had told starting with the kittens and going through the mechanics of the killings itself: Dorothy had claimed he'd fired a bullet at her feet once, even though he was struck with five bullets from a five-shot revolver she did not dispute using, making the shot at her feet impossible since she claimed she didn't know where the ammunition for the gun–the gun she'd borrowed from her sister–was kept.
Dorothy claims to have forgotten most of the confrontation and the months of inventions that followed. She claims to have remembered it all in flashbacks only when she read a story on FlaglerLive "about domestic violence," which prompted her escape on May 7. (FlaglerLive had not published a story on domestic violence at any point that month through the day of her arrest, though it had published a story two days before her arrest quoting Sheriff Rick Staly saying an arrest in Charles's murder was imminent.)
On it went. Barrett sat with his co-counsel, Kevin Carlisle. He made a few passing objections, but nothing that broke Dunton's stride, and Dorothy continued: "I was scared." "I don't remember." "I misunderstood." It's not even certain whether by her testimony's end Dorothy herself know what she was saying, or supposed to say. "You acknowledge now that you were lying for three months?" Dunton asked her.
"Correct."
Attorneys don't usually get a witness to impeach herself so explicitly. That testimony may have been the difference between the jury finding her guilty of first degree murder and its mandatory life imprisonment and, as it could have, second-degree murder, which leaves a life to the discretion of the judge.
The jury went in to deliberate at 4:32 p.m. At 5, the judge ordered dinner menus distributed to jurors. Deliberations took so long, relative to more recent verdicts on major cases–juries of 12, compelled by a first-degree murder charge, are rare–that the courtroom and its surroundings took on the look of an airport terminal saddled by delays, with clusters of people in the courtroom–attorneys on the case from both sides talked shop together as if at a bar on any Friday evening, minus the booze, families of the two sides kept respectful distances–in witness rooms, sleeping on a hallway bench, passing the time on cell phones. All waited for the sound of that door in the back corner of the room, the door leading to the jury room. When it opens and a bailiff appears, its usually either because the jury has a question or because there's a verdict. There were no questions tonight. One possible reason for the delay was because they got their food (from Olive Garden) only a little before 8 p.m.
The door opened at 8:15 p.m.