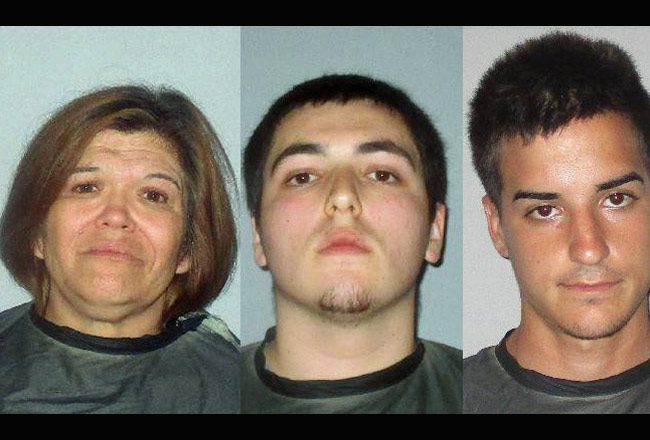 Starting last Tuesday, Thanksgiving week kept Flagler County Sheriff's deputy busier than usual with a spate of domestic violence incidents, including a case of a siblings' brawl that turned into charges of felony child abuse and strangulation, the case of a repeat domestic-violence offender biting his wife on the head, allegedly because she wouldn't have sex with him, and an argument between two sisters that resulted in a weapon and drug charges.
None of the altercations took place on Thanksgiving Day proper, but on either side of it.
The most serious involved 20-year-old Zachery Hattani of 145 Parkview Drive in Palm Coast, home from college for the holiday (he attends the Methodist High Point University in North Carolina).
Much of the family was at the hospital visiting a sick family member. Hattani's two younger sisters had stayed behind to watch their 2-year-old niece. Matters deteriorated when Hattani and the girls argued over who was going to change the child's diaper. When one of the girls wouldn't get up to do it, Hattani allegedly threw toys at her, then pushed her into a couch, causing her to fall and bust her lip. When she grabbed a broom, Hattani, according to his arrest report, grabbed it from her, came at her and both fell to the ground. Where he allegedly "put her in a headlock and she had trouble breathing," according to the report. The girl's sister tried to separate her siblings, only to be allegedly pushed off.
When the girls tried to grab their cell phones to call 911, their brother allegedly took the phones from them and locked himself in a room—with the 2-year-old. "The girls stated they could hear [the 2 year old] screaming from behind the locked door," the report states, "so they broke the door down and took her from Zachery and ran to 147 Parkview Drive to have the neighbor call 911."
Hattani, in his statement to sheriff's deputies, said he had asked his sister to change the child's diaper and she had refused, as did his sister. Hattani said he didn't do it himself because he was already cleaning a mess and didn't feel comfortable changing a girl's diaper. He described his sisters as attacking him, at which point he took the younger child and locked himself in a bedroom. He said he never put his sister in a headlock. But he conceded to hiding his sisters' phones because, he said, "I did not want them to call the police."
He faces two second-degree felony charges (tampering with a witness) and two third-degree felony charges, including felony child abuse.
Late the night of Nov. 21, a Flagler County Sheriff's deputy responded to a house on Putter Drive in Palm Coast to find Katina Chavez, 49, being physically restrained on a couch by her 20-year-old daughter and her 54-year-old husband, who described her as drunk and out of control. They were fearful that she would harm herself or others. Just as deputies were placing handcuffs on Chavez and walking her to a separate area, she allegedly kicked her daughter in front of the deputies.
Her husband told deputies that she'd come home intoxicated and started calling his father names (his father was absent), angering him so much that he picked up a picture of her father and threw it on the ground, shattering it. She allegedly picked up a shard, prompting him to grab her for fear that she'd harm herself or others in the house. She had no prior domestic violence issues, and was charged with battery domestic violence and booked at the county jail by 2 a.m. the following morning. She was released shortly after noon on the 23rd, on her own recognizance.
The morning of Nov. 22, a deputy was dispatched to a reported altercation at a house on County Road 75 where Crystal Edwards's boyfriend claimed she was abusing medication soon after getting a refill. The deputy detected that she'd been drinking, but there was no sign of a physical altercation. The deputy left, only to be sent back to the house by the 911 dispatch center after getting a report from the boyfriend's son that the altercation had turned physical.
The son had recorded it on his cell phone—Edwards grabbing her boyfriend to forcibly pull him back into the residence and keep him from leaving. He'd sought to leave the house to give his girlfriend time to cool down. She was charged with domestic violence and false imprisonment—the latest in a series of arrests that have included two arrests for drunk driving and charges of shoplifting, a previous case of assault and domestic violence last year, battery on a person 65 or older, and probation violation. She remained in jail this evening on $7,500 bond.
Terri L. Gontz's arrest Saturday morning (Nov. 25) may not have taken place had she herself not called 911 to claim, falsely as sheriff's deputies later said, that her 61-year-old sister had run into her room and armed herself with a pistol she took from her (Gontz's) purse. But according to the call, deputies reported, "it was clear that [Gontz] was not in fear for her life or personal well-being."
Nevertheless an elaborate altercation had developed between the two sisters at the house on Parkview Drive in Palm Coast. Gontz, 55, had been living at her sister's and brother-in-law's house for a few months. (Her own address is listed as Royal Oak Drive in Palm Coast, in her jail booking.) Her sister had asked that she contribute more to household duties and bills. The argument escalated from there, with deputies concluding that at one point Gontz forced her way back through a door that her sister had been trying to keep shut, sending her sister to the floor and causing damage to the door.
No gun was brandished in the incident, nor was a gun found in the sister's possession, but when deputies retrieved Gontz's gun from her purse, her concealed-weapon permit turned out to have expired almost a year ago, and drug paraphernalia was found in the purse, resulting in a trio of charges: domestic violence, carrying a concealed weapon, possession of drug paraphernalia, and criminal mischief. She spent 24 hours in jail and was released on her recognizance.
At 10 a.m. Sunday (Nov. 26) deputies responded to a house where a man had called 911 and said: "I have some questions about domestic violence," "my wife is hitting me," and hung up after saying he'd call back. When the dispatch center receives such calls, even if no one says anything at the other end, police are immediately dispatched there.
When deputies arrived at the house on Via Capri in Hammock Dunes, the caller told deputies that his wife, Yulia Alea-Artamanova, 40, had been criticizing him over his clothes and needing to be a better father to their 3-year-old daughter, who witnessed the altercation.
Domestic Violence Resources
---
Anyone can be a victim of domestic violence regardless of age, gender or race. These questions can help determine if you or someone you know may be a victim. Does he or she:

Isolate you from family and friends?

Say things to insult you?

Criticize your parenting skills?

Take your money?
Act as the primary decision-maker?

Prevent you from developing your career?

Physically harm you or threaten you with weapons?

Threaten to commit suicide?
Act like the way he/she treats you is your fault or you are over-exaggerating?

Threaten to hurt your pets?

If you or someone you know is experiencing any of these signs, call the Domestic Violence Hotline immediately at 1-800-500-1119. In Flagler County, call the Family Life Center 24 hour Hotline at (386) 437-3505. Or call 911.
Alea-Artamanova initially told deputies that nothing more had taken place than her pushing on her husband's shoulder, though after further questioning, her arrest report states, she had slapped him on his back and struck him in the head with a full bottle of water. When she realized she was being arrested, "she tried to claim that her husband grabbed her wrist and that she was afraid," according to her arrest report. The Department of Children and Families was notified. Alea-Artamanova was released from jail after 24 hours. The case, following the frequent pattern of domestic-violence cases, is not likely to go further: her husband told deputies he did not want his wife arrested.
Early this morning, just after 2 a.m., Andy Martin Arburua, 25, of 29 Rosecroft Lane, was jailed on domestic battery charges for the third time in less than two years, and for violating a pre-trial diversionary program he'd agreed to in a plea on a previous domestic battery charge.
His wife had been asleep with him when at some point he woke up and asked her to move over. When she told him she was on her side of the bed, he allegedly began to yell at her "then he bit her on the back of her head" and grabbed her arm and hand forcefully, according to his arrest report. A deputy would later observe some of her fingers to be swollen to the point that she could not write a statement. Her head also showed signs of swelling.
A friend who was staying at the house had called 911. Arburua had left the scene when deputies arrived. As deputies were working the case at the house, the friend walked out to a deputy's patrol car and told a deputy that Arburua had called and asked her to tell police that someone else had hurt his wife, because he did not want to go to jail. He was found on Rosencroft Drive and brought back to the scene, after agreeing to walk back there when he spoke to a deputy by phone. According to him, he'd only asked his wife for sex when she was the one who started yelling at him. He conceded that he bit her on the head, according to his arrest report, but he said he never grabbed her hand.
He'd been arrested in February 2016 over a domestic battery case when his wife was listed as the victim. The charge was dropped. He was arrested again last June, when his wife had been very reluctant to describe the incident for fear that he'd be sent to jail, though her lip was cut, she had bruises on her body and she was holding the right side of her head, appearing in pain. At the time, Arburua claimed that he had hit his wife in self-defense. When a deputy asked him how striking her on the head several times could be interpreted as self-defense, he did not have an answer, according to his arrest report at the time.
He was placed under a no-contact order following those charges, which are still active (he is due in court on that case on Wednesday), and was found to be violating that no-contact order this morning. He was booked at the county jail on $4,000 bond, where he remained this afternoon.