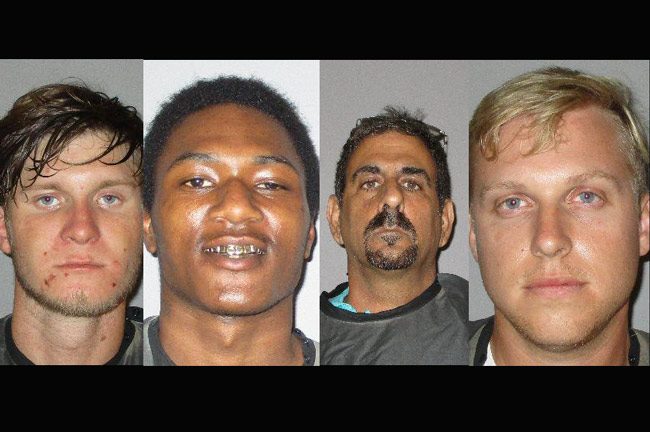 Local law enforcement is usually busy, but Monday proved an unusually hectic 24 hours, with four separate arrests of four men accused of violent assaults, three of the arrests involving domestic situations between spouses, boyfriends and girlfriends or ex's. In every case, the men arrested have been arrested before, some of them numerous times. Two of them served in state prison.
The arrests do not in and of themselves signal a change in trends of violence or domestic violence, though they illustrate in a concentrated period what law enforcement contends with, with somewhat less frequency, on a nearly daily basis. The incidents underscore Flagler County Sheriff Rick Staly's decision to launch an initiative soon against domestic violence.
Raymond Amara, 54, of Florida Park Drive, was arrested on charges of domestic battery by strangulation (a felony), aggravated battery with a deadly weapon (a felony), and battery domestic violence (a misdemeanor) after allegedly involving his 34-year-old wife of two years in a four-hour ordeal allegedly involving a gun. The reason: the cable wasn't working.
Amara's wife, according to his arrest report, told him it wasn't working because he was watching porn. He got upset, started yelling, then rifled through his wife's phone history. When he found a name he recognized, he accused her of cheating and started to push her. He then retrieved a semi-automatic handgun, turned on its laser, and "pushed the barrel of the gun to her head with such force," the arrest report states, "it left a contusion on the top of her head and an abrasion."
He used such force, the alleged victim said, that she was thrown to the ground, at which point Amara "put the gun into her mouth and threatened to kill her." During the ordeal the alleged victim ended up in bed and found herself struggling against him as he strangled her. She told a Flagler County Sheriff's deputy she was too fearful to leave, which is frequently the case with victims of domestic abuse. In the morning, he left, and she went to a friend's house to contact law enforcement.
That afternoon a deputy met with Amara—first patting him down and finding a Glock 9mm gun, fully loaded with 15 rounds, and one round in the chamber, on his hip. He said he'd been upset with his wife because she was on a dating website, using the web cam. He denied that the incident ever became physical and said he didn't know how his wife sustained injuries.
It isn't Amara's first felony arrest. Last year he was charged with aggravated battery for allegedly striking his wife in the head with a can of shaving cream and with his hand. The charge was dropped. In 2011, he was arrested on a domestic battery charge after an argument with a previous wife over an alleged affair he was having. That charge was dropped.
Amara remained at the Flagler County jail Wednesday, on $37,500 bond.

The same day, Qwajon R. Laster, a 20-year-old resident of 207 Seventh Avenue in Bunnell, was arrested on a slew of charges, including aggravated battery on a pregnant woman and illegal possession of an electric device after allegedly using a stun gun against a 22-year-old woman who is pregnant with his child.
The alleged victim told Bunnell police that on May 13 she'd picked up Laster at the dog track in Daytona Beach, where he was upset that he'd lost money. She was dropping him off in front of the Carver Gym in Bunnell when, she told police, he was "playing with a stun gun" and telling her: "You want to try me?" He then allegedly leaned over and activated the stun gun against her hand and the back of her arm before getting out of the car and walking away. She told him she would call police.
"Yea u gotta kill dat baby inside u," he had previously texted the alleged victim, according to his arrest report, revealing that he was aware she was pregnant. "I said what I had to," and "Just forget dat u ever knew me." He used saltier language in additional texts.
He was actually arrested on the 14th after a sheriff's deputy clocked him going 75 in a 60, and during the traffic stop determined that Laster had several outstanding warrants, including three felony counts of failing to appear on felony charges. Those counts relate to several vehicle burglary charges following a burglary spree in February on Fourth and Fifth Streets in Bunnell.
Laster, who served just under a year in state prison in 2015 and 2016 on an obstruction and weapons conviction, is being held without bond at the county jail. He's been previously charged with carjacking (the charge was dropped), theft, fleeing and eluding police, and numerous other charges when he was under 18.

In a separate incident, Andrew J. Krupp, 20, of Poplar Drive in Palm Coast, was arrested on two felony counts of burglary with assault or battery following a confrontation at the gas station on Kingswood Drive in Palm Coast.
The incident, according to his arrest report, took place early that evening. His ex-girlfriend, an 18-year-old Palm Coast resident, told deputies she noticed him following her as she was the passenger, with a 20-year-old male friend driving north on Old Kings Road. When she and her friend pulled into the gas station, Krupp approached her friend and allegedly struck him through the open window before opening the door and physically attacking them both.
Krupp then allegedly got back into his vehicle, a black Toyota SUV, and struck the rear of the alleged victim's vehicle, a Hyundai, before driving off. No one was in the vehicle when that happened. The 18-year-old had scratches to her forearms and hands and lacerations on the inside of her upper lip, the report states.
Video surveillance provided evidence of the incident that evening, which corroborated the alleged victims' description of the incident.
Krupp was arrested for shoplifting in 2016. The charge was dropped. He was arrested on a minor drug charge later that year. Adjudication was withheld. He was sentenced to two months in jail for giving a false name at the time of his arrest that same year. In March he was again arrested on a minor pot charge and adjudication was withheld. He remains at the county jail on $50,000 bond.

Still on Monday, but in the early morning hours, Jacob Robertson, a 26-year-old resident of 2 Village Drive in Flagler Beach, was arrested for aggravated battery with a deadly weapon after a confrontation on Beaufort Lane in Palm Coast.
According to his arrest report, the incident involved Stephen Brady, 18, of Bunnell, and Dillon Houchin, 18, of Palm Coast. Brady was hanging out with friends at a house on Beaufort Lane. Some 10 minutes before leaving he had been outside, speaking to Robertson, who was looking for directions to get to his (Robertson's) brother's house. His brother lives on Beachway Drive in Palm Coast. Brady then went back in, and shortly afterward was ready to leave. He saw Robertson walking in what he thought was the wrong direction, if he was to get to Beachway Drive, so he told him so.
Brady was standing by his car, which he'd parked in the driveway, when he alleges Robertson came at him with a knife and took a swing, lacerating him on the hand slightly. He called out to Houchin, who came outside. Based on the report, Houchin and Brady knew Jacob's younger brother and drove to his house to inform him of the situation, only to be allegedly confronted by Jacob there again.
When deputies spoke with both brothers, the younger brother said Jacob had left the house that night for a while but he wasn't aware of where he'd gone. Jacob himself conceded that he'd had a couple of drinks, but did not recall going to Beaufort Drive. He was placed under arrest on a felony count of aggravated battery with a deadly weapon.
Robertson has a long arrest history locally, including for several charges of burglary, theft, dealing in stolen property, criminal mischief, fraud, and repeat probation violations. He is currently under state community supervision, and was in state prison for nine months last year, until September, on a sentence for burglary and fraud charges. He posted bail on $5,000 bond two hours after his booking at the county jail Monday and was released.