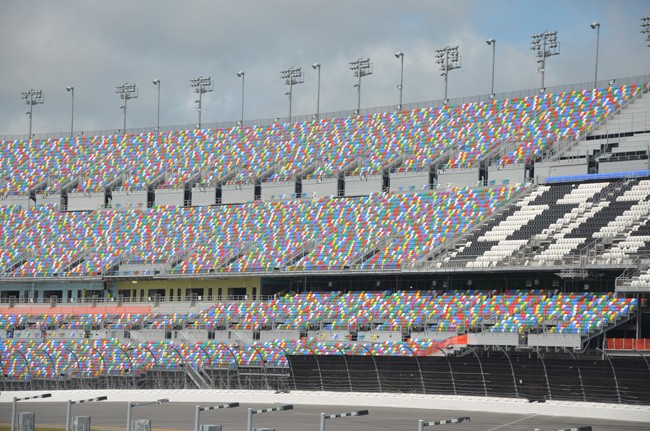 The home of the Miami Dolphins is the first to take the field seeking state money in 2016 for stadium projects, though such spending could continue to run into opposition in the Florida House.
South Florida Stadium LLC, which oversees Sun Life Stadium, has again applied for up to $90 million in sales-tax dollars — up to $3 million a year over 30 years — as part of at least $350 million in renovations at the stadium that Dolphins owner Stephen Ross has said he will pay.
The work, being done in phases, has already begun and is expected to be completed in 2017.
The organization resubmitted its 222-page application, which was among four stadium-funding proposals that failed to get House support earlier this year.
"For the avoidance of doubt, South Florida Stadium LLC is requesting … the reactivation of the application submitted to the department on August 29, 2014," Marcus Bach-Armas, South Florida Stadium director of legal and government affairs, wrote last week to the state Department of Economic Opportunity.
Proponents of stadium funding say the money goes to projects that create jobs, attract tourists and increase regional trade. Critics, such as the conservative-advocacy group Americans for Prosperity, call stadium funding "corporate welfare."
The deadline to file proposals is Nov. 1. However, any distributions would ultimately need the support of the House. Earlier this year, House leaders turned back attempts to win state money for South Florida Stadium, Daytona International Speedway, Jacksonville's EverBank Field and a soccer stadium in downtown Orlando.
"At this time, we are unaware that any applications have been submitted to the Department of Economic Opportunity," House spokesman Michael Williams said in an email Wednesday. "The department has until February 1st to submit any applications to the Legislature for approval."
Ron Book, a lobbyist for Sun Life Stadium, expressed optimism but said he is taking the process "one step at a time."
"The whole idea is economic development," Book said this week. "I think the projects, whatever they are, will stand on their merits."
Senators expect other stadiums to apply.
"In Sen. (Dorothy) Hukill's district there is a wonderful project going on," Senate Transportation, Tourism and Economic Development Appropriations Chairman Jack Latvala, R-Latvala, said during a committee meeting Tuesday. "And there's rumors in Sen. (Jeff) Brandes' and I's area that the Bucs want to do a major facelift to the facility there, but we're just sitting still because we didn't get an evaluation."
The Daytona International Speedway is undergoing a $400 million renovation known as Daytona Rising. Hukill, R-Port Orange, represents a large part of Volusia County.
The Tampa Bay Buccaneers, who play in the Hillsborough County-owned Raymond James Stadium, have been in discussions with the county and the Tampa Sports Authority for $75 million to $100 million in upgrades to the facility.
Jeff Hartley, a lobbyist for Hillsborough County, said Wednesday he hasn't received direction to be involved in any state funding request.
The Legislature created a new funding method for professional stadiums in 2014 in an attempt to reduce the lobbying from prior years for state money.
The law gives the Department of Economic Opportunity 60 days to determine if an application should go forward and to rank all the applications by Feb. 1, something the agency didn't do with the four proposals that were made for the 2015 legislative session.
The lack of rankings is something that still bothers Latvala.
"As I recall last year, rather than evaluating those proposals, your department chose not to evaluate those proposals," Latvala told department Executive Director Jesse Panuccio on Tuesday. "And to the best of my knowledge, today, none of those projects or none of those applications have been accepted."
Panuccio replied that the law didn't require his agency to rank the initial round of projects, but it would do so if enough applications are received for the 2016 round.
"We'll see what comes in this year and proceed accordingly," Panuccio said.
Lawmakers ended up getting state economists to evaluate and rank the projects submitted for the 2015 session.
The Orlando soccer stadium, as a new facility, got the top ranking for most economic impact. Sun Life Stadium was third, ahead of the speedway.
In May, Flavio Augusto da Silva, the owner of the Major League Soccer franchise Orlando City, announced that the franchise would privately pay to build a 25,000- to 28,000-seat stadium.
–News Service of Florida