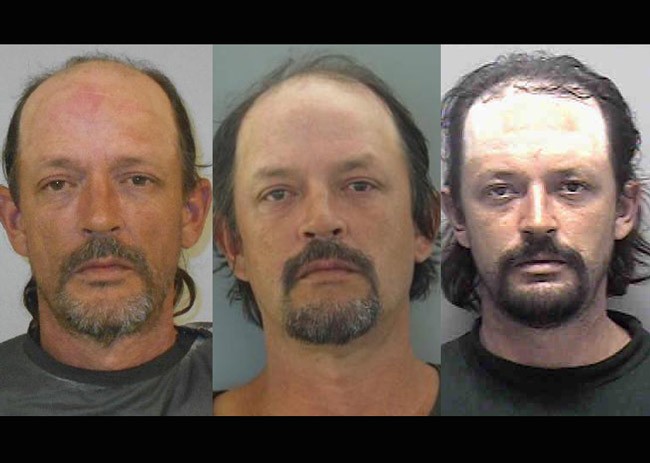 A dog's wandering into a neighbor's yard at the far western end of Flagler County, near Crescent Lake, ended with the shooting death of the dog Friday and the jailing of the alleged assailant, 46-year-old Kevin J. McClenithan, a convicted felon who wasn't supposed to have a shotgun. McClenithan has an arrest record Putnam, Charlotte, Monroe, Collier, Lee and Hernando counties, on charges including battery, burglary, indecent exposure and other matters. He was convicted on the burglary charge, a felony.
Jean Durrance, a 35-year-old resident of an unincorporated area known as Andalusia, along State Road 100, told police that her dog, a Labrador puppy, got loose and ran across the street to 14890 West Highway 100–to where McClenithan lives. There, McClenithan shot the dog. Durrance found the puppy in a fenced in area next to the house.
McClenithan told police that the dog became aggressive. (Labradors have a reputation for being sociable and easy going, but they can also be aggressive at times.) The dog, McClenithan said, tried to bite the homeowner, Marsha Roach, 62, and to bite him.
Roach told police, according to the report, that "earlier in the day the same dog became aggressive while on the property and she was able to lock it in a fenced in area and contain it so she could leave for work." When she got home from work, she waited for McClenithan to come home as well so she could remove the dog. When McClenithan tried to get the dog out of the fenced in area, he said he wasn't able to do so." The details of the shooting are redacted from the report (as are self-incriminating statements in arrest reports). But soon, the dog was shot with a 12-gauge shotgun.
Neither McClenithan nor Roach were bitten during the incident. Neither called authorities–whether police or animal control–to report an aggressive dog.
A Flagler County Sheriff's deputy subsequently discovered through a background search that McClenithan had been convicted of burglary of an unoccupied conveyance in 2012. Convicted felons are prohibited from owning or using firearms. McClenithan was charged with cruelty to animals, a first-degree misdemeanor, and possession of a firearm by a convicted felon, a second-degree felony.
The shotgun, which rRoach voluntarily surrendered, was placed into evidence. It had five shotgun rounds in the gun and three attached to the shoulder strap, according to the arrest report. A spent shell was located next to the dfront door of the house at 14890 West Highway 100.
As of Monday afternoon, McClenithan was still at the Flagler County jail on $5,000 bond.