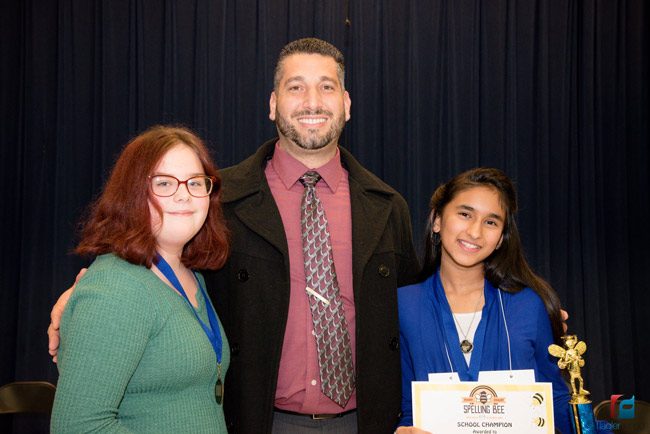 According to Merriam-Webster, the word avocations means "subordinate occupations pursued in addition to one's vocation especially for enjoyment; hobbies." For Buddy Taylor Middle School 8th grader Keelin Cowart-Goldberg, one of her avocations might be spelling. She walked off the stage at Wadsworth Elementary School as the 2018 Flagler School District Spelling Bee champion Thursday night after correctly spelling "avocations." She now moves on to the Regional Spelling Bee, to be held in Jacksonville on March 9th.
Following the trophy presentation, Keelin was relieved. When asked what was going through her mind when that Championship Round word came up, after seven previous rounds, Keelin said it was–"Am I doing this right? Because I did not know whatsoever what I was doing." She admitted she was not certain of the correct spelling of that championship word.
As she prepares for the Regional Championship, Keelin doesn't have to travel far to find a study partner. Buddy Taylor Middle School 7th grader Alisha Jageswar was the runner-up. The two happen to share the same school bus too! Alisha failed to properly spell "sanguine." However, Alisha remained sanguine (confident, optimistic) of success. Since Alisha is a 7th grader, she has one more year to compete. Ironically, Alisha was Buddy Taylor's spelling champion and Keelin was the runner-up!
"Flagler Schools congratulates all 14 school representatives for giving everyone in the audience a great show and we wish Keelin the best of luck as she moves on, towards a possible spot in the National Spelling Bee in the Washington, DC area later this spring," the district stated in a release.
The following are other schools' winners this year:
Indian Trails Middle School
8th Grade: Sean Gilliam
7th Grade: Shawn Zhudro
Belle Terre Elementary School
6th Grade: Eliza Somerville
5th Grade: Chevaney Chandradat
Bunnell Elementary School
6th Grade: Heather Muriello
5th Grade: Jalin Basham
Rymfire Elementary School
6th Grade: Abiel Tucker
5th Grade: William Bass
Wadsworth Elementary School
6th Grade: Kaylee Nevico
5th Grade: Jamilya Dvornikova
Old Kings Elementary School
6th Grade: Ozzie White
5th Grade: Kailee Smith
JaxSports is the district's regional sponsor. The 74th Annual First Coast Regional Spelling Bee will be held on March 9 at the Florida Theater Jacksonville and will be broadcast live.
And here's a list of the words used in the competition, with thanks to Jason Wheeler:
Vampire
Timely
Sugar
Workmanship
Bandit
Frolic
Buffalo
Ditto
scrabble
Ballot
Cruiser
Ninja
Easel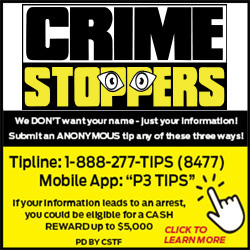 Handsome
Icicle
Cordial
Peroxide
Amputation
Miracle
Contagious
Alacrity
Reservoir
Orchids
Despondency
Azalea
Flabbergasted
Linoleum
Sophomore
Claustrophobic
Impeccable
Stevedores
Repugnance
Vociferous
Generalissimo
Strenuous
Sherpa
Voluminous
Incarcerated
Monomania
Extenuation
Atrocity
Memorandum
Pastrami
Hallucinations
Conspicuous
Financiers
Tempestuous
Excruciating
Treacherous
Uncoquettish
Disquisition
Requisites
Annexation
Lassitude
Bilious
Grotesque
Sanguine
Avocations