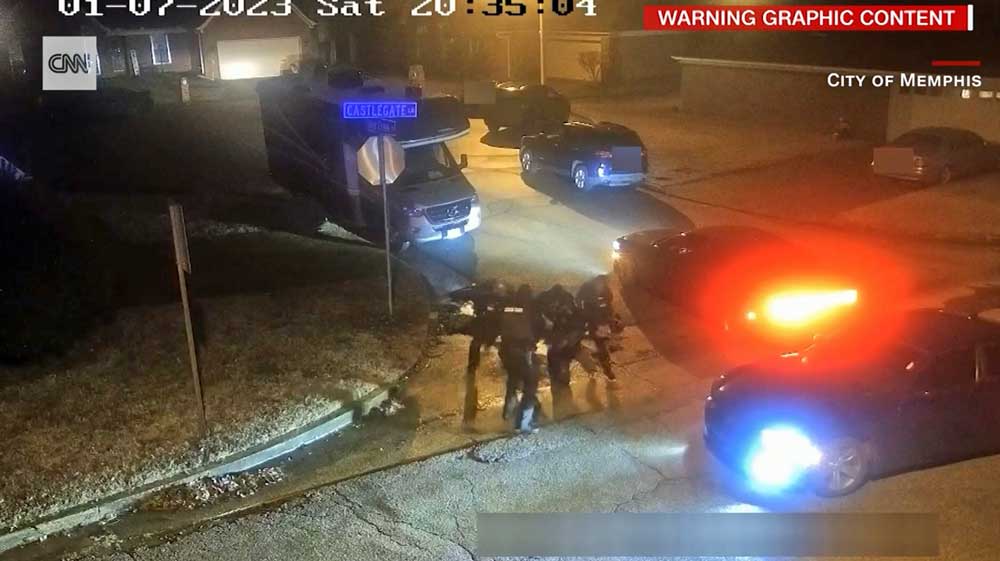 "The Flagler County Sheriff's Office and I are deeply saddened and disgusted by the actions of the five former Memphis police officers," Sheriff Rick Staly said today in a statement issued in late morning, as the nation reacted with shock to a video showing the wanton brutality of five Memphis police officers beating Tyre Nichols after a traffic stop on Jan. 7. Nichols, 29, died three days later from the injuries he suffered in the beating.
The Memphis Police Department has yet to fully explain the reason for the traffic stop. Earlier reports suggested he had been pulled over on suspicions of reckless driving. The video shows five officers, all Black, yanking Nichols out of his car as he repeatedly protested ("I didn't do anything"). After he fled on foot, the officers are seen kicking Nichols in the head, pepper-spraying him, bludgeoning him with a baton, and punching him repeatedly as one of the officers held him.
Nichols, who weighed 145 pounds and suffered from Crohn's disease, is not seen resisting. He cried for his mom. He was unarmed.
The five officers–Tadarrius Bean, Demetrius Haley, Emmitt Martin III, Desmond Mills Jr. and
Justin Smith–face numerous charges, including second degree murder, aggravated assault and aggravated kidnapping. They have been fired. They were members of a street-crime unit referred to as "Scorpion," a paramilitary-style acronym for Street Crimes Operation to Restore Peace In Our Neighborhoods.
According to a Washington Post database, 1,096 people were shot and killed by police in 2022, a record. The database does not include police-involved killings using other means than guns, as was the case with Nichols.




"Our deepest condolences are sent to the family and friends of Tyre Nichols whose lives have been forever changed because of this senseless act of violence," Staly said in the statement. "Those five officers have undoubtedly reduced public trust in law enforcement, both in Memphis and across the country. The vast majority of law enforcement officers I have come to know in my many years of law enforcement are kind and compassionate professionals – and I believe we stand together in the fact that those officers' actions were appalling and acted contrary to the Constitution and everything we believe in."
Staly added: "I want to assure our residents that their Sheriff's Office deputies are trained from day one in tactics of de-escalation, guardianship policing, our duty to intervene, and our bottom-line philosophy – 'An honor to serve, a duty to protect' everyone!"
Staly's statement is backed up by a solid record that contrasts with neighboring counties' officer-involved incidents.
The last time a civilian died in an officer-involved shooting or killing in Flagler County, involving local law enforcement, goes back to December 2012, when sheriff's deputies shot and killed Troy Evan Gordon, 32, who lived with his mother and was having a mental episode. Deputies were cleared of wrongdoing.




In 2014, U.S. Marshals shot and killed an unarmed Corey Tanner as he was coming out of a house in Espanola. Tanner had been a fugitive at the time. Marshals were there to arrest him, with sheriff's deputies in a supporting role. The FDLE cleared the marshals of wrongdoing. (See: "A Bottle Of Cadillac Cologne Is Mistaken For a Gun, and Cory Tanner Is Shot Dead.")
Since 2012, local law enforcement–Flagler County Sheriff's deputies, Bunnell and Flagler Beach police–have maintained a record of no fatalities in encounters with civilians despite numerous confrontations with armed individuals, with non-lethal techniques and negotiations resolving the situation each time. The exception was in 2020, when deputies opened fire and wounded Steven Barneski (a white man) after he'd armed himself in a car, with a woman next to him, and refused to comply with deputies' orders. He survived, was sentenced on three felonies stemming from that incident, and is serving a seven-year prison sentence.
"As a 4-Diamond Accredited Agency, we work to ensure your trust in law enforcement every day by ensuring these guidelines and our policies are followed," Staly said of his agency's de-escalation protocols.
While Gov. Ron DeSantis has been mum on the killing of Tyre Nichols, Staly's statement joined a growing chorus of denunciations across Florida, from other police chiefs, of the Memphis officers' actions. The statements began even before the video was issued.
"Based on what we know, the actions and conduct of the officers involved were not in keeping with the high standards of conduct demanded by our profession," Keith Touchberry, chief of police in Fellsmere, located in Indian River County, and president of the Florida Police Chiefs Association, said in a written statement Thursday evening, according to the Florida Phoenix.




"We do know that the actions of these officers on that day are not representative of the true character and professionalism of the overwhelming majority of the dedicated law enforcement professionals serving their communities across our country," Touchberry said.
Memphis Police Chief Cerelyn Davis has called their behavior "heinous, reckless, and inhumane." The Phoenix reported that Tallahassee civil rights attorney Ben Crump, who represents Nichols' family, has viewed the footage, Fox News reported. "It is appalling. It is deplorable. It is heinous. It is violent," Crump said.
He compared the video to that of the 1991 police beating of Rodney King, saying Nichols had been tased, pepper-sprayed and restrained.
Aides to Florida Gov. Ron DeSantis had not yet responded to the Phoenix's request for comment. But, the news site reported, DeSantis' reaction to the unrest that followed the police murder of George Floyd in 2020 was to denounce calls for police reform. He pushed through the Florida Legislature an "anti-riot" law that a federal judge struck down as unconstitutional, ruling that it would criminalize peaceful protest.
As recently as Thursday, DeSantis called for legislation to stave off reforms that would allow more criminal suspects to win release without paying cash bail. In his second inaugural address on Jan. 3, the governor vowed: "We will always remain a law-and-order state. We will always support law enforcement and we will always reject soft-on-crime policies that put our communities at risk."
Reader Interactions