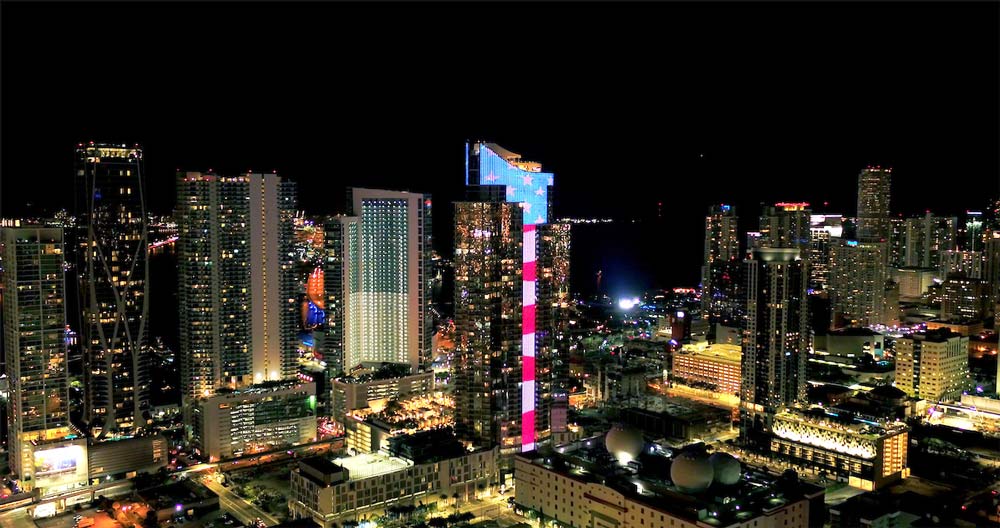 The world's tallest digital American flag coupled with the world's most enormous electronic "Uncle Sam" image are lighting-up the South Florida skyline this Memorial Day weekend, at the 60-story Paramount Miami Worldcenter skyscraper, in downtown Miami.
The Paramount Miami Worldcenter superstructure features the world's most technologically-advanced L.E.D. animation lighting system.




Across the building's Skydeck Crown is a 300-foot-wide by 700-foot-tall moving mosaic of fluttering five-pointed white stars emblazoned against a field of blue.
The flag-waving light emitting diodes transition into an animated "Uncle Sam" – the classic military recruiting symbol of America's armed forces.
Through Paramount Miami Worldcenter's massive center column are rippling red and white L.E.D. stripes.
"The patriotic display is a star-spangled salute to the uniformed men and women of America who sacrificed their lives for this country, which is why Memorial Day was established," says CEO-developer, Daniel Kodsi.
He says, the tower-lighting is not only a beacon of patriotism.
It is also a red-white-and-blue greeting to the millions of visitors converging on Florida's theme parks and beaches this holiday week.
"So, if you, if you're coming from the airport or you're driving down the highway or you're coming in on a cruise ship, you're coming in on a train, from land, air, or sea, when you see the Paramount Miami World Center, you know you've arrived to Miami."
The $3-million lighting system can create a combination of 16.7-million colors.




The system consists of five-miles of wires connected to 13,400 light emitting diodes (L.E.D.'s) embedded in 10,000 panes of high impact-resistant glass.
It took a team of 12 technicians three-years to design and install Paramount Miami Worldcenter's lighting system.
The superstructure measures 240-yards-high – about two-and-a-half football fields tall – if the building was stacked vertically.
The nightly electrical utility charges for the tower lighting are estimated at $34.00.
The ultra-futuristic, 60-story, 700-foot-tall, $600-million Paramount Miami Worldcenter is the soaring signature skyscraper of the $4-Billion, 27-acre Miami Worldcenter, which is America's second-largest real estate development.
The Paramount Miami Worldcenter illuminates at 4:00 a.m. until sunrise and from 8:00 p.m. until midnight; at the top and bottom of every hour, for a duration of five-minutes, from now through Tuesday, May 30.
The building's lighting system was designed and installed by the L.E.D. Smith Lighting Company of West Palm Beach.
The company has created lighting systems for bridges, landmarks and skyscrapers around the world, including the Empire State Building.