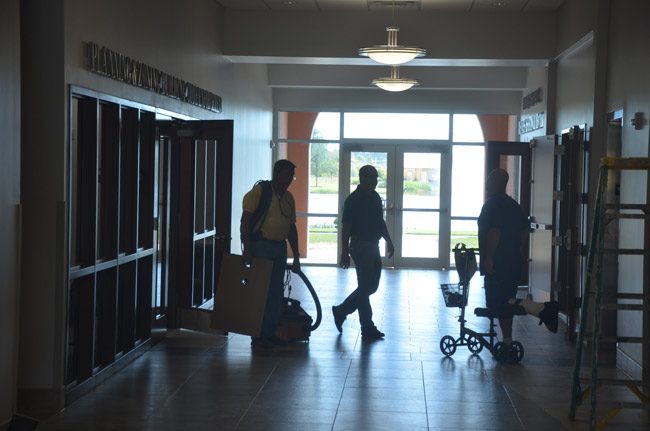 The morning of Dec. 20 last Christmas, Sergey Nevod, co-owner of Blue Crown Construction, walked into the building department at Palm Coast City Hall and handed out eight gift boxes of Crown Royal Whisky, a bottle of Jack Daniels and eight boxes of chocolate.
The intended recipients, whom Nevod specified by name and type of gift to be handed, were mostly employees of Palm Coast's building department, who work with builders and developers. Accepting gifts is a violation of policy as it sets up the potential for corruption. Most of the employees took the gifts, some of them hiding the booze in cabinets then dissimulating it out of City Hall under their clothes.
Only one, Building official Ricky Lee, was incensed by the gift (the bottle of Jack Daniels was intended especially for him). He'd been out that morning, but when Libby Musgrove came to him with a coffee box containing his special Jack Daniels, he refused it and told her to return it to Nevod.
A whistleblower reported the gift-giving to city officials through the city's web-based whistle-blower link. It is the second time in a matter of months that whistle-blowing leads to the disciplining or employees, an indication that the city's effort to encourage reports of abuse or improprieties on the job is working.
The city's Internal Control Ethics team, ominously called "ICE" in city documents (like the eponymous federal immigration agency), investigated.
By early February, seven employees had either resigned or been disciplined with unpaid suspensions of either two or five days.
Plans Examiner Daniel Rewis resigned in January. Planning technician Teresa Williams, after a five-day unpaid suspension, resigned more recently. Utilities Customer Service Representative Luisa Nabico got a two-day unpaid suspension. Permit Technician Lydia Musgrove got a five-day unpaid suspension. Planning technician Jackie Gonzalez got two days. Planning Technician Alisha Mobley got two days. And Senior Permit technician Marga DeFreitas got two days.
Memos to employees, outlining their infractions and penalties, were written with varied degrees of severity.
Stephen Flannagan, writing of Williams, said there were "many things" he found "extremely concerning," from the number of gifts taken into Community Development to Williams knowing it was inappropriate but still taking them, to the gift-giving taking place within sight of a customer. "The facts remain that you, and you alone, accepted multiple bottles of alcohol and boxes of chocolate into the City," Flanagan writes Williams. "At no point does it appear that you hesitated during the process and you concealed the gifts as soon as you received them, indicating you were aware of the inappropriateness of the event. At no point did you excuse yourself to find a supervisor, any supervisor, to provide you with guidance or support." Flanagan's memo to Musgrove was equally stern, while recognizing Musgrove's value to the department.
The memo to Gonzalez was more forgiving: "I want to thank you for your candor and honesty," Flanagan wrote. "You fully accepted responsibility for your acceptance of the gift. As we discussed, please do not let this one poor decision affect you going forward. You are a long-term and valued member of the Community Development Team and also as discussed, I believe that this event was a one-time lapse in judgment and I don't expect that we will have to have similar conversations in the future."
All the gifts were eventually returned to Nevod unopened. The investigation revealed that it was not the first time that sort of thing had happened: there'd been "several improprieties regarding gifts being given to Community Development clerks" around Christmas 2017, the investigation stated.
"It may seem innocent thank you gifts during the Xmas season it's just unacceptable in the world we live in," Deputy City Manager Beau Falgout said on Monday. The incident and the subsequent investigation and disciplinary actions all took place before the arrival of Matt Morton as city manager, when Falgourt was the interim manager.
State ethics laws outline what gifts may and may not be accepted, and how. But there is a zero tolerance policy in effect for gifts from people doing business with the city to city employees, though several of the employees involved in the investigation told city officials that they thought that as long as a gift is "shared," like a gift cookie tray, it's permissible.
Falgout said that the disciplinary actions would have been more severe had the employees involved not been front-line employees. "Had they been in decision making capacity the suspension would have been more severe," Falgout said.
Morton said the zero-tolerance is essential to avoid the appearance of impropriety.
It so happened that Blue Crown, in business 12 years in Palm Coast, had a hold on one of its permits the morning Nevod came bearing gifts, and that he discussed the issue with Rewis. The permit hold was not lifted just then, but Rewis is seen taking a survey from Nevod. Nevod's gift-giving, and the manner in which employees took the gifts, was all witnessed by another person doing business with the city that morning, as video surveillance footage indicates.
"The optics of these transactions, coupled with the interaction with the plans examiner, cannot be understated," the city's internal investigation concluded.
That video footage served the buttress much of the internal investigation, as did interviews with almost all the participants, including Nevod, who apologized for his role. "He stated he believed there was nothing wrong with doing so," according to the investigation. "He stated that the reason he gave the gifts is that he does a lot of construction work and the workers in the Building Department help him. He mentioned calling in for inspections and that he never has any problems. He added that he gives boxes of Crown Royal to Utilities workers as well." He promised not to give gifts in the future.
"When he was asked why there was one bottle of Jack Daniels, he replied that it was for Rickie Lee, the Building Official," the investigation report states.
Lee is the only employee who displayed any sense of ethical obligation to turn down the gratuity, though another employee returned the bottle after consulting with a supervisor.
Musgrove, the permit technician who got a five-day suspension, told investigators that when she tried to give Lee the Jack Daniels, hidden in a box, he told her to get rid of it or give it back. She said she kept the bottle until the end of the day then "drove around the corner and threw it away," keeping a Crown Royal for herself. She told investigators that she'd accepted cookies from contractors in the past. Asked why the alcohol was hidden inside boxes to remove them from the building, "she responded that it was an adult decision not to just walk out with alcohol."
Musgrove was interviewed by internal investigators Debbie Streichsbier and Jay Maher on Dec. 28. On Jan. 9, she returned the Crown Royal gift box set and the bottle of Jack Daniels she'd previously claimed to have thrown away.
Musgrove, according to Mobley, also gave Mobley a bottle of Crown Royal wrapped in a sweater, taking the package to Mobley's car. Mobley reported the gift to a supervisor when she returned to work after Christmas, and brought back the bottle.
The investigation took a harsher tone against Williams: "Ms. Williams accepted gifts from a contractor with whom only a working relationship existed. She was the conduit through which unauthorized gifts were accepted into the city. Ms. Williams hid the unauthorized items to escape detection using coffee boxes and garments. During her interview, Ms. Williams acknowledged that she knew her actions were wrong and that she had in fact, recently been instructed by her Supervisor not to accept gifts from customers. Ms. Williams stated during her interview that she had only taken a box of chocolates and had not taken Crown Royal." But on Jan. 9, she returned a bottle of Crown Royal Gift box that she had taken.
Permitting Supervisor Barbie Bembry was not implicated in the gift-giving but was interviewed by the investigators.
"Ms. Bembry went on to question why the case was being investigated by the ICE team instead of the Department Director," the report states. "It was pointed out to Ms. Bembry that accepting gifts from a contractor could be construed as a form of corruption. Ms. Bembry did not agree with this observation and attempted to minimize the acts by stating that the Permitting Techs are limited in what they can do for contractors. Ms. Bembry was asked several times if she had specifically instructed her staff not to accept gifts to which she responded 'they all know it is wrong to accept gifts'. She explained that they had a lot of training on the subject prior to Rickie Lee being hired." The report adds: " Ms. Bembry was not bothered by the extent that the staff had gone to hide the items that had been given to them by the contractor. She stated that she felt that once they took the items, they already knew they were wrong so she would expect them to attempt to conceal the items."
City policy is explicit: "Employees who may be in a position to influence actions and decisions regarding the administration of the City shall refrain from relationships that may adversely affect the exercise of his/her independent judgment in dealing with suppliers, bidders, vendors and contractors, or any other person doing business with the City."
The policy specifies: "The acceptance of anything of value, including but not limited to: loans, advances, gifts, gratuities, rewards, favors, entertainment or promise of future employment from any party doing business with the City, including but not limited to vendors, suppliers, and bidders may be considered improper…. Acceptance of Gifts – Employees should not accept anything of value including gifts that is intended to influence the judgment of the employee in carrying out his or her employment responsibilities."
There is nothing in policy making an exception for cookies, boxes of chocolate, or gifts to be "shared" among office staff.

The City's Internal Investigative Report: