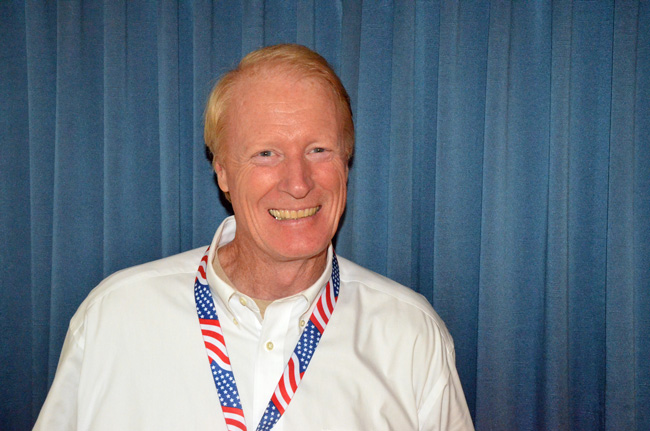 Dennis McDonald is a candidate for the Flagler County Commission, running against incumbent Frank Meeker.
Two commission seats are up this year. In District 2, two-year incumbent Meeker is in a rematch with McDonald in the Aug. 26 Republican primary. Only Republicans get to vote in that contest. No Democrats are running. The winner will face Howard Holley, a Republican choosing to run as an independent, in the November 4 general election.
In District 4, first-term incumbent Republican Nate McLaughlin is facing a challenge from Mark Richter. No Democrat chose to run. The winner will face Denise Calderwood, also a Republican who chose to run as an independent in the general election. Holley's and Calderwood's interviews will run after the primary.
FlaglerLive submitted identical questions to all four commission candidates, who replied in writing, with the understanding that some follow-up questions may be asked, and that all exchanges would be on the record. Each candidate was also given the opportunity to ask his or her opponent questions. Follow-up questions, when necessary, appear in italics, and may be awaiting answers. The questions and follow-ups attempt to elicit precise answers, but the candidates don't always comply.Commissioners represent specific districts, but they are elected by voters across the county, including every city's voters. A county commissioner is paid $50,222 a year. The salary is set by state law, based on county population, but paid out of local dollars.
McDonald was particularly uncooperative, answering with inappropriate cuteness at times, or not answering at all–an oddity, given McDonald's relentless engagement at county and city government meetings, where he speaks at times more than elected officials do. McDonald refused to answer follow-up questions, calling them "a diversion from all that matters for this election." 

The Questions in Summary: Quick Links

Place and Date of Birth: McDonald refused to provide his full date of birth. Public records indicate he was born on April 11, 1950.
Current job: Consultant. (McDonald refused to elaborate.) 
Party Affiliation: Republican
Net Worth: $1.08 million. See the disclosure form.
Website: Campaign website
1. What makes you qualified to be a county commissioner?
My 40 years of successful private business experience, working with government on all levels, and promise to never join "the Governing Club" qualifies me to represent and advocate for Flagler County voters.
What does "the Governing Club" mean, and what was the nature of your work with government at all levels?
Dennis McDonald refused to answer the question.

2. Tell us who you are as a person—what human qualities and shortcomings you'll bring to the board, what your temperament is like: what would your enemies say is your best quality, and what would your friends say is your worst fault? Give is real-life examples to illustrate your answer.
I bring critical thinking expertise and common sense without alignment to any special interests in Flagler County. My background does not include psychology so I am not qualified to answer this.
The question doesn't require a background in psychology. It calls on your honest ability to understand your temperamental strengths and weaknesses. Why don't you show us your critical thinking by applying it to you?
Dennis McDonald refused to answer the question.

3. What are the three most critical issues facing the county, and where do you stand on each?
1. The current county representatives do not represent the voters' needs and concerns. The use of the super-majority vote to enact a tax is a good example. In Oct.2012, Commissioners McLaughlin, Revels, Hanns, Peterson [replaced in 2012] voted to not allow the voters to decide for themselves the Sales tax issue by imposing this tax by a super-majority vote.  Then in September 2013,  McLaughlin, Meeker, Revels and Hanns voted to use our tax dollars to hire a lobbyist to get our legislature to eliminate the right of the voters to decide the County Economic Development Tax. This attempt failed and never moved forward, because they were informed that it required a change to Our Florida Constitution by a statewide, 60 percent majority referendum vote. This is but one example of how the members of the "Governing CIub" fail the voters. I would vote to allow the voters to determine their needs at referendum. Both as prescribed by the Florida Constitution and for any other big ticket items that would arise and for any other big ticket items that would arise.
2. The Commissioners allow the County Administrator to operate without defined goals and have no system to evaluate his job performance. The current "train wreck" coming for the jail, sheriff's HQ and the courthouse Annex is being financed by the taxpayers with the sales tax that the commissioners voted in by the Super Majority listed in item 1. Have they not learned from the $5.5 Million dollar loss of tax dollars in 2007, as confirmed by the State Auditor General's report, when the new courthouse was constructed? Where is that $5.5 million? The Administrator is trying to build his resume portfolio for a " next move up" off the taxpayers' wallets. This would be eliminated by putting the old courthouse annex in Bunnell up for sale and getting it onto the tax rolls and out of our pockets. The new buyer would be foolish not to play on the historic value and look of the old building. The Sheriff's HQ should be built across the street from the GSB on 4.8 acres we own. Build it new and smart with expansion capabilities. The jail is out of control, 280 to 500 beds with national crime trends declining. This cannot be our "growth industry." Sheriff Manfre said in the 2012 election we did not need a new jail. Agreed! We can utilize the old sheriff's administrative building with additions and modifications to serve jail needs. My statement remains that "providing the criminals with a new jail and giving our Deputies recycled blight is Inverted Thinking!"
3. On July 29, the county and City of Flagler Beach held a joint workshop. What was learned was that the taxpayers of Flagler County are being lined up to pay multiple millions to rebuild the beach with a process that starts to fail the day after its installed, and the process must be repeated in eight to 10 year cycles. We do not own the beach. The State of Florida owns it. At this workshop the state had zero representatives present and they will be absent when it comes to paying for this massive project. That would leave us, the taxpayers of Flagler County, paying for it. McLaughlin suggested paying for this with "sales tax." Meeker nodded as if to agree. They are a Taxing Machine. I wiII not enter into any agreement with the Corps of Engineers that burdens and encumbers the Flagler taxpayers for years to come. I would lobby our state senator and House representative repeatedly. This is clearly a state responsibility that has not received their full attention. This beach is our economic driver and they must prioritized now.
You are mis-characterizing the beach renourishment issue: The 2.5 miles the US Corps of Engineers is considering re-nourishing will cost a colossal sum, $39 million at 2013 estimates, but the federal government would cover 65 percent of the cost, with the county picking up the rest. The county's share would rise to 50 percent for future renourishment: still enormous sums that the county has not figured out how to assume, but far from being the county's own sums to pay, according to current plans. For all that, and considering the state's stance, what is your alternative? How would you preserve the beach?
Dennis McDonald refused to answer the question.

4. What do you think county government is doing well, and how will you build on that? What do you think county government is doing poorly, and what will you do to improve matters?
Flagler's Fire, EMS and deputies are excellent, I would support all efforts for Core Services. As for doing poorly, my contributions to the N-J editorials, Observer and FlaglerLive sum that all up.
You are providing answers for readers to spare them the trouble of hunting down your occasional utterances filtered by news sources. This is your chance to explain in your words what ails the government you seek to join. Please try again.
Dennis McDonald refused to answer the question.

5. Give your critique, loving or not so loving, of the county's major big works: the acquisition and re-development of the old Memorial Hospital into a Sheriff's Operations Center, and the expansion of the jail, miscalculations about the cost included.
Refers to his answer to question 3.

6. If you have a choice between providing quality services or providing the cheapest services possible, which would you choose? Please cite examples. What services would you eliminate, what services would you expand?
McDonald refused to answer the question. 

7. The county has been talking about economic development since the bursting of the housing bubble, and in 2011 established its own council and department. Evaluate the jobs council's performance. What measurable outcome would point to a successful economic development effort, and what do you intend to do, as commissioner, to get to that outcome?
I have addressed this topic on my website. My most recent post shows the County-Palm Coast flat lined at recession lows on Commercial values which are the true determination of the local economy.
We would not be asking you questions to indulge our readers with your answers if we simply ask them to look you up somewhere. You are not answering the question, and what part of the question you did address can itself be questioned: Commercial property values in Manhattan have had their dour days too, without diminishing the city's economic vitality. Can you tell us what you think of the county's economic development efforts in the last three years, specifying your evaluation on the development council?
Dennis McDonald refused to answer the question.

8. No one seems to want the old courthouse anymore. What would you do with it—continue to pay for its upkeep until a tenant or more are found? Demolish it in whole or in part? Other ideas?
Put the old courthouse annex in Bunnell up for sale and get it onto the tax rolls and out of our pockets. The new buyer would be foolish not to play on the historic value and look of the old building.
Getting a buyer for the annex is a very long shot. Failing that, and assuming you were a commissioner responsible for the next move, what would you do with the building?
Dennis McDonald refused to answer the question.
9. "Taxes are what we pay for a civilized society," Justice Oliver Wendell Holmes famously said. Do you agree? Do you consider local government taxes to be too high or too little? Do you favor increasing the local gas tax? If there was one tax reform you could implement locally, what would it be?
There is much room for improvement. Increases in any tax demonstrates to any new investment in our county that we do not have our "house in order."  Why would you invest in a county that is looking for any opportunity to raise taxes? Is this one of the factors holding us back ? In order to compete if I was allowed one change it would be dropping all the impact fees below Volusia and St Johns with a moratorium on increasing taxes to prove we could live within our means.

10. Has the county commission managed the taxpayer-funded Environmentally Sensitive Lands program well? Can you cite examples of good land acquisitions, and examples of not-so-good acquisitions? What is your definition of a good ESL acquisition?
NO. The recent move to build rental units in our public parks defies the very meaning and purpose of those public lands. This move alone shows the present county administrator is not clear on his purpose as county administrator.
You are confusing two issues. The question is about the management of the land-buying program voters have approved in three referendums going back two decades, not how the county is handling land in its inventory, though your point is well taken. Can you address the ESL program specifically: how it's been managed, what acquisitions you would not have voted for, where you would take the program from here?
Dennis McDonald refused to answer the question.

11. Some counties and cities in Florida have approved a domestic partnership registry, granting unmarried couples, including gay couples, the same benefits as married couples. The Flagler County School Board recently extended benefits to same-sex couples. That means partners can visit each other in hospitals and jails and can make funeral arrangements for each other. Would you be supportive of such a registry in Flagler County? If not, why not? If yes, would you be willing to lead the initiative from the commission?
No. This is not a decision for the County Commission. It reminds me of the misstep made on the smoking ban.
It could very well be a county commission decision, if the commission chose to move in that direction. Should it do so, would you vote against it? Those possibilities aside, do you oppose extending equal benefits to same-sex couples? 
Dennis McDonald refused to answer the question.

12. Evaluate the performance of County Administrator Craig Coffee, listing strengths, weaknesses and areas of concern.
From my position as a taxpayer he leaves much to be desired. Once elected I would have a front seat to better evaluate him from a more fair perspective. I would encourage other members to take a closer look at his job performance.
Your answer is quite troubling for what it may reveal about your methods. You have had a front-row seat at county commission meetings for several years, have taken to task the administrator on an almost bi-weekly basis, and have occasionally attacked him and his integrity  in open meetings, never hesitating to name him. Are you now suggesting that you've done all this without a "fair perspective"? Is it fair to have publicly and repeatedly attacked the administrator,  only to demur at a question asking you to evaluate him, based on what you've learned–and of course criticized over the years? 
Dennis McDonald refused to answer the question.

13. Evaluate the workings of the county commission: do you consider it an effective local government? Can you cite specific examples of its effectiveness—or areas of concern that you would deal with differently? Are you satisfied with the way the commission and its administration relate to the public?
The County Commission can be an effective local government. In order to do so the insider play must stop and the commissioners must recuse themselves from any action that would cast the commission in a negative position. The selfish acts can not be excused.
You make a valid point, but one relevant only on occasion, and you leave the essence of the question unanswered. Can you try again?
Dennis McDonald refused to answer the question.

14. Who, on the current commission, would you most closely model yourself after and why? If you're an incumbent, please choose from the remaining four commissioners.
None.
We are not asking you to describe a soul mate on the commission, merely who you'd agree with most, or disagree with least. As we've told almost every candidate, we ask these questions to enlighten the voters you aim to serve as transparently as you claim you want to be. The question fairly goes to your philosophy in relation to your colleagues and to the dynamics of the board, which voters have every right and expectation to understand as much as possible in order to make an enlightened choice going into the voting booth. And yes, candidates do their best to evade the question. Please try again.
Dennis McDonald refused to answer the question.

15. Have you ever been charged with a felony or a misdemeanor anywhere in Flagler, Florida or the United States (other than a speeding ticket), or faced a civil action other than a divorce, but including bankruptcies? If so, please explain, including cases where charges did not lead to conviction.
No.

1 – I've kept notes and emails of most of the actions my opponent has been trying to accomplish over the last couple of years and they all seem to be about being negatively charged against something, and never positively charged for something which makes collaborating with others on elected boards problematic. Some would term it an inability to play nice with others. Here's a partial list of these activities.
Mayor's recall-Failure, law suit on the Palm Harbor Shopping Center – Failure,

Changing the City Charter – Failure,

Holmberg Beach Program – Failure,

Manager Landon's salary – Failure (twice).

Understanding the Old Kings Road Special Assessment District – Failure,

Comprehending the difference between assessed value and a market appraisal – Failure,

Understanding that a utility fund is an enterprise fund, not part of the general fund – Failure,

Grasp that the ACOE will determine how the beach is restored – Failure,

Understanding that Covenants and Restrictions applicability to Dunkin Donuts on Palm Coast Parkway have no relationship to the city of Palm Coast – Failure,

misconception of how ordinances are passed, in this case the electric utility tax, Failure,

Constant miss-statements on financial issues for example the cost to the county of the Town Center CRA – Failure,

Enters into Law Suits and then doesn't show up, – Failure (down here and up in Danbury, Connecticut),

Leaves Florida and runs for office as an independent (not a Republican,…hmmm) against the Republican Mayor up in Danbury, Conn in 2009 (getting 47 votes, but I thought he has been living here full time since 1998), – Failure,

Flip Flopping around on the Old Court House, – Failure,

Doesn't bother to read the reports of the Sheriff's Operations center and then makes wild claims about the purchase cost confusing opinion with fact, – Failure,

Claimed the City Charter required elections last year not this year – Failure,

Takes statements out of context for example the use by the SOE of the old ITT Community Center – Failure,

Claimed local politicians are RINOs, but spells it "RHINOS" – Failure,

Wastes (at last count) over $18,000 of the Palm Coast tax payers dollars filing suit against the City of Palm Coast – Failure.
All of these things have been done against Flagler County, or, his particular nemesis, the Palm Coast Community, wasting thousands of the citizen's tax dollars (not including the waste of time on the Palm Harbor Shopping Center law suit) while governmental staffs at the city and county levels try to respond to his and his "cronies" incongruities and questions, as professionally as possible. Of course, this means staff does not have time to do important things for the community because of the steady stream of baseless distractions. Staff's hard work never seems to find a way to satisfy. Ever.
So my question would be has he done anything for Flagler County or for Palm Coast in a positive manner, or has he offered some kind of positive suggestion to make our community better, or even proposed an idea for our communities that received broad community consensus (that wasn't already part of the political process such as second reading of ordinance), that worked?
Dennis McDonald refused to answer the question.
2 – He claims he would not become part of the "political insiders club". Working with local governments and Tallahassee to help meet the growing needs of Flagler County involves a collaborative, network-building individual like myself and others. On the other hand, my opponent has offended, (often insulting personally, individuals such as the Palm Coast Mayor Netts, City Council Members Delorenzo, Lewis and McGuire, Flagler County Commissioners McLaughlin, Revels, Hanns and even myself), elected officials from Governor Scott and Senator Thrasher on down, and let's not forget the local Chamber of Commerce too. He may have missed Mosquito Control and the Grand Haven Board. How could he possibly work with any of these people, for the good of the county, after having alienated them all? What positive benefit would he be able to muster, after already killing every workable relationship, to benefit our large and growing population? We need such cooperation to offset costs for our Capital Projects, which due to his poor relationships, means we would have the full cost now falling on the backs of the tax payers of Flagler County. Does that sound like a guy working for the people to you?
Dennis McDonald refused to answer the question.