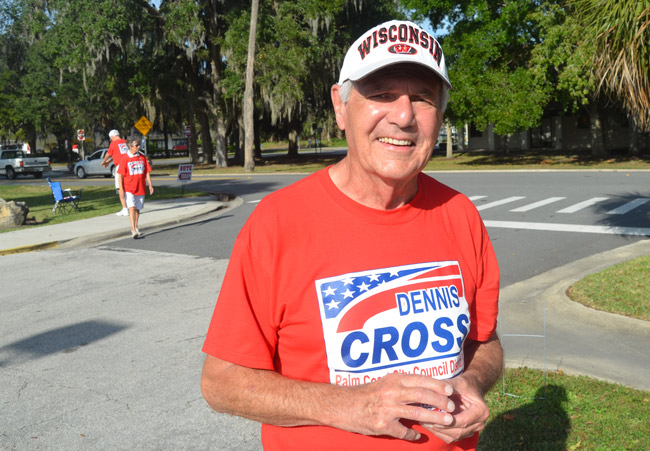 Note: The funeral mass for Dennis W. Cross will be celebrated by Father John McElroy at St. Elizabeth Ann Seton church in Palm Coast, on Belle Terre Blvd., at 11 a.m. Saturday, February 2. His ashes will be interred into the Columbarium following the service. The family will be available in the church to greet Denny's friends and well-wishers one hour before the service. In lieu of flowers, donations may be made to Autism speaks, or to the Disabled American Veterans Charitable Service Trust.

As recently as late November, when he showed up to the swearing-in ceremony of his friend and County Commissioner Charlie Ericksen, Dennis Cross was defiantly cheerful, as he usually was in the face of adversity. He'd had his share in the past couple of years: a difficult election campaign for a Palm Coast City Council seat that had him nearly-and wrongly-disqualified before it started; a loss in the election, by the narrowest margin in the city's history (36 votes out of 5,500 cast); and the discovery, barely six months later, of an aggressive esophageal cancer. "As long as I'm not too sick to walk," he said that November day at the swearing in, referring to debilitating treatments, "I'll be going out."
Cross, known as Denny to his friends and family, died early Sunday at Florida Hospital Flagler's HospiceCare, where he'd been taken only the day before. He would have been 79 on March 10.
"Here was a humble man from a long professional career with AT&T who had a knack and a talent for making everyone feel special about themselves. And he believed in telling you that. Always the positive, refusing to acknowledge the negative," wrote Linda Hansen, a long-time friend who'd helped Cross with his campaign.
"I've never seen anybody who had so much fun every minute of the day. He loved every minute of life and lived it with kindness and exuberance. Every day was an adventure for Dennis. And he was full of suggestions and ideas on how to run the city. We would attend council meetings together and he would patiently explain to me what was going on. He never talked about himself. It was only then that Dennis told me he had been a councilman in Illinois. He was worried that people might think he was too old to run. I was shocked to hear he was 78 at that time. Dennis was ageless, still mowing the lawn and playing basketball up until the time he got sick."
As Hansen described it, Cross had once been given a shirt, as a gift, by the membership of the Flagler Beach Yacht Club bearing the words, "The Vacuum Cleaner Man," attesting to his insistence always to be in charge of that part of the clean-up after club meetings at the Flagler Beach Women's Club (where the Yacht crowd met for lack of space of its own). To anyone who knew him, tirelessness and cheer with him were no clichés: it's who he was.
Cross was orphaned at 7, when he witnessed the shooting death of his parents. He spent his youth and adolescence in orphanages, played a lot of high school sports (it was one way to get hot showers) and joined the Air Force at 17. He used his G.I. Bill benefits to get a degree in geophysics from the University of Wisconsin, working several odd jobs along the way before starting his career with AT&T, where he became a director of operations, managing a $175 million budget and 1,700 workers. (He was married to Bonnie Cross, with whom he had two sons, and had five children from a previous marriage. He had 10 grandchildren.)
He served almost three years as a city council member in Bloomingdale, Illinois (in the mid-1970s) and retired to Palm Coast in 1999, the year the city was incorporated. In November 2005, he defeated Deborah Laury (with 75 percent of the vote) to win a seat on the Grand Haven Community District governing board.
"I evaluate myself as follows," he said in a FlaglerLive interview during his campaign for the Palm Coast City Council in 2011. "A) I try hard to listen to all ideas. Over time I have been known to state that if anyone has a better idea, I will openly adopt it or 'steal it' so we all can benefit. B) I also know I can be abrupt with people if they only know how to object to something and have no constructive ideas or recommendations for a solution to the problem."
---
Dennis Cross Makes His Case to the Redistricting Committee, June 2, 2011[media id=314 width=250 height=200]
Cross's run for the council was almost derailed when the city flubbed the redistricting of its political boundaries. Cross had qualified as one of five candidates (there would eventually be four) for two seats. But a redistricting committee, in a heavy-handed maneuver that appeared designed to exclude Cross from the running (and in a meeting that had barely been publicized), voted for a redistricting plan that automatically disqualified him from running. That would have enabled another candidate running from that district, Jason DeLorenzo, to win more easily (or unopposed, as the field later narrowed when Charles Ballard dropped out).
Cross displayed his characteristic blend of humor, tenacity, legal reasoning and tactical outrage over the following three weeks, mobilizing his Grand Haven constituency to protest what he saw as-and what clearly appeared to be-naked gerrymandering against his candidacy. He outlined his four-point objections to the redistricting committing when it met for the last time ("Changing the rules mid-stream for qualification is not acceptable," he said, describing the recommendation that disqualified him as "grossly unfair"), though the committee stuck to its original position.
"I don't care if I was the candidate or not," Cross said, imagining if the tables had been reversed, "and as I have said to Jason DeLorenzo I'd be here today challenging this if he was the candidate being eliminated, because this is not what you do when you have people who are quite foolish enough to decide to run for public office, to not take advantage of their service."
He concluded, with words that resonate through many local elections: "It is in the best interest of PC voters to have multiple qualified candidates on the ballot. The one thing you learn as a candidate when you go door to door, to get your petitions signed, is people want choices. They're tired of elections with unchallenged and uncontested [races]." Why, he asked the committee, would it then eliminate a qualified candidate?
It was left up to the Palm Coast City Council to reverse its committee's recommendation, and in effect restore Cross's candidacy. He would go on to lose with 2,730 votes to DeLorenzo's 2,766. Even then, Cross's cheerfulness never abated.
"Nothing could get him down," Hansen said. "I never saw him get mad. When I last spoke with him on Friday, he was very matter of fact and still positive, and here he was, dying. He told me he wasn't feeling very good, that he was having bouts of headaches and nausea. Bonnie told me he was losing the ability to get in and out of bed. I wanted him to know how much we loved him, that we were praying for him to feel better. He told me he loved us, too. You don't have many discussions with friends like that."
Cross died around 5 a.m. Sunday. "They say you can judge a man by his character. If that is the case, this was a giant of a man. Gentle, kind, humble, generous and with the ability to keep you smiling, always. He refused to believe in anything but the best in people."