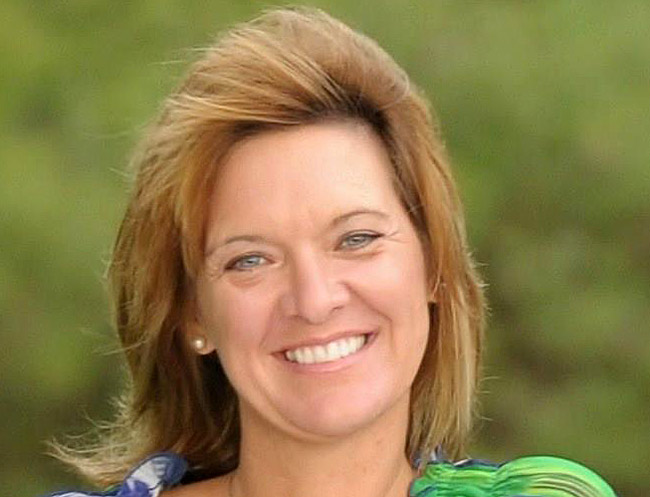 Heather Beaven is running for Congress again from Flagler County.
John Mica's challenger two years ago, the Flagler Beach resident lost in her first race for public office with 31 percent of the vote to his 69 percent. She'd been hesitant to jump in again, with her husband's impending deployment to Afghanistan in summer and two young daughters she's raising. But the opportunity of running in an open seat in the newly drawn 6th Congressional District, ostensibly free of Mica's incumbency and enormous money advantage, and what she describes as strong support from the state and national Democratic Party, were too much to resist.
"I was going to sit out because of Doug's deployment, but with an open seat and with extra support, both family and party-wise, it just seems more doable," Beaven said in an interview this afternoon.
Rumors that he might yet change his mind again aside, Mica decided to run for re-election in the newly drawn 7th Congressional District, closer to Orlando.
Beaven, 43, is the first Flagler County candidate officially to declare for the seat. Two Republican declared from St. Johns County: Ron DeSantis, a Harvard Law School graduate, Iraq war veteran and military prosecutor, and Richard Clark, who lives in St. Johns County and has been a member of the Jacksonville City Council since 2005. Two Republicans have declared from Volusia County: Fred Costello, the Republican House member and ex-mayor of Ormond Beach and Craig Miller, the ex-CEO of Ruth's Chris Steak House who two years ago lost in the Republican Primary against Sandy Adams (who went on to defeat Suzane Kosmas).
The new 6th district includes all of Flagler and all of St. Johns, most of Volusia County and half of Putnam County. The district's population totals 696,000, with 545,000 eligible voters. Most of that population—362,000, with 300,000 of that as eligible voters—is in Volusia. Some 82,000 people in the district are black or Hispanic. Overall, 36 percent of the district's voters are Democratic, 40 percent are Republican, and 24 percent are independent, giving a moderate Democrat a chance only as long as he or she can win over independents.
Beaven defines herself as a "Navy veteran, army wife, mom," and politically, as "a very independent-leaning Democrat. I don't vote straight-party ticket, I don't even give my money straight-party ticket. The one label she'd subscribe to, she said, "would probably be Third Way," a centrist attempt at shedding the more polarized interpretation of Republicans and Democrats. Centrists in Congress, however, are an increasingly rare breed, as more of them drop out. And she is loyal to standard Democratic issues: she's pro-choice on abortion, she would repeal the Bush-era tax cuts, starting with the rich but exempting the middle class, she favors the regulation compelling insurers to provide contraception coverage, and has no patience for what she sees as scaling back women's rights.
"I obviously support a woman's right to access any medicine that she needs to protect her health," Beaven says, "and to say that this is just about contraception is inaccurate, obviously. There are many, many, many reasons why a woman takes birth control pills. This has been a topic of conversation for what, a few decades now, that woman are charged more for insurance, they're denied basic services, tests, medications, because we have female reproductive organs that aren't covered. I think that's a completely uneven playing field. And let's be honest: women still make less than men. We're still at 70 cents on the dollar. We can't afford to have insurers gouging us because of the sex we were born into."
Beaven refuses to grade President Obama. She's no effusive fan, either. "I admire him tremendously," she says, "I think he's not had it easy. I respect his diplomacy in how he deals with people, I respect how he keeps his cool under pressure." But she has more admiration for Bill Clinton. She explains that as a matter of circumstances: he was president—commander in chief—when she was in uniform.
She is also cool to two signature issues of the Obama administration: the stimulus package of 2009, and health care reform, both of which she says were poorly cobbled together (she describes the health care law as a "platypus").
She would have wanted the stimulus package to stay more focused on infrastructure projects and be better tailored to realities on the ground. "It was large enough," she says of the $800 billion package, "but it was done by people who don't understand how to get a project to the ground."
She has no issue with the health care mandate as law: she wants the U.S. Supreme Court  to find constitutional the requirement that Americans buy health insurance or pay a fine if they don't. "I do support the government's right to mandate coverage when it's for the good of the country," she says. "If we don't mandate coverage on car insurance, then somebody hits you, you have to bear the full cost of that. That's not fair. If we don't mandate that people have access to preventative care and to insurance when they have pre-existing conditions, then we end up paying for that on the back end anyway, because at some point they'll go bankrupt and they're on Medicare, Medicaid."
Still, Beaven wishes—stretching the Supreme Court's own mandate into an advisory role it doesn't quite have—that the justices, who are due to rule on the health care law by June, give broader guidance to policy makers: "I want the supreme court to rule that we have a national conversation about health care, about health insurance system, really, because we have the best health care system in the world."
Beaven criticizes the details of the health care law as she does the details of the stimulus package, saying it was poorly developed. But she doesn't blame Obama for the poor job in either case. "I don't think it says anything about his presidency. I think it says a lot about 535 people who were supposed to come together and for the good of the country have very difficult conversations," Beaven says.
But isn't that the leader's job? "I don't put that on any president. The Congress holds the purse strings," she says, adding: "Holding only him accountable, she says, "alleviates the responsibility of the 535 people who were sworn to go to Washington and represent" their constituents back home."
Beaven is placing some emphasis on her pro-military platform. Should she be elected, she says, she would be the only member of Congress—in the Senate or in the House of Representatives—with a spouse in the military. That her husband is heading to Afghanistan doesn't affect what she's thought for a while about the American military's next step in Afghanistan: the war angle of the mission, she said, should have ended when Osama bin laden was killed last spring. The mission should have since transitioned to a humanitarian mission.
"It's a much larger question of what does it mean for our country to go to war and who shoulders that burden and how much of that burden do they shoulder," she says. "It's an important perspective that we don't have right now in Congress. When I vote on these important issues about how we treat our vets, where we go, where we don't go as a military, I have a person in mind, a person that I am supposed to grow old with."
Beaven is president of Florida Endowment Foundation for Florida's Graduates, a Flagler Beach-based non-profit with statewide reach that prepares at-risk youths for the workplace. The congressional district boundaries have been approved by the Legislature, but they've not yet cleared court challenges.