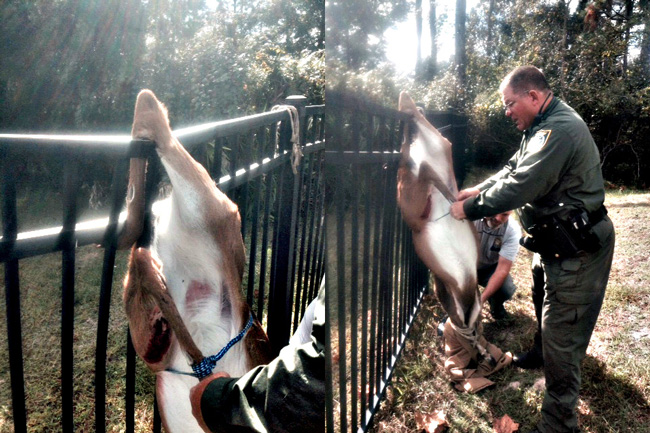 Agricultural and Ranch Deputy Steve Williams along with Sergeant Mike Lutz, responded to 26 Winchester Road in Ormond Beach today–the part of Ormond Beach still in Flagler–in reference to a deer in distress.
Once on scene, Deputy Williams and Sgt. Lutz located the large doe dangling from a 6 foot aluminum fence by one leg.
"The doe was literally hanging from the fence by her right rear leg, but it did not appear to be broken," Williams said. Williams and Sergeant Lutz quickly secured the deer by tying her legs together and covering her eyes and head to reduce stress to the animal.
"After we removed the deer from the fence, she made her way into the woods and we think she will be ok," Williams said. "We think she was hanging from the fence since last night."
"The quick response of Deputy Williams and Sergeant Lutz probably saved the life of this deer," said Sheriff Jim Manfre.