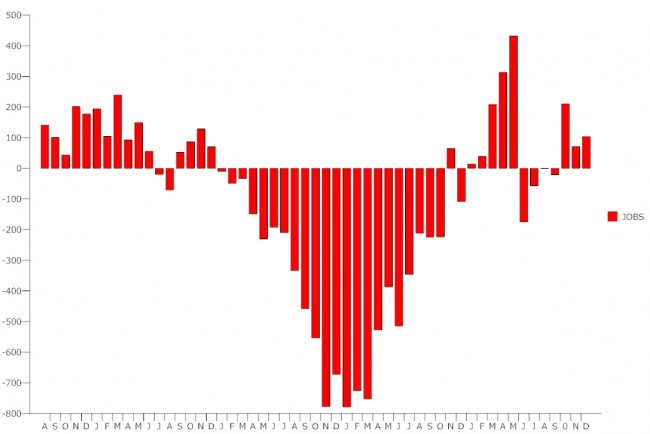 The U.S. economy added 103,000 jobs in December, well below expectations of 150,000 new jobs (by a Wall Street Journal consensus of economists and analysts), but the unemployment rate fell from 9.8 percent to 9.4 percent. The numbers are somewhat deceptive. While the trend is positive, with about 1 million private-sector jobs created in 2010, day-to-day conditions are still bleak for more than 14.5 million unemployed. Those numbers are not decreasing significantly.
---
Click On:
Where and how to file for unemployment
The rate's decline is due to two factors: job-creation figures for October and November were revised upward, adding 70,000 jobs to the two-month tally, for a net, three-month total gain of 384,000. Another reason for the decline in the unemployment rate is deceptive: There were 1.3 million workers the Labor Department categorizes as "discouraged," meaning they had quit looking for work. Those workers are not included in the unemployment tally, yet the number of discouraged workers soared by 389,000 in December alone. If that figure were included in the unemployment rate, the rate would not have improved as it did. Overall, 2.6 million workers are only marginally attached to the labor force. Whether marginal or discouraged, the Labor Department doesn't include those workers in its overall unemployment-rate tally, thus further clouding the true unemployment rate. Some 6.4 million workers have been out of work 27 weeks or more, a huge surge, since mid-2007, from the more normal 1 to 2 million rate earlier in the 2000s. That number rose by 113,000 in December.
The underemployed also cloud the true unemployment rate. Some 27.1 million people are employed part-time. They count as full-time workers in the unemployment tally. In other words, they don't add to the unemployment rate, even if they're employed 1 hour and aren't making ends meet. (The part-time category applies to anyone working from 1 hour to 34 hours.) Among those 27.1 million part-time workers, 8.9 million are employed part-time involuntarily: either their hours have been cut back, or they haven't been able to find full-time work. Again, those figures depress the overall unemployment rate considerably, and deceptively.
"In the month President Obama was inaugurated, the economy lost nearly 800,000 jobs. In 2010, every single month posted private sector job growth, with well over a million jobs added throughout the year," Labor Secretary Hilda Solis said on Friday. While few job losses on Obama's watch are the result of his policies, the anemic recovery is in part the result of those policies. Since the month Solis pointed out, the economy has lost a net 3.6 million jobs. It would take 7 million new jobs just to return to the December 2007 level, and many more jobs to lower the unemployment rate back to the 3 to 4 percent range.
Economists predict a growth rate of between 3 and 4 percent for 2011, which would, if true, yield stronger job creation.
"We have seen increased evidence that a self-sustaining recovery in consumer and business spending may be taking hold," Ben Bernanke, chairman of the Federal Reserve, told the Senate Budget Committee Friday morning, shortly after the unemployment numbers appeared. He attributed gains to more consumer spending (although December's holiday shopping spree proved less stellar than originally reported) and business investment in new equipment and software. But housing and labor markets are not improving. "It could take four to five more years for the job market to normalize fully," he said–which could have dire consequences on political fates around Washington.
Here's how the economy performed in the fine print in December: Leisure and hospitality picked up 47,000 jobs, health care picked up 36,000, professional and business services added 16,000, retail just 12,000 and mining and manufacturing 15,000. Construction fell 16,000, including a 6,000 loss in residential construction. Federal, state and local governments continued to shed jobs.
The average workweek for all employees on private nonfarm payrolls held at 34.3 hours in December. The manufacturing workweek for all employees declined by 0.1 hour to 40.2 hours, while factory overtime remained at 3.1 hours. The average workweek for production and non-supervisory employees on private nonfarm payrolls increased by 0.1 hour to 33.6 hours. Average hourly earnings for all employees increased by 3 cents, or 0.1 percent, to $22.78. Over the past 12 months, average hourly earnings have increased by 1.8 percent. Average hourly earnings of private-sector production and nonsupervisory employees rose by 2 cents, or 0.1 percent, to $19.21.