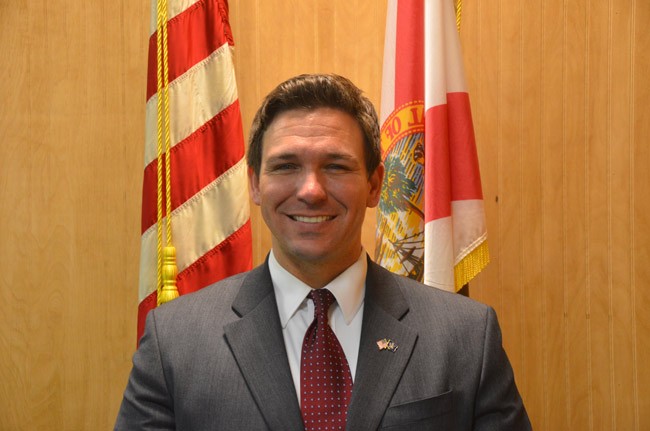 Republican Congressman Ron DeSantis, whose district includes all of Flagler County, said Tuesday he is considering a bid for the U.S. Senate seat being vacated by Marco Rubio, who is running for president, and that a decision will be made soon. DeSantis's quick rise after his election to the House in 2012, his frequent presence on conservative talk shows and relentless criticism of the Obama administration has made him a favorite of tea party conservatives and some further to the right.
"Marco Rubio has done a great job in the U.S. Senate," DeSantis said in a statement. "His 2010 campaign inspired me to consider running for office, and I have no doubt that he will make a compelling candidate on the national stage. As it became clear that Senator Rubio was likely to run for President, I received encouragement to consider running for the Senate. Casey and I will use the next several weeks to discuss the race with our friends and supporters and will make a decision in short order."
In his statement, DeSantis also echoed some of the themes the 43-year-old Rubio is expected to build on during the presidential campaign. "We need a new generation of leaders who will promote policies that will foster economic growth and alleviate the middle class squeeze, defend America's national security against those who threaten our people, reform the culture of Washington, D.C., and reassert the constitutional principles that make our country unique," DeSantis said. "Whatever shape my future service takes, I look forward to doing my part to help get our country back on track."
DeSantis is one of several members of the state's congressional district whose name has been floated in connection with the seat. Lt. Gov. Carlos Lopez-Cantera, former House Speaker Will Weatherford and former Senate President Don Gaetz also have been mentioned. DeSantis, who lives in Ponte Vedra Beach, is in his second term representing Congressional District 6, which includes all or parts of St. Johns, Flagler, Volusia and Putnam counties.
He defeated a field of seven Republicans to win the 2012 Republican primary for the redrawn congressional district with 39 percent of the vote district-wide (Flagler had previously been represented by Rep. John Mica, who ran and won from another district). DeSantis then faced Democrat Heather Beaven in the general election, defeating her 52-48 in Flagler, and 57-43 district-wide. He was not challenged in the 2014 primary, and defeated Democrat David Cox with 63 percent of the vote in the general election. Should DeSantis decide to run, the 6th congressional district would again see a wide-open race for the seat.
The Senate Conservatives Fund's Ken Cuccinelli issued the following statement, following DeSantis's announcement: "With Senator Rubio leaving the Senate next year, it's extremely important for conservatives in Florida to elect a principled leader to replace him. We're looking at all of the candidates, but if Congressman Ron DeSantis decides to run, we will seriously consider supporting his campaign. Ron has a strong conservative record in the House, he listens to the grassroots in Florida, and has the ability to win this important race."
DeSantis was among the nine founding members of the House Freedom Caucus in January, a group of staunch conservatives dissatisfied with Majority Leader John Boehner and the Republican Study Committee, which the caucus finds too moderate.