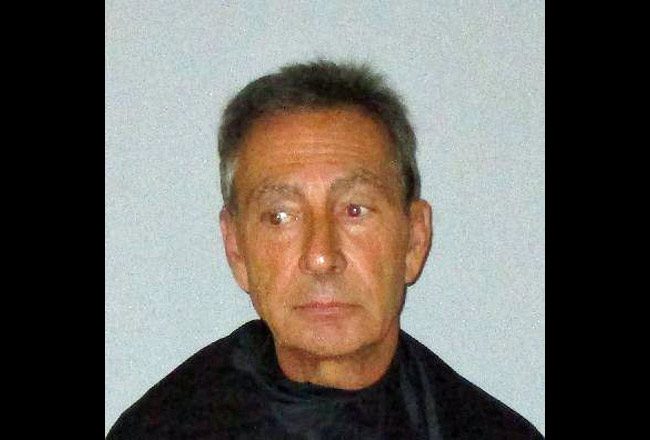 David Zlokas, a 64-year-old resident of Apartment 317 at the Surf Club condominiums on State Road A1A north of the Hammock, turned himself in and was booked at the Flagler County jail Wednesday (Aug. 29) on a drunk-driving-manslaughter charge, a second degree felony, for the death of Gary St. Peter, 67, in a car crash on Nov. 2 within view of the condominiums.
Zlokas was at the wheel of a Ford Mustang. St. Peter was his passenger. The two had been at a restaurant in Flagler Beach earlier, and were driving home. Zlokas, according to a Florida Highway Patrol investigation, was going at 80 mpg in a 50 mph zone when he failed to negotiate a curve to his left. The Mustang careened off the road and down an embankment, rolling and uprooting a tree along the way and crashing against more brush before slamming into two trees. The passenger side was especially damaged. St. Peter had been wearing a seat belt.
Zlokas's blood-alcohol level tested at 0.154. The legal limit in Florida is 0.08. He was also injured, but not seriously.
"David Zlokas actions caused this traffic crash to occur," his arrest report states, "which resulted in the death of Gary St. Peter and property damage to two palm trees."
A second degree felony on conviction carries a maximum penalty of 15 years in prison, with a minimum mandatory sentence of four years in prison. Zlokas also had also face a first-degree misdemeanor DUI with property damage charge, and a second-degree misdemeanor for drunk driving. When the State Attorney's Office ratified the charges today (Aug. 31), the latter charge was dropped.
Zlokas was booked in at the jail at 1:30 p.m. Wednesday, He'd bonded out an hour later, posting $50,000 bail.
The criminal charge is not his only immediate legal consequence. On April 17, Gary St. Peter's wife, Janice St. Peter, representing her husband's estate, sued Zlokas as well as Uncaged Tasting Room LLC, the company owned by Carolyn Mathis of Palm Coast, at whose restaurant and wine bar the suit states Zlokas and Gary St. Pierre had been drinking before the crash.
Janice St. Peter is claiming damages over $15,000 under a wrongful death suit, including funeral expenses and the prospective loss of income from her husband's death. She subsequently filed a claim listing total recoverable damages as exceeding $25 million. Zlokas, in his answer to the suit, declined to respond to all salient claims, invoking his Fifth Amendment right not to self-incriminate. He is being represented by Brett Little of Gainesville. He repeated the invocation in subsequent answers to additional requests except for a motion to stay the civil proceedings pending the conclusion of the highway patrol's investigation "and possible prosecution" of Zlokas. St. Peter opposed the motion on Aug. 2.
The following day the parties received notice of an October hearing where the stay will be argued. The hearings are scheduled before Circuit Judge Terence Perkins in Courtroom 401 at the Flagler County courthouse on Oct. 23, starting at 10:30 a.m.
Uncaged Tasting Room–an establishment at 3214 Meridian Home Lane in the Hammock, just north of Bing's Landing, off A1A. In the lawsuit's count against Uncaged, Janice St. Peter is claiming that the restaurant and bar and its servers personally "knew Zlokas was habitually addicted to the use of any or all alcoholic beverages," and "negligently and unreasonably sold" alcohol to him.