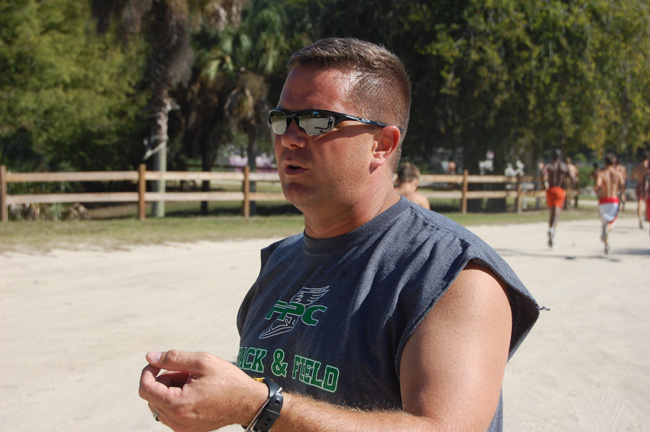 When Dusty Smith first met Dave Halliday, Flagler Palm Coast High School's track coach, Smith was a freshman at Columbia High School in Lake City. That was 1999. Smith had joined the Columbia team midway through the cross-country season, because of a bet he had made with a friend. That first day in the locker room he was approached by a lanky boy he presumed to be an older student, possibly a senior.
"Who are you?" the boy asked Smith.
"Dusty! Who the heck are you?"
"Oh. Well I'm the coach."
That was how smith–a professional track meet time keeper for high schools and colleges–met Coach Halliday, now one of 25 national finalists for the Brooks Inspiring Coach award. As a finalist in the competition, he's earned $5,000 worth of Brooks Running gear for FPC as well as $500 towards team expenses. If Halliday, who's now been coaching for 20 years, is selected as winner, the school will get double that. The finalist with the most Internet votes gets the big prize. (Vote for Coach Halliday here, and vote often: you can vote once every 24 yours.)
This past week Halliday also learned he'd been inducted into the 29th class of the Florida Athletic Coaches Association Hall of Fame. There are only two halls of fame for all high school coaches in Florida: that one  and the Florida High School Athletics Association's hall of fame. Only eight other coaches have been inducted from the Flagler-Volusia area, and only one other track and cross country coach: Halliday's high school coach and mentor, the late Dick Edson of Daytona's Seabreeze High School.
Halliday is the first from Flagler County and, at 42, is the youngest coach to ever be inducted.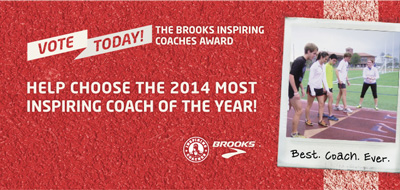 "Never in my wildest dreams did I have my mind set on the hall of fame or many of my other accomplishments,"  Halliday says. "I only believed in high expectations, building relationships, working harder than everyone else, doing all the little things right, and trying to get better every day."
As Halliday grew older and earned more success in his coaching career—he started coaching when he was 21 at Atlantic High School in Daytona Beach—he felt the need to give back to the Florida Athletic Coaching Association. His mentor Edson and others encouraged Halliday to deepen his knowledge. So he attended coaching clinics and conventions.
"So, in 2008 when the FACA, especially the track and field clinic, had dwindled to an all time low involvement of 40-50 coaches from when I first attended in 1994 at over 300," he says, "I answered the call—the need for leadership." He ultimately became track and field chairman of the organization and clinic numbers have swelled to all time highs of 350-400 coaches.
At the time that Smith met Halliday, he had only been coaching at Columbia for about a year. "I'd always enjoyed running, but I was unaware of what running was," Smith says. The Lake City sports culture revolved strictly around football. The track team was so bad that Halliday would come home crying some nights, his wife told Smith years later. They didn't even have uniforms. Runners had to wear old basketball jerseys at meets.
"But he stuck with it and didn't give up on us," says Smith.
After a rough junior year, Smith called Halliday and told him he was thinking about quitting running in favor of football. "That's really not an option for you," Halliday told him. "You're going to be a great runner. We're going to win a lot of races this year and we have a shot at being state champions."
Smith's response: "I didn't believe him at all. I was like, 'Yeah, right.'" Lake City had only one person qualify for state before, never a team. Halliday reassured Smith that it was going to happen. And that Smith was a big part of it. "I bought into his system. And it worked," Smith says.
By Smith's senior year, they were state runners-up in cross-country and state champs in track.  In four years, Halliday had built a program, says Smith, "which is not easy to do."
It's the type of story that typifies the Halliday coaching experience. "He'll give you anything so that you can be great," says Justin Pacifico, 16, who'll be a Flagler-Palm Coast High junior next year. When Pacifico joined the team his freshman year, the determined high schooler told Halliday right away that he wanted to be great. Halliday looked him in the eye and said, "We're going to get you there."
That year Pacifico made it to the state level for his 4×400. Similar honors followed this past year. Though it's hard to articulate what it is that makes Halliday a great coach, Pacifico says it's a mastering of balance between fun and hard, hard work that is truly Halliday's forte.
"From the minute we get there we can have fun and play and all, after track practice, too, but when it's time to get at it and when it's time to grind, we do that," says Pacifico, who started his athletic career playing football.
Halliday coached for Florida State University in Tallahassee but chose to go back to coaching high school. "He loves high school kids," Pacifico says, "he loves getting them to that point in their life, so I just love to be around him."
Then there's Justin Harbor, 26, another alumni of Halliday's. Harbor's father suddenly died during his senior year. "I still had a lot of running to do that year. Without hesitation, David stepped in immediately," Harbor says, up until Harbor left for the University of Oregon. "Just being another father figure—that's how he did it."
On Halliday's Brooks Inspiring Coaches question and answer sheet, Halliday says one of his favorite coaching moments was when Harbor rallied in the 400 meter race at the Boston Indoor High School Mile to place 4th only six days after burying his father. It was one of many moments which take up the better part of a page.
While Harbor doesn't run competitively anymore, running will always be part of his life, at least in part, because of Halliday. It's a means of decompressing and  his day, he says. He puts in about 20-30 miles a week.
"The thing about David Halliday is, if you're willing to put in the work," Harbor says, "he's willing to lay it all on the line to help you get to the next level. On the flip side, if you're willing to open up and communicate with him, he'll try to communicate and help you in any situation that you're dealing with, personally, inside or outside of sports. It doesn't matter. He's a very good guy."
While Halliday acts as a father figure for much of the team, his 17-year-old daughter Darien, who'll be a senior next year, also runs for FPC. Not surprisingly, running has always been a big part of Darien's life. "As a baby I was out on the track learning to run as soon as I was learning how to walk," she says. She also recalls having runners come to the house and live with the family for spells of times.
Asked what it is that makes her Dad who he is, again, it's many things. "All of us, well, a decent amount of us have confidence issues," Darien says. Even when you've put in the work, she says, sometimes in the face of the big one there's still an additional ingredient necessary before you believe you can perform.  "He'll tell you from the bottom of his heart how much he believes in you and how much he thinks you really can do. He's always there with encouraging words."
But maybe the real test of a successful coach is how he makes the physical act itself enjoyable.  "It isn't fun," Smith says. "It hurts. No one in their right mind really wants to go run, but these workouts he'd give us, he'd tell us, 'These are going to hurt but in the long run it's going to make you a better runner.' Somehow, we liked going to practice."
While running is indeed painful, there are always bigger struggles, and Halliday kept his runners aware of this. So when FPC was invited to the 2010 Manhattan Invitational, each member of the team, in an act of solidarity, arrived at the race in high pink socks in honor of Breast Cancer Awareness.

Vote for Coach Dave Halliday once a day here. The results will be announced later this summer.