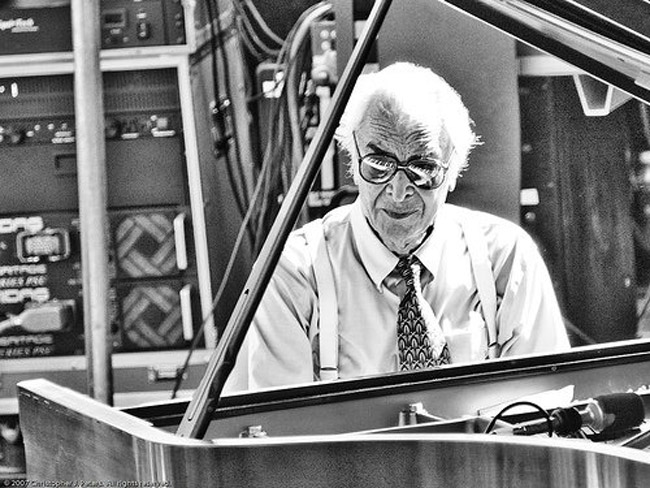 First John Canakaris, now Dave Brubeck.
The first extended mention of Dave Brubeck in the New York Times dates back to November 14, 1955, when the Dave Brubeck Quartet made an appearance at Carnegie Hall with a few other groups. "Mr. Brubeck's group, accorded top billing and scheduled as the final item on the program," read the piece, "opened the bill instead to allow the pianist to get some sleep before a 7 a.m. television rehearsal." That was back when jazz was not a rarity on television. That evening at Carnegie Hall, it was Paul Desmond who was the "moving force, floating off on intriguing flights of jazz-derived fancy that consistently proved to be the high point of each number performed by the quartet." They played "Take the A Train" and "Jeepers Creepers," among other pieces.
Brubeck died today in Norwalk, Conn., a day shy of his 92nd birthday, on his way to an appointment with a cardiologist.
"Brubeck helped repopularize jazz at a time when younger listeners had been trained to the sonic dimensions of the three-minute pop single. His quartet's 1959 recording of 'Take Five' was the first jazz single to sell a million copies," writes Ben Ratliff in The Times. "Mr. Brubeck experimented with time signatures and polytonality and explored musical theater and the oratorio, baroque compositional devices and foreign modes. But he did not always please the critics, who often described his music as schematic, bombastic and — a word he particularly disliked — stolid. His very stubbornness and strangeness — the polytonality, the blockiness of his playing, the oppositional push-and-pull between his piano and Paul Desmond's alto saxophone — makes the Brubeck quartet's best work still sound original."
Here he and Paul are in two of their big hits.
See Also: