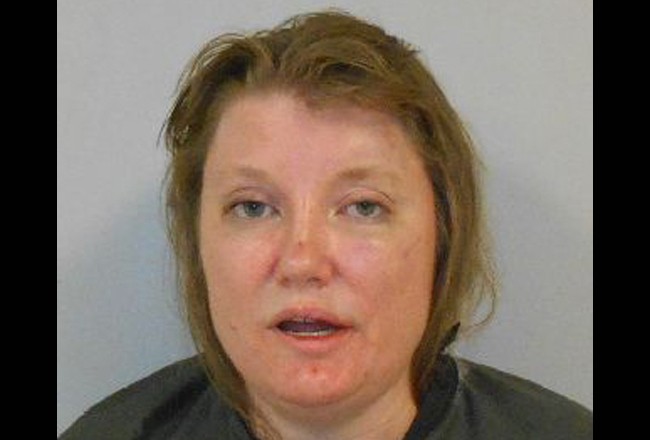 Melissa Holloway, a 39-year-old resident of Palm Coast's R-Section, finished the afternoon Sunday at the Flagler County jail on charges of felony child abuse and neglect after allegedly fighting her daughter, who was trying to prevent her mother from driving drunk.
Holloway was with two daughters Sunday afternoon, a 12 year old and a 16 year old, in Palm Coast's Z-Section, where they were visiting an aunt. According to the older daughter, in the account she gave police in Holloway's arrest report, her mother began the day by drinking a four-pack of beer. She then decided to take the two girls to a department store to get something to wear for the 12-year-old's 6th grade graduation. But the older child said "she recognized that her mother was intoxicated and did not want her driving," so she got in the driver's seat–and told her mother she would drive, even though the girl doesn't have a license.
Holloway told her daughter to get out of the car. The girl refused. The two tussled. The daughter claims her mother didn't stop until she'd pulled her out of the car, at which point she says her mother "began swinging at her and hitting her." So the girl says she fought back in an attempt to get away.
The children's aunt, 48, intervened, jumping between mother and daughter and telling the daughter to go in the house. The girl did so, but Holloway "would not stop following [her] and attempting to hit her." The girl then swung at her mother and hit her in the face, according to the neighbor's account. The neighbor warned them that if they were to continue confronting each other, she would call police. The fight didn't end. The neighbor called police.
Holloway told a Flagler County Sheriff's deputy that her daughter had indeed tried to stop her from driving because she was intoxicated. But the child's mother told the deputy that she'd had no intentions of driving with the two juveniles in the car. She claimed she would have driven herself home to the R-Section, and had her husband drive back to pick up the girls. She said she neither hit nor touched her daughter, but had been telling her "to get out of the car because she had no business in there," according to the report. Her daughter, she said, was not listening, got angry and allegedly hit Holloway, Holloway said.
Holloway was arrested on a charge of child abuse and a charge of child neglect, each a third-degree felony. The arresting deputy noted that her speech was slurred "and she had an unsteady and uneven gait, and made a spontaneous utterance that she was intoxicated."