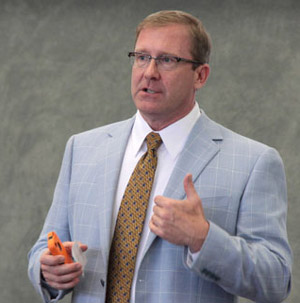 The Flagler County Chamber of Commerce & Affiliates and Flagler County Department of Economic Opportunity have teamed up to host "Unity in the Community" on August 17. The luncheon will be held at Palm Coast's Hilton Garden Inn's Town Center location at noon, with registration starting at 11:30 a.m.
In recognition of local efforts to drive economic development, Dale Brill, president of the Florida Chamber Foundation, will serve as guest speaker. He will share information about The Six Pillars of Florida's Future Economy, a visioning program intended to serve as a "blueprint for securing Florida's future." An abbreviated version of Brill's chamber biography is available here (and a dissenting view about Brill, by self-described Pinellas business owner Tom Rask, is available here).
"The Florida Chamber Foundation's 'Six Pillars Communities' will play a critical role in ensuring that Florida's future economy is made up of more high quality jobs, greater diversification and ultimately less reliance on residential tax payers," Garry Lubi, chairman of the Flagler chamber, said. "Dr. Brill, a brilliant and inspirational speaker, is joining us to share his insight as a leader of this important program. I encourage all residents to attend."
Helga van Eckert, executive director of the county's economic development department, echoed Lubi's enthusiasm about the upcoming event. "This event provides residents and businesses the opportunity to better understand the goals of economic development. Additionally, by teaming with the Chamber, it allows us to speak with a unified voice, positioning the County to better compete in business attraction, retention, and expansion," she added.
The cost for the luncheon is $25 with advance registration and payment, or $35 at the door. Space is limited to 125 seats so reservations are requested by August 14. Please indicate a lunch selection, Chicken Cobb Salad or Club Sandwich.