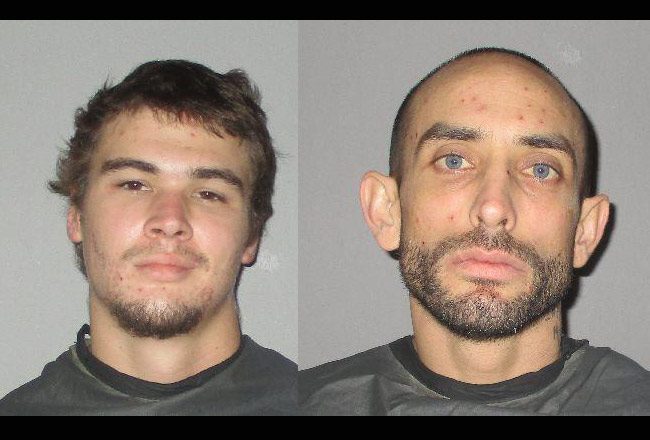 In May 2016 Dacotah Clarke, the Palm Coast resident who was 19 at the time, was sentenced to 15 months in state prison after pleading guilty to armed robbery in Flagler Beach. He had faced up to 15 years in prison. He served 11 months, and last April was released, though he still faced four years' probation.
On Dec. 30, Clarke was re-arrested on nine charges, four of them felonies, including probation violation, meth possession with intent to sell and giving a false name while detained: at first he allegedly lied about his age when asked by a cop, saying his name was "Reece James Edward."
Arrested with him was Steven Young, a 31-year-old Palm Coast resident and convicted felon who was charged with the illegal possession of a firearm as a felon.
Clarke and Young had been driving on Whiteview Parkway in palm Coast the evening of Dec. 30, aboard a Jeep with no license plate attached. That drew a Flagler County Sheriff's deputy's attention. The deputy pulled over Young, who'd been at the wheel of the Jeep, and found out that the plate was in back of the car but covered up—and did not reflect the car's registration. Rather, the plate's registration sticker had been altered to read "18" with a marker.
Young, of 66 Raleigh Drive in Palm Coast, claimed he and Clarke were rushing to help a friend's car that was stuck somewhere in the P Section. But they couldn't come up with a location for the vehicle in distress.
Clarke, of 11 Raedmond Lane in Palm Coast, was wearing a bullet-proof vest and was "Dacotah was acting "extremely nervous and looking around," his arrest report states. He was detained "for officer safety," and eventually conceded that his name was Clarke: there were warrants out for his arrest on probation violations and failure to appear.
Asked if there was anything illegal in the Jeep, Young said there wasn't to his knowledge, but he didn't want to get in trouble if something were found, according to the arrest report: he said it was possible that Clarke had placed a gun beneath the driver's seat. But he did not give consent to have the car searched. "I advised Steven that if he didn't want to give consent that was fine," the reporting deputy wrote, "however, I was going to tow the vehicle and conduct an inventory of the vehicle before it was towed."
Since Young was charged with driving the car illegally, that gave police authority to tow the car, and since towed vehicles may be inventoried, that's a way to get around the Fourth Amendment protection against searches without a warrant. As the deputy inventoried the vehicle, he found a High Point, 9mm semi-automatic pistol under the driver's seat, loaded with one round in the chamber and nine rounds in the magazine. Young, according to the arrest report, "stated that Dacotah showed it to him earlier in the day and that he must have put it there."
Clarke's area was inventoried, allegedly revealing a black backpack with a box that contained approximately 1.9 grams of crystal meth, a scale, three used syringes and a metal spoon with a white residue on the surface. There was also a small glass bottle labeled as Lidocaine I injection. Clarke's wallet contained his driver's license, but the deputy also discovered other people's passports and driver's licenses.
Both men were arrested and taken to the Flagler County jail. Among Clarke's charges: the illegal possession of a bulletproof vest while committing a felony. In this case, the drug allegation resulted in the bullet-proof charge, a misdemeanor.
Young posted bail on his $10,000 bond and was released Monday. Clarke is being held without bond.