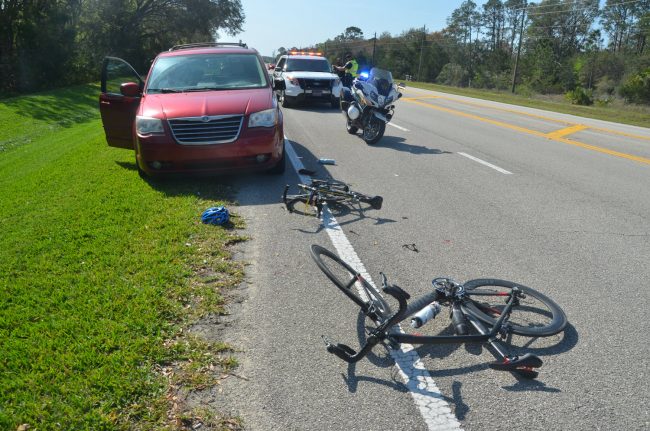 Collisions involving vehicles and cyclists usually are the result of a vehicle failing to see a cyclist, of a vehicle veering into a cyclist's lane or, as a preliminary investigation concluded in the case of a cyclist killed on Palm Coast Parkway Sunday evening, of a cyclist violating vehicles' right of way. In most such cases, a vehicle ends up striking the cyclist.
The crash involving two cyclists and a van on Colbert Lane in Palm Coast this morning reversed roles: it was the two cyclists who rear-ended the van. Both cyclists were taken to Florida Hospital Flagler with injuries, one of them with a gash to the head. Both were conscious at the scene when authorities arrived, but one of them, according to Lt. Steve Cox, who was in command of the scene for the Flagler Beach Fire Department, was somewhat confused even though he appeared less injured than the other, so both were transported to the hospital.
According to authorities at the scene, the driver of a burgundy Town and Country Chrysler van was heading north and had had pulled over onto the right shoulder, past the white line, to make a phone call. Two-thirds of the van was in the grass, at a segment of Colbert where the road splits into two lanes, with a turning lane into Palm Coast Plantation at Lakeview Drive. The van had pulled over some 50 yards before Lakeview.
The two cyclists, both in the late 40s or early 50s, were riding close to each other behind the van. One of them crashed into the rear of the van, the second cyclist crashed into him, and both scraped along the driver's side of the van, ripping off part of its side mirror, scraping the van's side and ending up in front of it: one of the bicycles came to rest a foot or so in front of the van, the other about six or seven feet ahead of it, both straddling the white line. At least one of the cyclists wore a helmet, which was left at the scene. The bicycles did not appear severely damaged.
A deputy estimated the cyclists may have been traveling at 18 mph.
The crash took place at 9:30 and was to be turned over to the Florida Highway Patrol for investigation. None of the identities were released just yet. The van's driver had a Holly Hill address on her driver's license, and one of the cyclists is from Ormond Beach. The residence of the second cyclist is not yet known.
The crash did not alter traffic patterns on Colbert Lane, which was lightly traveled this morning. The Flagler Beach Fire Department and Flagler County Fire Rescue responded to the incident.