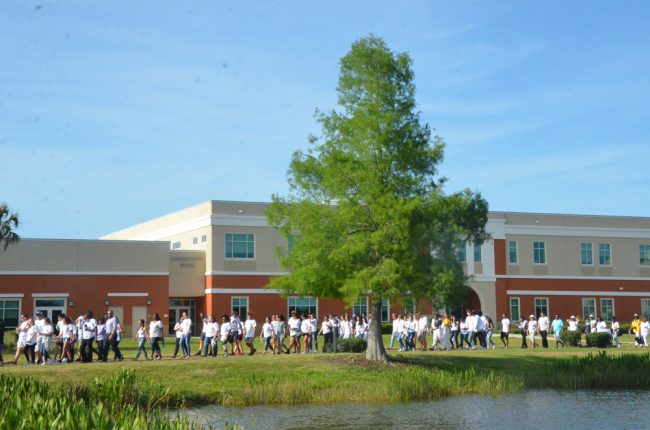 Athletes on Flagler Palm Coast High School's track team–Curtis Gray's team–were upset Saturday that they couldn't be at their teammate's funeral. They had to compete in Winter Park.
"I reached out to Carmen and I asked her for some words for some young kids who had hurt," their coach Dave Halliday, Curt's coach, told a crowd of several hundred, a sea of white shirts emblazoned with Long Live Curtis and Rise To Greatness insignia at a memorial for Curt this afternoon in Town Center.
This is what Carmen Gray told the team: "Listen up Bulldog track Team. On Saturday you will have the opportunity to compete in regionals for Curt. I want you to go out there and run with the wind in your backs. Run past the pain in your hearts. Run knowing that Curt runs with you. Run to stamp out violence in his memory. Run knowing that there is hope even when times are dark. Run in memory of the good times you had with Curt. Run because he'd want you to do that. Run, because you'll never run another race like this race. Run, run, run."
So they did.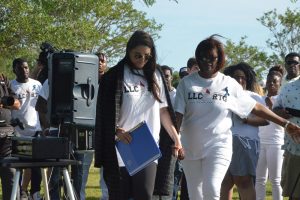 They celebrated him in their run, just as their coach told them: they had no choice but to succeed in his honor. "Yesterday is an example of that," Halliday said. "One of our runners, Nathan Farrell, was in the lead of his race, coming up to his last hurdle. He told me after, he would hear footsteps behind him. And then as he came over, he said in his head for some reason, something shouted at him: 'Curtis!' And he said, 'I will not be defeated.' And he fought to the finish in the fastest time in the state."
Farrell was also second in the 110 hurdle. Jacob Miley won the 800m. The team won first place in the 400 relay, second in the 800, and won the meet, qualifying for the state championship next week.
It was a victory emblematic of the track team's dedication of the rest of the season to 18-year-old Curtis Gray, 14 days after he was shot dead in the parking lot of a shopping strip in Palm Coast, 14 days after he'd walked up to a car, unarmed, to be shot and killed with a single 9mm round from a gun Marion Gavins, a 17 year old, allegedly pulled out as he sat in the back seat of an SUV. The two had had words earlier, ostensibly about Curtis's cousin, Demonte Harris, the 21-year-old Waste Pro employee killed when a truck overturned on him last November.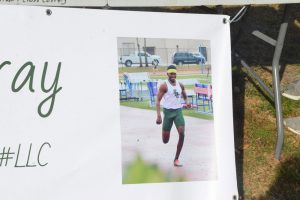 "It was one shot, one victim," Carmen Gray said today, "but look at the ricochet effect. Everyone was impacted." She was referring to the hundreds of people, most of them students but many of them not, who turned up at the 4 p.m. memorial celebration in central Park, almost all of them wearing not their school colors but the white of Gray's RTG shirts, which he'd marketed before his death and which now had the added entreaty to rise "above the violence."
That was today's theme, set by Palm Coast Mayor Milissa Holland as she addressed the crowd in a voice always one note from breaking. "Mrs. Gray, mother to mother, my heart breaks for you," Holland said, more aware of Gray's pain than most people know. "No one should have to experience a tragedy like this." She had words of comfort for the students: "You'll get through this," she told them several times. But she also exhorted the students at least three times in various ways to be friends to each other, to counsel each other, to take a stand against violence. "What can you do to resolve conflict peacefully? How can you take a personal stand against violence?" she asked. "Although this senseless act of violence will have a lasting impact on us, we will not allow it to define us. He was strong, and we can be strong."
She spoke to a sea of white shirts symbolic of a leavening of two school colors: Curt had attended Matanzas High School for three and a half years before transferring to Flagler Palm Coast High to be on its superior track team. But coaches and faculty from both schools spoke as if from one, as Halliday had, as his former football coach at Matanzas did, and as district officials, including Superintendent Jim Tager and senior administrator Earl Johnson, did. "Please control your controls, please observe who you're around when you're around them," Curtis's former football coach said.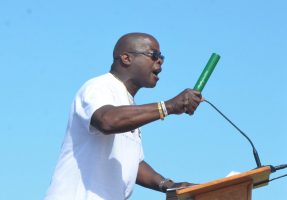 Johnson spoke repeatedly of Curtis's struggles with a darker side to contrast the path he could have chosen, but didn't. He described him "falling out of darkness" thanks to "significant adults" who were there for him, the sort of adults who "allow you to fall but not stay down. Curtis had those adults who were not going to allow him to stay down," Johnson said.
Johnson was himself skirting an edge about Curtis's history that few knew but that he knew well, hinting not only about his struggles but about his "choices."
"He worked, worked hard, when he stumbled, he worked harder," Johnson said. "Curtis bent, but he did not break." And then came that moment shortly after midnight. "On April 13, 2019, choices were made as two paths crossed, two students who had similar circumstances, and we lost a young man because of it."
Johnson, by then in full preacher mode and brandishing a green relay baton that he pointed at the crowd in jabs that seem to implicate every person there, admonished: "We're all busy. I get it. But our children are worth the commitment from this community. They deserve it," he said, as if a conductor to the community's responsibilities. The crowd responded with applause. "We owe it to them. Get involved. Stop making excuses. Our children need us. Long live Curtis, and may we all choose to make sure his legacy never dies."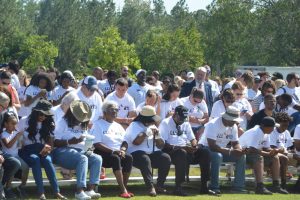 There were several poignant touches from the time the crowd started gathering under the nearly cloudless sky at Town center to the moment when Carmen Gray, the mayor and Curtis's sister dedicated a cypress tree in his memory, such as the way Matanzas student representative Zoe Estberg opened the ceremony: not with prayer, or a moment of silence, not with a pledge, but with a moment of hashtag: she urged everyone to take out their phones and go on their favorite social media platform to say something positive about Curtis, and hashtag it #LLC. Just about every single head then bowed to those screens in a moment of silent tapping.
And after the speeches the entire crowd, led by student Elijah Exantis drumming what came to sound like a plaintive leitmotif the entire time, marched around the lake at Central Park, at one point stretching half the length of the lake in a moving ribbon of white. They stopped for the tree dedication, then resumed the march back to the plaza for music and the announcement of a scholarship in Curtis's name, made possible by the proceeds from the sale of so many of those shirts, along with FPC track shirts.
"We're walking against violence, but with purpose," Curtis's mother said shortly before the walk. She does not intend to be silent in coming weeks and months. Neither does Curtis it appears, after he was given voice by Halliday who daringly quoted the tamer refrain from Nipsey Hussle's Dedication:
Dedication, hard work plus patience
The sum of all my sacrifice, I'm done waitin'
I'm done waitin', told you that I wasn't playin'
Now you hear what I been sayin', dedication
It's dedication