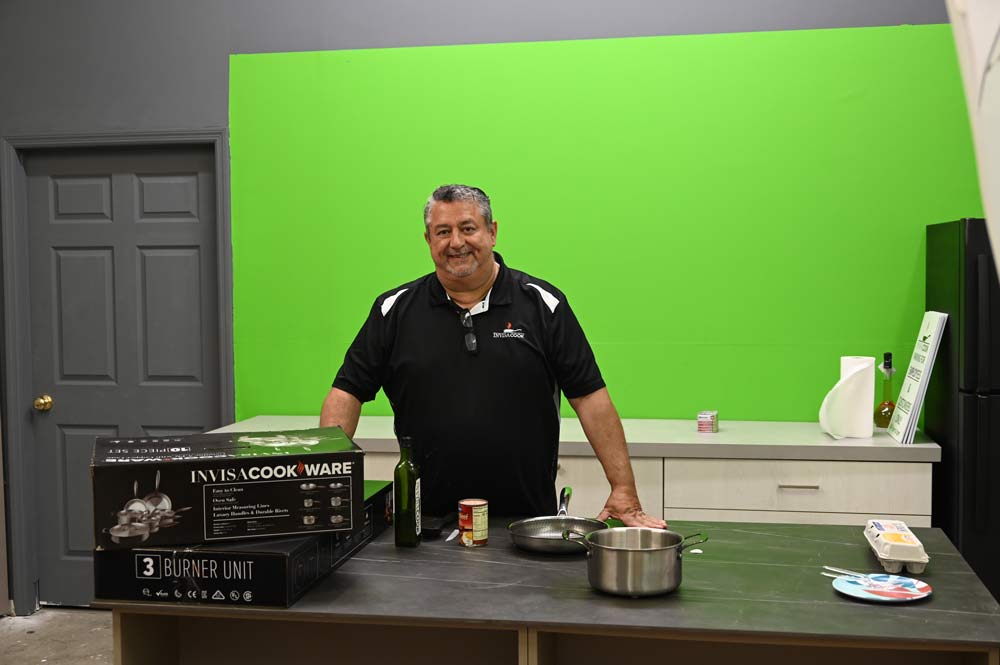 Five years ago Curtis Ceballos, a Palm Coast entrepreneur and inventor, developed Invisacook, an induction cooktop stove that essentially makes the cooktop disappear: no more flames, no more red-hot coils, no more burning surfaces. He opened factories in Bunnell, Germany and China. Invisacook started radiating attention and sales.
A month ago Time magazine interviewed Ceballos, potentially for its "Best Inventions of 2023."




"I was quite shocked," Ceballos says. As he recalls, Katie MacBride, the reporter, told him: "You've been chosen as a innovator and you're changing the world with your product, and they're going to decide, after I write my article, whether they put you in the magazine or not."
At 7 Tuesday morning, he got the call. He was in. Headlined "Goodbye, Stovetop," Invisacook is one of Time's 200 Best Inventions of the year.
"Induction cooking is safer, healthier, and more environmentally friendly than a gas or traditional electric stove," MacBride's brief piece reads, with a picture illustrating the product. "While most induction cooktops go over an existing stove, Invisacook is the first one to go underneath any countertop, allowing you to cook directly on the counter. Previously, using the Invisacook necessitated getting the Invisamat, which protects the countertop and keeps it cool. In March, however, the company launched Invisacookware: pots and pans with risers that serve the same purpose as the mat, with a more elegant look."
As if one shock deserved another, Ceballos even before the article appeared got a call from Ted Talks, the podcast and video non-profit that features innovative people from all imaginable fields conversationally and succinctly describing their ideas, initiatives or inventions in brief lectures that often go viral. Ceballos is preparing for just one such production about Invisacook.




"I'm really honored and humbled by it," the 61-year-old entrepreneur–he prefers to be known as a businessman rather than an inventor–says. "I mean, the people that have come before me on that stage, Steve Jobs, Ted Cook, Bezos, all these other really more important people than I am. And here I am, 25-year resident of Palm Coast, that's going to be talking about my technology and what my feelings are, what the future of cooking is going to be like, taking into effect of course the ability of reducing the carbon footprint that we're leaving on this planet, and reducing the amount of energy consumption so we can do the same things that we do on a daily basis."
Five years ago, when he launched Invisacook, he'd tell people: gas stoves are over. The era of greener options is in. He says people thought he was crazy. He saw it as the future, especially with the decline in gas-powered stovetops and the emphasis on smaller carbon footprints.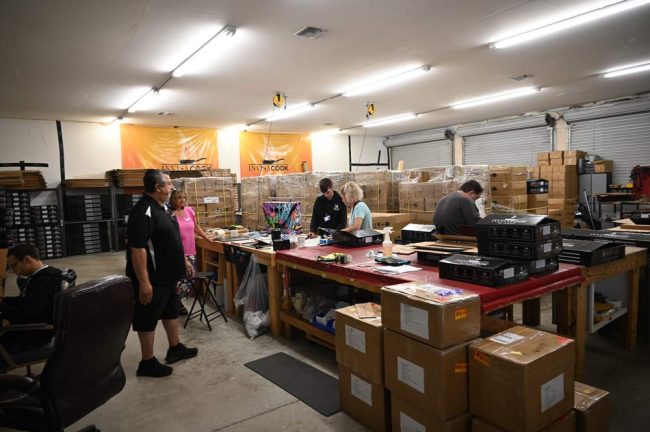 In 2021, New York City–where, according to The New York Times, buildings are responsible for 70 percent of greenhouse gas emissions citywide–passed an ordinance banning gas-top stoves in new construction starting in 2024. California's ban was overturned last April. Groups sued over the New York ban this month. But to Ceballos, the trend is clear: greener, safer, more efficient is better anyway.
Invisacook products are made with one to five burners, with a manufacturer suggested retail price of around $2,300 to $2,600 for a four-burner unit–still pricey for most, but a glass-top version (called Illusion by Invisacook) that may cut the price considerably is in development.




When asked about the origins of the idea, Ceballos says there's the "lie" (a whole story about having bags of millions of dollars he parlayed into marketing and production), then there's the truth: "God brought it to me in a dream over two nights, and I drew it on a piece of paper. It so vivid, so detailed." He was a computer engineer at the time, working on the TalkIt app that made a couple of appearances in these pages, and that also came to him in a dream. (That business went inactive in 2017, as Ceballos fought a lawsuit brought by two former employees that he lost in a September 2020 trial, leaving him owing the former employees $223,000 each. He is seeking to appeal.)
Ceballos built his first induction-stove unit out of used computers. It failed. The second attempt exploded and almost started his house on fire. "Obviously I'm too dumb to quit," he says. "About four months later, at 2:37 in the morning, I had the aha moment, and everything just worked. I still have the original unit made out of spare computer parts."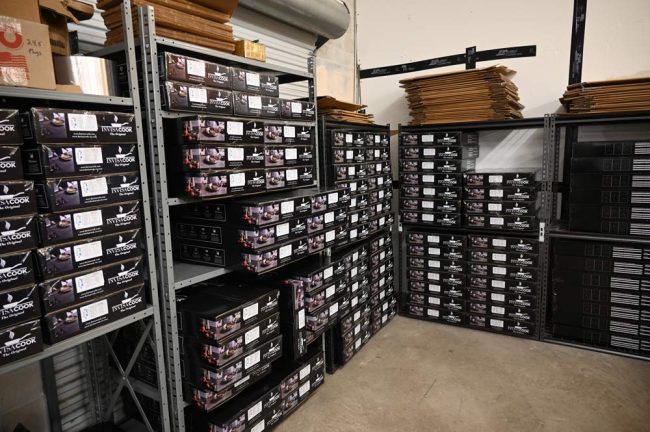 The first people he showed it to were Ky and Lisa Ekinci, who always fueled local entrepreneurship. "Ky, his eyes just lit up and he said, Curtis, what did you do? When I showed it to him," Ceballos recalled. "He just said oh my god, this is amazing." (Ky Ekinci died in March.) Now the product is sold all over the world.
Induction energy uses electricity to create searing heat with magnetic fields quickly, in a much more controlled way than flames or electric ranges, and using 65 percent less energy that an electric range would use. While induction stoves have been around for a while, Invisacook lives up to its name. It makes the stovetop portion disappear. The elements of the stove are embedded under a counter, typically porcelain or stone, making them invisible, but no less effective on the counter, once turned on. "It's creating a frequency that goes through the stone," Ceballos says.
The counter will not heat up unless there's a metal pan on it. The moment the pan is removed, built-in censors turn off the stove, and the surface of the counter cools with incredible rapidity. It would be a challenge to burn yourself. If the stove's interiors exceed a certain temperature, considered unsafe, it automatically turns off. The company secures certifications that assure its customers that its electromagnetic frequency ratings (EMF) are safe.
"Everything I have designed is for safety purposes, making sure your countertop doesn't break and the customer is safe," Ceballos says.




Invisacook has been in business since June 1, 2018, with the factory-warehouse at Marvin's Garden in Bunnell that went from 900 square feet to 6,200 square feet, plus the factories in Germany and China (where most of the components are manufactured), and some 200 dealers worldwide. The company does not sell directly to individual customers. Though the manufacturing of most parts is abroad, Ceballos says that 68 percent of the totality of the work, including research, assembly, testing, marketing, shipping and so on, takes place in Bunnell, enabling the company to say that it is made in the United States.
Ceballos works seven days a week, takes care of his parents with his wife, who has worked for the Flagler school district for 25 years (still does, at Indian Trails Middle School). His team travels the world, exhibiting at trade shows, as one of his team members, Hans King, just did in Venice. He has 11 employees at the Bunnell plant. He also participates in the school district's Trail program, which sends supervised students to train and work on the products, and have a chance to work there as employees upon graduation from Trail–as one such graduate, the ever-enthusiastic Michael, has for the past year.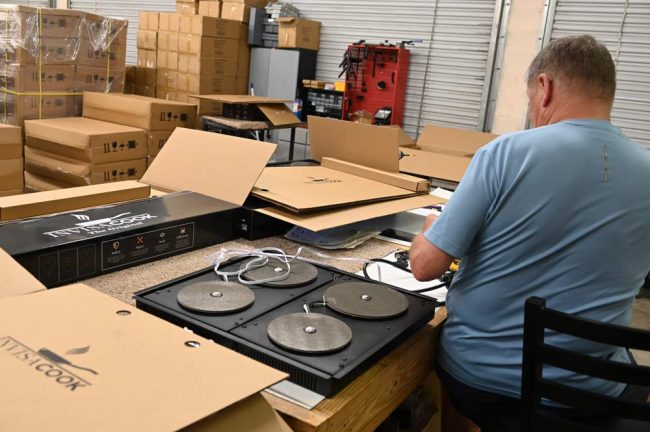 And he keeps sending in new patent applications. He's created a countertop phone charger–sold to hospitals in Toronto, where the charger is built into night stands–he's developed pans, he's working on an induction oven, and one other invention yet to be disclosed. Patents are pending on all the products.
Invisacook's induction stove is the centerpiece of the operation. The product is frequently featured on HGTV–five times on the network's Property Brothers–it's appearing on "In with the Old" on the Magnolia Network, and it has its own recurring videos produced in section of the operation at Marvin's Garden, a part of the warehouse that's devoted half to R&D, half to a television studio with a complete set and green screen. It's innumerable "Cooking on Countertops" show originate from there, with 16 episodes and counting. They're anchored by Chef Ryan–actually Ryan Ceballos, Curtis's son, vice president of operations and the face of the show. "He's just become very popular overseas, just from that show alone, which is kind of funny, because he's very humble," his father says.




For all that, he's not counting his millions yet. "I'm still so poor. I can't even pay attention," he jokes. "We're doing well, we pay the bills, we've grown. We're still a small company. We've doubled our sales every year since we started in 2018. So that's a positive thing. And we're still getting there." GE is interested, so is Whirlpool, which would spur further growth. Ceballos doesn't disclose sales figures, but allows that "over the past five years, I would say we've sold anywhere from 5,000 to 8,000 units."
he expects the Time designation, the Ted talk and interest as fresh as this week from a manufacturer of recreational vehicles to add to the company's momentum. The space at Marvin's Garden may become too small. He's looking at land elsewhere in Bunnell. Retirement isn't in his plans. "I have three things, my family, my faith in this company, and that's all I want. That's all I have," Ceballos says.