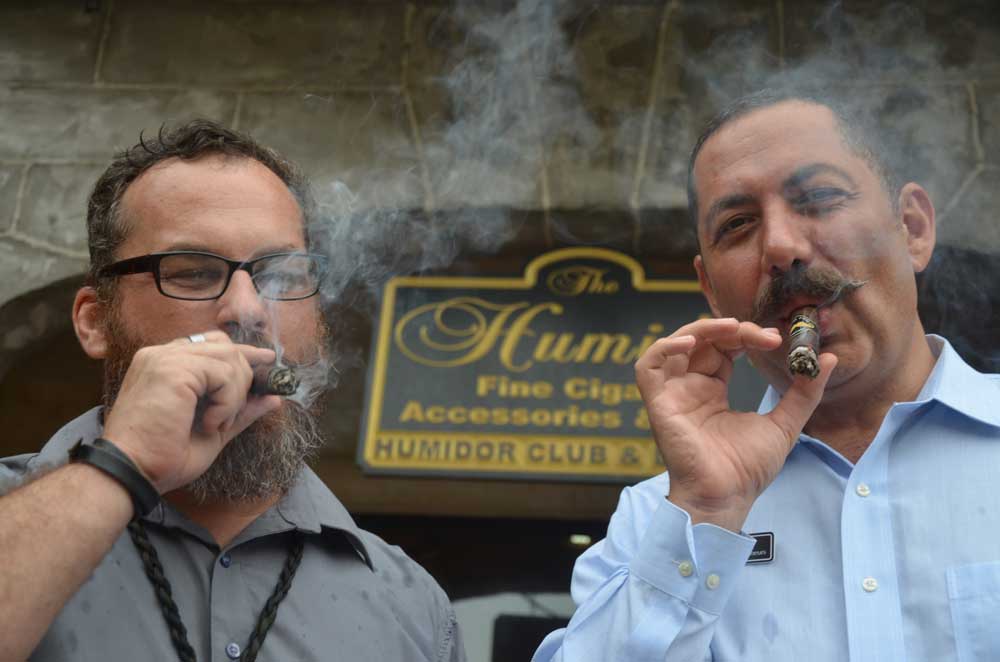 Kayhan Ekinci, the co-owner of Office Divvy and former co-owner of the Humidor, who was known to most as Ky, died on Sunday afternoon after he went for a run but decided not to take it. He experienced a sudden cardiac event, according to his family, near Water Tower Road in the Cypress Edge area of Palm Coast. He was 53.
A bon vivant of Turkish extraction who made his mark in Palm Coast through the business incubator he started with his wife, Lisa, and his partner, Sim Taing, Ekinci had the kind of foresight that anticipated the potential force of social media in its earliest days, and a willingness to take risks with his own enterprises as well as champion those of others.
As well-known as his trademark handlebar mustache were his pre-Covid Entrepreneur Nights, his new-business competitions, and the loyal following he developed at the Humidor, the European Village business he took over, with partners Mark Woods and Taing, in 2013.
Starting line of cigars was typical Ekinci: what he called the Flagler Cigar Company was born in 2015 to offer "small-batch boutique cigars, primarily for the bearded and mustached lifestyle on mind," as it was described on its website.
The company had a factory in the Dominican Republic, but when the Food and Drug Administration started regulating cigars with the same clamp as it did vaping, imposing strict regulations and fees, the company ended production. The Humidor–sold to a new owner last year–and Office Divvy continued, as did his cheerleading of other businesses.




Even when the business could be competing with his: that was the case when Moonrise, the craft beer manufacturer and pub, was preparing to open at European Village. The business was to open in 2017 a few doors down from the Humidor. Rather than see it as a competitor, Ekinci was standing by its owners before the Palm Coast Planning Board one evening, urging the city to support Palm Coast's first microbrewery. Ekinci did likewise with Flagler Beach's Ripple Coworking, showing his support even though it was a direct competitor, Ripple's co-owner Stephen Furnari said.
He was a champion of free expression and the local press, too, buying advertising on FlaglerLive when it launched, when it had only a handful of readers, buying advertising again more recently, simply out of solidarity, when it was the target of an ill-fated boycotting campaign by a local far-right group, and buying advertising on AskFlagler, the newest addition to the local media landscape, to give the outfit a boost. (Some of Ekinci's very last pictures are of him and Joey Santos, the AskFlagler publisher, after their 5K in AdventHealth Palm Coast's Pink Army run last fall.)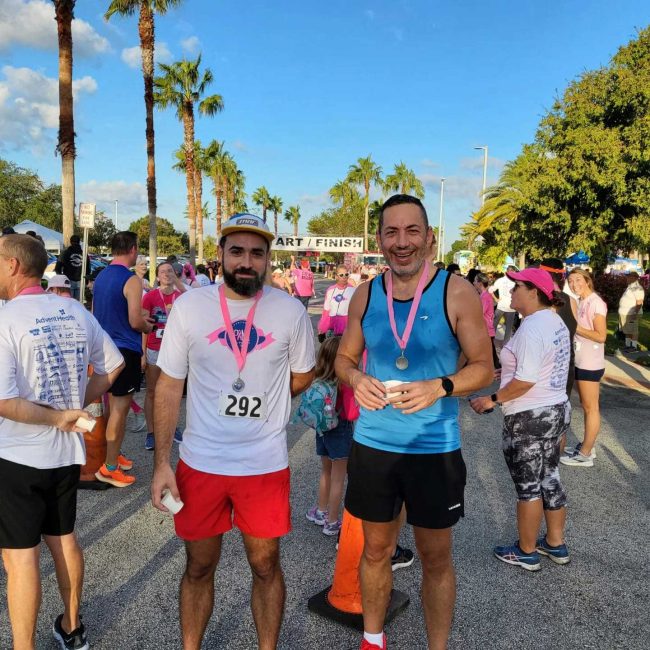 "Ky's impact on local businesses, including my own, is almost immeasurable," Woods, one of the people in Palm Coast who knew him best, said today. He cited the impact of Office Divvy, established in 2008, and
Entrepreneur Nights, which monthly "connected hundreds of entrepreneurs, business owners, and support businesses throughout all of Central Florida."
"For me personally, Fun Coast Bartending would certainly not exist as it does without the support and encouragement I received from Ky and Lisa in the early years," Woods said. "Interns and former employees of Office Divvy would agree that his impact helped propel them to where they are now."




Originally from Istanbul, where he lived until his 20s and where he visited regularly, Ekinci's road to Palm Coast went by way of Cambridge, Mass., and Weehawken N.J., where he'd met Lisa, marrying her in 2004, before moving to Flagler. He was working for a travel company that moved to Palm Coast. He and Lisa in 2009 bought the W-Section house in Palm Coast where the couple had lived since.
Ekinci, Lisa and Taing actually met at the Humidor and incubated their own ideas over cigars there, before they owned the business.
"When Mark and I took this place over we literally had this conversation: we said we're taking this over to disrupt the cigar bar and lounge experience nationally," Ekinci said of buying the Humidor in a 2015 interview there. "So we're going to deliver the type of experience here that no one else, nowhere delivers. And I will tell you this, like the cigar reps who come here kind of attest to that, saying to us: 'Nobody does events like you do, nobody puts on crowds like you do, nobody delivers the hospitality experience like you do.'"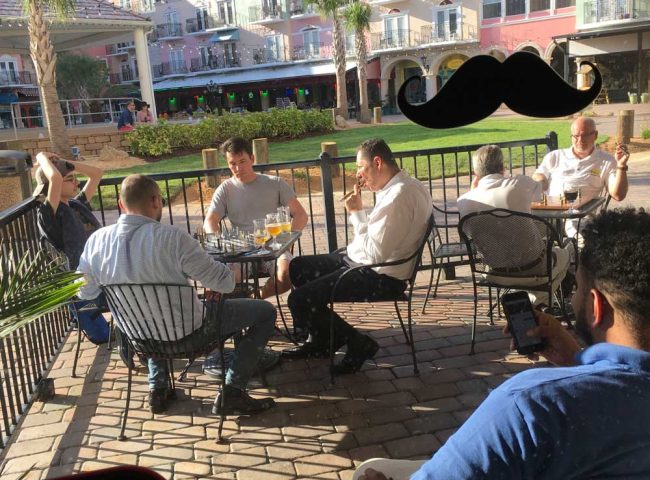 Brad West, the Palm Coast resident with varied engagements in community issues and causes, was a fixture at the Humidor and at Entrepreneur Nights. "Ky was a great person and I will always feel fortunate to have had him as a friend," he said. "Hanging out chatting about social media, long ash contests, getting beat by him in chess many times over cigars, and entrepreneur night after parties. He was always there if I needed some guidance. He has done so many great things for this community. I will always miss him and am grateful I had the opportunity to have had the time I did have with such a great person."
The involvement in social media was a subplot of Ekinci's evolution as an entrepreneur, with involvement in Facebook and LinkedIn very early on. "The future is now," he said in a news-Journal interview in 2012. "It's been referred to as social media as the new media. But the initial response from many people is resistance unless you're the generation that came up with it. It is truly the new normal. So many people get their news from social media."
Twitter took more convincing.
"I was forced to be involved–by Lisa," Ekinci said of his original foray into Twitter. He was speaking on a WNZF broadcast hosted by Gretchen Smith in 2009, when Smith was the then-existing chamber of commerce's government affairs director. Ekinci, Lisa and Woods–all three were on the show–described the branding effectiveness of social media, and how it fit into their own enterprising at Office Divvy.
"We are a Palm Coast Flagler County company, Office Divvy," Ekinci said. "We reach out to other counties around Flagler County as far south as South Florida, like Boynton Beach, as North as Jacksonville or west as Tampa or Gainesville. And we court people to create a presence here in Flagler County because we provide them the platform to start a location instantly and affordably."




In a 2016 video Ekinci made with Woods, he said between the two of them they'd invested over 20,000 hours on social media. "We've wasted that time so you don't have to," he told the viewing audience, before describing what the two of them would teach entrepreneurs at two subsequent one-hour classes. The video includes a couple of outtakes of Woods and Ekinci laughing, as they often did together.
"On a personal level," Woods said today, "Ky was my friend before he was my business partner. We collaborated for years before taking over The Humidor in 2013. I can be a bit of a hothead and Ky was always able to absorb and digest before responding. This is something he taught me in the years we were friends. The wisdom, the support, the literal cheerleading he gave over the years will not soon be forgotten by me or others who were fortunate enough to cross paths with him."