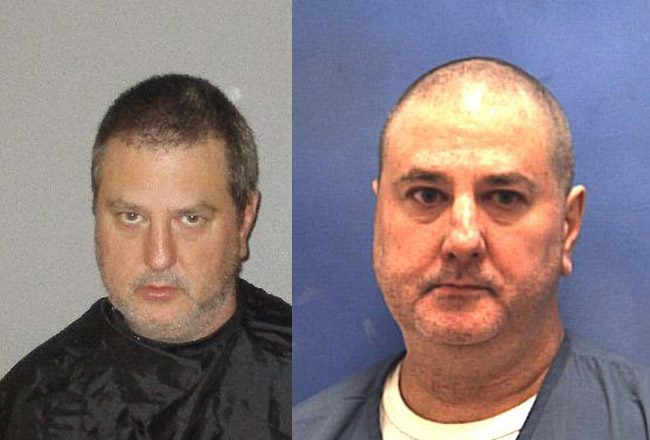 In late April 2018 Raymond Crown, 53, and Robert Brandon, 49, both of Palm Coast, were out committing mischief–literally: the two felons, who have a prior history of crime, would eventually be charged and convicted of criminal mischief. But Crown made it far worse than that.
On the way to the jail, as Crown was handcuffed in back of a patrol car, he unleashed a string of invectives and threats directed at the deputy who was driving him, at the Flagler County Sheriff's Office, which he threatened to blow up–as if it didn't have enough trouble already–and at Sheriff Rick Staly.
"Maybe I wanna kill a cop right now," Crown said in comments recorded by the deputy transporting him at the time. "I'm gonna get a garbage can of ammonium nitrate and blow up the fuckin' Sheriff's station with some grenades and go in there with my AR-15 and kill as many pigs as I can before I commit suicide by cop."
With the ammonium nitrate reference, Crown was alluding to the method used by terrorist Timothy McVeigh when McVeigh and an accomplice blew up the federal building in Oklahoma City, murdering 168 people. The AR-15 reference applies to countless mass shootings.
On Wednesday, Crown was shipped off the county jail to state prison to start a three-year prison sentence (though he won;t serve anywhere near that long there.)
Circuit Judge Terence Perkins sentenced Crown to the three-year term, along with several other concurrent sentences, on the charge of making threats to a law enforcement officer, a second degree felony, and for criminal mischief. Crown pleaded no contest to the charges in a plea agreement that resulted in some additional charges being dropped and a relatively light sentence: he was exposed to a much longer potential prison sentence. He will also have to serve five years' probation once released.
Having already served nearly nine months in jail, that will be deducted from his time in prison. He would also be eligible for release after serving 85 percent of his time. In essence, he would spend 662 days in prison, or 22 months. Still, the sentence is a reflection of the vanished tolerance even in the judiciary for threats inspired by bombings or mass shootings.
"Crown recently mailed me a letter from jail apologizing for the threats against my deputy and me," Sheriff Rick Staly was quoted as saying in a release issued by his agency today. "I hope that he is able to get the help he needs to become a productive member of society upon his release from prison." (A copy of the letter was requested this afternoon.)
Brandon served 90 days on the charges incurred in the mischief incident he carried out with Crown, but was booked again at the county jail twice–first for a probation violation last September, then on a felony aggravated battery charge two days before Christmas, when he got angry at his roommate, who did not have a cigarette to give him. Brandon allegedly attacked and slashed his roommate with a knife. He's being held on $25,000 bond.