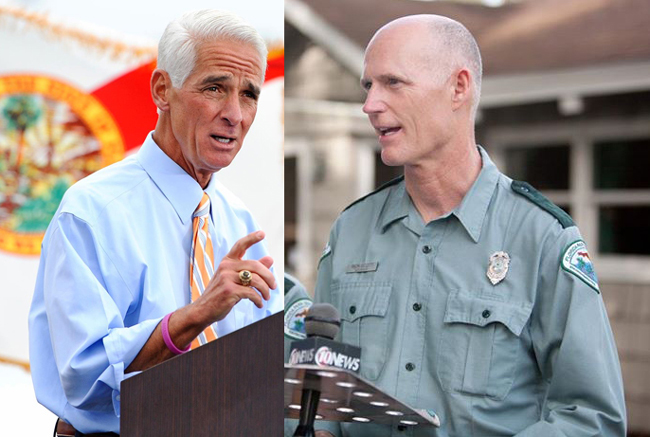 Even Charlie Crist's most ardent naysayers concede he's one of the country's best retail politicians.
He's got charm, charisma and a Bill Clintonesque-appeal, they'll admit. He loves the camera, and the camera, with his shock of white hair and George Hamilton tan, loves him. On the street, at airports or in line at the grocery store, Crist — the self-appointed "People's Governor" — works the room with relish, shaking hands, patting backs and handing out his cell phone number like candy.
Gov. Rick Scott couldn't be more of a contrast. He appears awkward on camera and in person. He jets around the country courting corporate honchos to bring their business to the Sunshine State. His staff's attempts to humanize the former health care executive by dressing him in button-down shirts with the sleeves rolled up failed. Instead, they've turned to tweeting pictures of Scott and his wife Ann with their grandsons.
Research shows that the more likeable a candidate is, the better his or her chances of getting elected.
But will Crist's affability be enough to offset the $100 million Scott's backers have pledged for the campaign, much of which will go to tear down Scott's presumed challenger in the battle between two Florida chief executives?
"As much as we like to think of ourselves as very rational people who look at all the evidence, a lot of times what we end up doing is making very emotional reactions to people," said Lee Budesheim, a psychology professor at Creighton University in Nebraska whose research includes the role likeability plays in elections.
Elections aren't just personality contests, Budesheim said.
"But a big part of it can be who do you think will serve your interests, and that comes across through a person's warmth and through a person's perceived intelligence," he said.
Republicans began beating up on Crist, who left the GOP in 2010 to unsuccessfully run for the U.S. Senate with no party affiliation and registered as a Democrat in 2012, long before he officially launched his campaign for governor in the fall.
This year's fight between Crist, if he wins the Democratic nomination, and Scott will be a typical one in which candidates spend a lot of money to improve their images and throw out even more to pull down their opponents.
GOP consultant Rick Wilson, who's not affiliated with Scott's campaign, noted that efforts to shrink Crist's popularity are already working, especially among Republicans.
"The battleground of likeability will be a lot more level than people thought it would be in a few months," Wilson said. "The likeability that Charlie had on paper is a declining asset."
Scott and Republicans aren't alone in trying to convince voters that Crist is a turncoat who can't be trusted.
Democratic gubernatorial candidate Nan Rich, a former Senate minority leader and lifelong Democrat, and her allies are also piling on.
"The question is trust. Do you trust someone who's got a record, a 12-year record, representing those core Democratic values or do you trust someone who says now, 'I've changed?' I think people have to prove themselves," Rich said recently at an appearance in Tallahassee accompanied by former National Organization for Women president Patricia Ireland.
But the anticipated negative campaigning isn't likely to sway voters very much, predicted Florida Atlantic University political science professor Kevin Wagner.
"Despite the vast amounts of money people will spend, it's hard to move the numbers because people are pretty well informed on these two guys. There's not a whole lot new to learn," Wagner said.
As it is for most incumbents, this year's election is more likely to be a referendum on Scott, whose popularity has hovered below 50 percent since his election in 2010.
"And that makes it a little bit harder for Rick Scott because at the end of the day it's people's judgment of him and not their judgment of Charlie Crist" that will determine how they vote, Wagner said.
Scott rode in on a tea party wave in 2010 and defeated former state Chief Financial Officer Alex Sink, whose campaign, critics said, was poorly run, by just 1 percent.
Scott won't have either of those advantages this year. Crist's campaign team is loaded with President Barack Obama's campaign aides, including former Obama campaign manager Jim Messina, who helped boost Obama into the White House, both times with Florida's help.
Scott backers are using his record of lower unemployment, more jobs and a statewide economic comeback to persuade voters to give him another term.
"While likeability is important, the bottom line is going to be is this guy going to be better for my family on the economic front," Wilson said.
And money will help Scott on both fronts, Wilson predicted.
"The fact of the matter is that when Rick Scott comes to play he is bringing the heavy artillery and outside groups are bringing the heavy artillery into this thing," he said. "Charlie is going to have to fight back against an awful lot."
But Steve Schale, who ran Obama's campaign in Florida in 2008 and is one of Crist's chief aides, argues that Crist will have ample resources to hold his own, especially in a year when Democrats are fired up to unseat the incumbent.
"There's this perception that there's going to be unlimited money. It's not like it's going to be only a Rick Scott negative campaign against Charlie Crist and Charlie Crist is just going to have his name on the ballot," Schale said. "It's going to be a conversation. It's not going to be like Pepsi and Tab or Ford and the Malaysian Proton."
But GOP operative J.M. "Mac" Stipanovich, who's backing Scott, disagreed, saying he'd rather have more money than be the candidate voters would rather have a beer with.
"If I've got $100 million and you've got $50 million, I can spend $50 million with my foot on your face and I can spend $50 million on pictures of me and my grandchildren," Stipanovich said. "If you've got $50 million, you're probably going to have to go further with your foot on my face than with pictures of the grandchildren you don't have."
A "race to the bottom" will ultimately hurt Scott, Schale said.
"If their plan is to make this a race about who is the least desirable person to be in public office, I don't think that's the winning strategy for them. If people are forced to pick between the lesser of two evils, that's not necessarily a good place for Scott," he said.
–Dara Kam, News Service of Florida