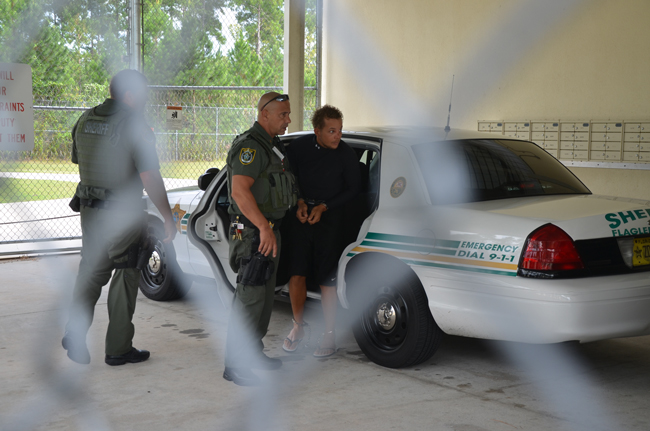 Earlier this week–on Oct. 8–Crime Stoppers of Northeast Florida board members approved their first and largest payout in their history, a $5,000 reward, to the tipster whose information helped lead Flagler County Sheriff's detectives to the suspect accused of murdering Zuheily Rosado in Palm Coast on Feb. 21.
Rosado, the mother of six, was gunned down as she worked the evening shift at the Mobil convenience store on State Road 100 near I-95. A surveillance camera shows an individual briskly walking into the store, pivoting to his right and pointing a gun then firing several times. Earlier that evening, Joseph Bova, accused in the murder, was seen in surveillance footage entering the store and using the ATM machine.
The gun used in the murder, the sheriff's office said, was registered to Bova. And Bova, according to the sheriff's detectives, said the gun had never changed ownership. But it took a tipster to connect some of the dots that led investigators to Bova, aftter their trail had cooled considerably.
The reward for tips in the case had been set at $1,000. Crime Stoppers of Northeast Florida board members voted at the end of 2012 to increase their reward in all homicide cases to $5,000.
A call came in. Crime Stoppers and the sheriff's office are not releasing the identity of the tipster, in compliance with Crime Stoppers policy.
"The information provided by the tipster in this case proved to be invaluable," Flagler County Sheriff Jim Manfre said in a Crime Stoppers release. "Had it not been for Crime Stoppers and the generosity of its supporters, this case might have stalled as many of these types of killings often do and eventually gone cold. We are extremely fortunate to have Crime Stoppers in our community and of the partnership that we have with them."
Bova is facing a first-degree murder charge. He is being held at the Flagler County jail without bond.
Crime Stoppers of Northeast Florida is a not-for-profit organization made up of civilian volunteers and is supported by contributions from private citizens, civic groups and local businesses as well as the Crime Stoppers Trust Fund administered by the Attorney
General of Florida. The Trust is funded through a $20 court cost assessed for all criminal offenses in Volusia, Flagler, Putnam and St. Johns Counties. In the past year, Crime Stoppers of Northeast Florida has received over 2,725 anonymous tips that led to the arrest of 254 individuals, the recovery of over $1 million in property and the removal of over $310,000 worth of drugs off the streets.
The Crime Stoppers Hotline, 888-277-TIPS (8477) is answered 24 hours a day, seven days a week, by operators at its main call center in Canada, which specializes in taking anonymous crime tips and then routes the information to law enforcement agencies across the United
States.