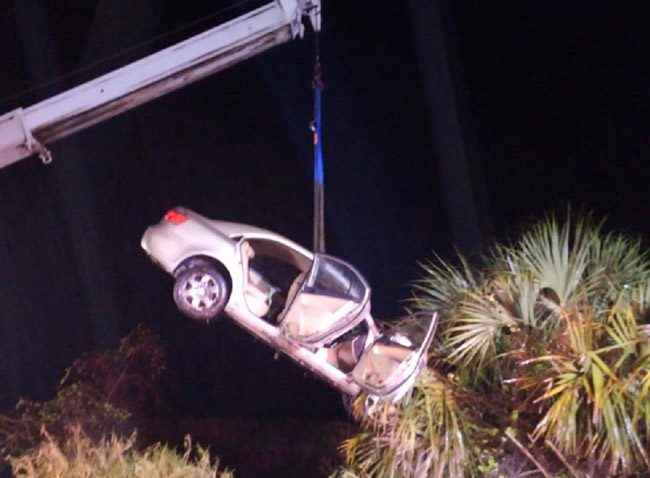 Jessica May, 34, was injured when she drove her car through a guardrail and went into a canal Sunday evening at State Road 100 and County Road 305.
Flagler County Fire Rescue paramedics transported May by ambulance to Halifax hospital in Daytona Beach after rescuing her from a 15-foot-deep canal.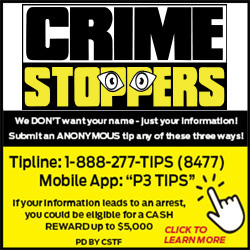 "Units found the vehicle partially submerged with [one] occupant still inside," the county's professional firefighters' Facebook page reported. "A trauma alert was declared. Due to the depth of the canal (15ft) and the patients position, the crash was now a technical rescue. Crews used specialized skills and fastened a rescue system using ropes to bring the patient to the roadway." Rescue 71, Tender 51 and Engine 92 had responded.
Authorities initially listed the crash as "severe." Today, FHP said May was hospitalized but did not have serious injuries.
According to 911 notes, the crash took place just after 8:30 p.m. when the woman allegedly ran the stop sign at the CR305-SR100 intersection and crashed into the canal. A resident who lives at a corner of the intersection ran out barefoot and called 911, reporting that the water in the canal was up to the windshield, and that there appeared to be no movement inside.
The 911 caller said there was no response after calling out to anyone in the car, though the brake lights came on–as did hazard lights. Four minutes later, the caller reported some movement in the car. Dispatchers then learned that the driver was slumped over inside, and had blood on the face.
Both lanes of State Road 100 were shut down as rescuers executed their technical rescue. At 9:14 p.m., the Florida Highway Patrol took over the investigation from the Flagler County Sheriff's Office. John's Towing of Bunnell fished the vehicle out of the canal.