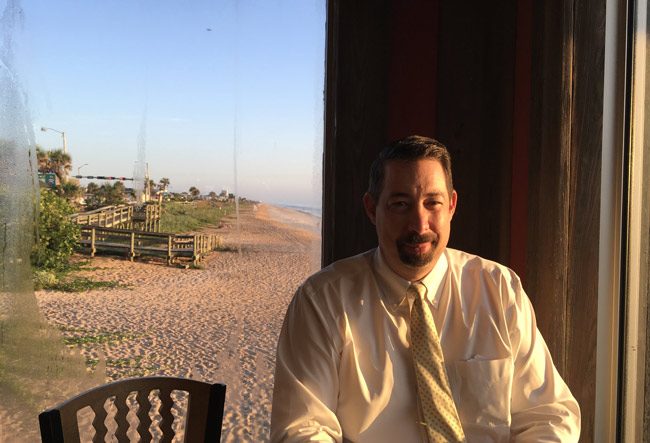 It's nowhere near a secret. Flagler County Administrator Craig Coffey's job is on the line. Again.
Newly-elected County Commissioner Joe Mullins has been publicly discussing his intention to fire Coffey since he's been on the campaign trail, recently quipping to the head-hunter Palm Coast hired for its own manager's search that he'll be needed in Flagler, too. Commissioner Donald O'Brien's displeasure with Coffey has not been a secret either, nor has that of sheriffs–current and former, and possibly other constitutional officers, though they don't have a vote.
"In my job, you just collect enemies. That's just the way it is," Coffey said.
After Palm Coast Mayor Milissa Holland successfully got the City Council to fire Manager Jim Landon in mid-September, O'Brien, an ally of Holland's who shares her ideas and approach–came close to following suit on the commission, but election timetables intervened.
And it's still not been clear who if anyone among the remaining three commissioners–Greg Hansen, Dave Sullivan and Charlie Ericksen–would provide a third vote to fire Coffey. Sullivan says he wouldn't motion or second a motion to fire Coffey. Ericksen is opposed to a summary firing regardless. Hansen, as close to a sycophant as Coffey has in his corner since Nate McLaughlin's departure, isn't talking. (McLaughlin, who's job-hunting, lists Coffey as one of his top references.)
These days few if any people in county government are unaware that matters may come to a head at Monday's county commission meeting. Coffey himself knows it, of course.
"I'm not worried about survival. If I don't survive, I'll find another job," Coffey said as Mullins was taking the dais to be sworn in last week. "I'd never plead for my job. My job is to continue to do do the work for the community."
If it does come to a head, Ericksen won't be there. He's going on a four-day cruise starting Monday. "Does that ruin somebody's plan?" he said today. Various officials and observers have considered Ericksen to be a possible third vote. Though he can be unpredictable, has voted against numerous Coffey initiatives and has had his disagreements with the administrator, he wouldn't join a majority to dismiss Coffey.
"I would be opposed to firing anybody, let alone the county administrator, if it came up, which I understand from a number of people, some of which have called me," Ericksen said. Mullins was among those who called him, trying to line up his vote. "I told him the same thing I told you. I've been a manager for 30 years, and other than a person who displayed a .357 Magnum at his desk at an employee did I fire anybody on the spot without a brief period of time in which they could improve their performance." (That incident took place in Bismark, N.D., where Ericksen was managing an insurance company. He called the cops and had the man removed after the man displayed the gun to a female employee.)
Ericksen explained: "My thoughts on firing anybody is that the first attempt is not a firing. You talk to the individual and you discuss any problems you see and you set a brief period of improvement, and then you make a final decision. I don't think any american worker should be fired on the spot unless it's for a scandalous type of activity." He said he'd vote no to firing Coffey for the same reason he voted against the new lease with Captain's BBQ at Bing's Landing: not enough information, even though Ericksen is now the senior member of the commission, having served with Coffey as manager for six years, at least four years more than any other member of the commission.
His swearing-in aside, Mullins hasn't yet taken part in any commission meeting of note, workshop or otherwise, though he's been meeting with Coffey and his administrative staff and watching events unfold, as he did the recent controversy over the new lease for a larger Captain's BBQ in the middle of Bing's Landing. He supports the expansion. He doesn't support the way it was carried out by the county administration (the county is the landlord at Bing's). Mullins sees that controversy in the same light as the problems with the evacuated Sheriff's Operations Center and the "retirement" and re-hiring of Deputy Administrator Sally Sherman in February: "I just feel there's a very huge disconnect there," Mullins said.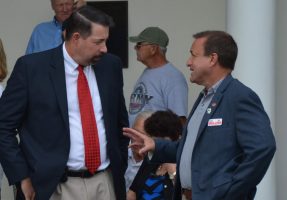 "I really think we've got a great group of workers, I just think we need a better environment for them," Mullins said not long after meeting with Coffey and other top staffers this week. "The City of Palm Coast made some bold moves, Bunnell made some bold moves." He was referring to Landon's firing and the firing of Bunnell's Dan Davis in April.
"There's a lot of fear through the whole staff that I'm coming in to get rid of a lot of people, that I'm coming in to make a lot of change, and I've reassured them that's not the case," Mullins continued. Mullins couldn't even if he wanted to: administrative staff is off limits to county commissioners, who may only hire and fire their administrator and their county attorney. Other commissioners have also said privately that Mullins has yet to understand what most rookie elected officials take time to grasp: that they're only one vote, and that 20 percent (or 40) can easily be marginalized: the Palm Coast council's majority of three effectively neutralized two council members for almost two years.
And Coffey is as likable as he is a master deal-maker–especially with commissioners, whose support he carefully cultivates by tending to their individual pet projects: in 2010 he survived a firing attempt by then-County Commissioner Milissa Holland, who laid out a 20-minute case against him (much as she did against Landon), but, to her surprise, fell short by one vote. Coffey and Holland went on to work together for two more years. The commissions of the last few years have not been particularly inquisitive, its more questioning members (the late Frank Meeker, Alan Peterson, Barbara Revels) giving way to less-engaged successors. O'Brien, the most strongly analytical addition of the last two years, has been isolated. That's given Coffey a freer hand, enabling him to survive a succession of controversies that, ironically, may have been avoided–and Coffey's better angels and strengths played up–had the commission demanded more accounting and transparency along the way.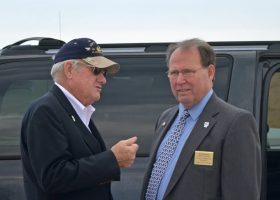 Coffey isn't chummy with Sullivan the way he is with Hansen, and Sullivan has had harsh words about various Coffey issues, but like Ericksen, he gives the administrator the benefit of the doubt. "I'm not going to tell you how I'm going to vote right now," Sullivan said, but I'm prone to saying that no one could've pulled off that beach renourishment project the way it came about, without raising property taxes, other than Craig Coffey." Sullivan was referring to the $28 million project Coffey cobbled together out of federal, state and local dollar sources to dump nearly 800,000 tons of sand along 11 miles of beaches to rebuild dunes lost to hurricanes Matthew and Irma. Sullivan also noted Coffey navigating the county through recession.
"I will not be the second on a motion to have him removed, without saying how I'm going to vote," Sullivan said, nevertheless opening the door a crack to the possibility that he may join a vote otherwise. "That's where I am now. That's not something to laugh about. That would be a very significant thing." Sullivan had opposed the 2013 acquisition of the building that became the now-evacuated and possibly sick Sheriff's Operations Center, calling it a a matter of "the chickens coming home to roost." Yet for all of Coffey's responsibility in that deal, Sullivan found an arresting way to justify why Coffey should be the one to see the matter through: "I think that would be a terrible thing to dump on a new manager."
It was like saying that Herbert Hoover should have been entrusted to see the nation through the Great Depression, since the crash took place on his watch. But Sullivan persisted: "Given the seriousness of the Sheriff's Operations Center, which is very serious," Sullivan continued, "I would be very prone not to change horses in midstream. But I hope everybody thinks it through before they make a quick judgment. And I never worry whether or not that's going to affect whether I'm going to get reelected or not."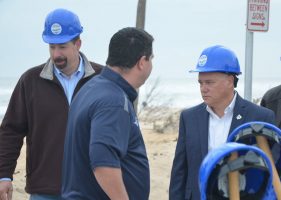 O'Brien, who now chairs the county commission, said if Mullins makes a motion to fire Coffey, "I certainly think it needs to be seconded and discussed." He did not quite say how he'd vote. "I would just leave it as, if a motion is made I'll consider it seriously. I really don't want to talk about something that hasn't happened." He does not buy the argument that this is the wrong time. "When is ever the right time? In my business career if a change needs to be made and something needs to happen, it needs to happen. You can sit there all day and justify why it doesn't need to happen. That almost never works."
Mullins takes the same approach, though by having made firing Coffey a centerpiece of his campaign–he says his constituents expect it, based on his account of what he's heard through knocking on doors–he's boxed himself into making a move. He speaks as O'Brien does: when he takes over a distressed property, Mullins says, "I usually clean out management." He considers county government "distressed." He's willing to give Coffey a chance, he says, but it doesn't have to take long. "Does it need to take two months? Absolutely not. It can take a week." His week has already been ticking.
"All I can do is share my feelings and my feelings are," Mullins said, "I do not feel comfortable nor do I trust the current process the manager is using to bring things to light. And it's either got to change or he needs to change, and I think the county, the majority I talked to, knocking on doors, is ready to see a new direction."