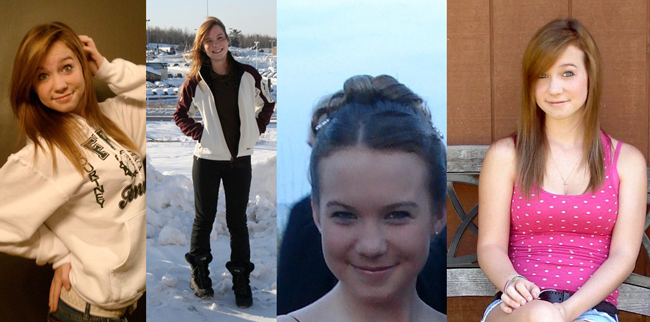 [Note: Courtney Cobb was found on June 22. See the story.]
Courtney Cobb is a 16-year-old student at Flagler Palm Coast High Scool, where she was a sophomore this past school-year. She's an A-B student, a member of the yearbook committee and an aspiring artist with her eyes set on attending the high-powered Pratt Institute in New York City.
On June 10, she ran away from home and has been missing since. The Florida Department of Law Enforcement posted her details this weekend.
---
Click On:
"Courtney Cobb Missing" Facebook Page
---
---
Courtney's parents, Thomas and Cathy Marotta, have some ideas with whom, if not quite where, she might be, though that's not lessening their anxiety–or their efforts, along with those of the Flagler County Sheriff's Office's, to find Courtney. The Marottas set up a Facebook page on June 18 called "Courtney Cobb Missing" that in less than 48 hours has added 750 friends (and rising fast), which Courtney's parents see as 750 eyes and ears on the local community and beyond. "We are so very impressed with the outpouring of support from both the Flagler County officials and the nearly 800 people who have come together on Facebook to help us find her and bring her home safely," Thomas Marotta said.
Thomas and Cathy Marotta, who live in Palm Coast, spoke with FlaglerLive Sunday morning to further spread the word about their missing daughter and minimize speculation or unfounded rumors.
"It's clear," Thomas Marotta said, "that she ran away to be with her boyfriend." Authorities "talked to him several times. Our understanding is that he's not talking." But Courtney, Marotta said, "is clearly under the influence of people with poor decision-making skills."
Courtney was in school until late May, when she was driven to Georgia with her boyfriend–who is about her age–to her biological father's house, where she spent the weekend. She went there without her parents' knowledge. They grounded her on her return, Marotta said. Unhappy with her grounding, Courtney ran away again. That was on June 10.
Courtney had started seeing the boyfriend around December. There were no outwardly critical issues at the time, though her parents were concerned about the relationship. As most parents do (or should), they expected Courtney to abide by certain rules–no drinking, no smoking, no late-night socializing, no riding in cars with inexperienced drivers, and so on. She did. After the trip to Georgia, she changed radically.
Disturbingly, adults may have been involved in enabling Courtney's disappearance. "Police intend to press felony charges against any adults who are enabling this," Marotta said.
Courtney has a Facebook page of her own, and it has shown some activity since June 10, though it's only speculation if she was behind the activity. The "Courtney Cobb Missing" page is extremely active–with prayers, suggestions of tips or media blasts, pictures of Courtney, and numerous other examples of social media's versatility in mobilizing communities and spreading the word.
The community's rallying is keeping Courtney's parents hopeful. "I think we're going to get the support we need to locate her and get her home," Marotta said.
The Flagler County Sheriff's Office can be reached at (386) 437-4116. The Florida Department of Law Enforcement's missing person number, where you may report tips anonymously, is (904) 437-4116.