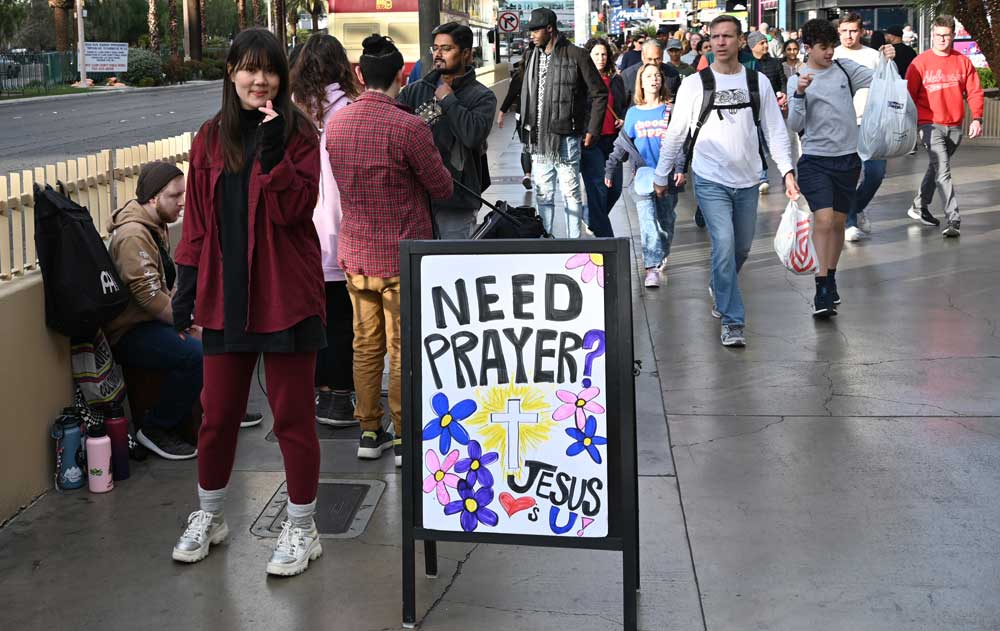 A few weeks ago the Palm Coast City Council started having a moment of silence at the top of its meetings. Then one of them proposed praying out loud by way of an "invocation," which the Oxford English Dictionary defines as "an act of invoking or calling upon (God, a deity, etc.) in prayer or attestation," making the two terms–prayer or invocation0–interchangeable. Last month council members directed their attorney to draft a how-to.
The council discussed the proposed policy today  in what turned into an unusually absorbing and equally civil hourlong seminar on the First Amendment, the limits of expressions of belief in government settings, and the unintended and potentially offensive consequences of an open-invocation policy.
The council will vote on April 4 on whether to adopt a policy still evolving with changes it requested today. The mayor wants a unanimous decision "on something at this magnitude," he said, whatever the result.
Based on today's discussion and the written document, prayers "may be secular or nonsecular in nature," but the tone would be religious.  The changes further narrow the scope of those offering invocations to expressly religious leaders or clergy members. It isn't spelled out in the letter of the policy, but its spirit appears to leave little room for doubt: atheists may be out of favor: no invocations by them, or any sects or cults not conventionally recognized as religious, though if that's the case, the city could be making itself vulnerable to legal challenges. The policy skirts around those ambiguities. One council member did not.
If no person turned up to offer an invocation, the council would default to a moment of silence.
Draft in hand, City Attorney Neysa Borkert briefed the council on how to have those invocations "based on the best practices for these types of policies."




Invocations would be limited to one minute and kept to the very beginning of the meeting. Speakers would volunteer their time. Potential invocation speakers would be invited by the city through its website. The city clerk might also send out an annual invitation to all congregations in the city to sign up, but that part remains unclear, as its more of an operational responsibility. Those would be distinctly religious congregations, since secular groups are not considered religious.
The city clerk would be responsible for keeping the list of congregations updated. Congregations from beyond the city's limits, in Flagler County–but not beyond–could also sign up, but they'd not receive an invitation by the clerk. The clerk would screen applicants, placing the city in a gatekeeping role at least to some degree.
Those offering invocations could not disparage any religions of beliefs, or political or social movements. The city  clerk–whose workload was not dissimilar from Job's even before the proposed policy–would keep a comprehensive list of all those signing up and offering invocations. To ensure that a variety of people offer invocations, and to not give the impression that the city favors one sect over another, no particular person offering an invocation could do so more than twice or three times a year.
No one at the meeting would be required to participate. The mayor would invite those who don't feel comfortable hearing the invocation to leave the room–what the city attorney referred to as a "best practice," but one fraught with its own risks, as it singles out individuals who don't want to participate.
Neutrality is a basic principle, though even the attorney conceded that "neutral is a very subjective term." Once the door to invocations is open, Borkert said, the council must allow  representatives from all religions, and it may not dictate the content of the invocation. "There's a case that prohibits us from looking at content," Borkert said. At the same time, the invocation may not dictate belief, which suggests that the government does have a constraining role, since the mayor could intervene should that occur. The attorney did not resolve the contradiction. But nor have legal precedents.




Borkert cautioned that there could be unusual requests, say, by atheists, to offer an invocation. She did not explicitly say that they would have to be accommodated. Council members spoke as if they didn't have to be. But, she said, "this is to just show clearly that the city is not trying to put forth one faith or religious belief over another, that we are accepting of all faiths to come in and speak, all faiths that are part of the citizens of Palm Coast." The discussion was entirely premised on religious invocations, never opening the door to secular ones.
The policy Borkert originally drafted referred to read: "The invocation shall be voluntarily delivered by a local current clergy member, religious leader, or community leader." Mayor David Alfin seized on the terms community leader.  That could apply, for example, to the sheriff's chaplain, who  doesn't have a congregation, but customarily deliver invocations, Borkert said. "It's more of a catch all," she said.
Council member Ed Danko asked that the terms community leaders be amended to religious community leaders. The attorney agreed.
The parameters were numerous enough to begin to sound like excerpts from Leviticus, prompting Council member Nick Klufas to ask his colleagues: "Does anybody else feel at the moment of silence kind of encompasses everything that we need at the moment? I feel like this is just going to be a logistical nightmare."
"I don't think this is a logistical nightmare," Danko said. "I think once we get a schedule and a rotation going, it's one minute out of our proceedings, and I think this is incredibly important."
Theresa Pontieri  applied the brakes a little and asked for more reflection about the proposal's implications. "I'm a devout Catholic and practicing Catholic, but I'm also very respectful of the First Amendment and a constitutionalist, and my fears, I think that are probably felt by Councilman Klufas are that, right now I think up here, there are members that have very good intentions with this, but as with a lot of things, the pendulum can always swing to the other side when you have other people making decisions."
To Pontieri, what words say are what they mean, and what a document doesn't say leaves matters open to interpretation. The draft policy, she said, "is drafted very well," but lacks "definitiveness with regards to what can be done and how this could possibly be abused. So when we have words like 'non-secular and non-religious,' that's a slippery slope. That means that somebody can come to the podium and while they might not be able to blatantly disparage people based on these certain characteristics, it may not be in the best interest of the community to open it up, and then if you don't open it up, you are violation of the First Amendment."




She fears, for example, that someone could say a prayer and, citing the example of U.S. Rep Emanuel Cleaver, a United Methodist minister who ended an invocation in Congress in 2021 with "Amen and A-woman," do likewise in Palm Coast. "I don't ever want a prayer in this chamber to end with 'a-woman.' I don't. I don't want that," Pontieri said.
"And I appreciate that. But we can't dictate that," Borkert said.
"I know that, and so that's my honest concern," Pontieri said, her goal being to prevent "anything offensive," to her, coming before the chamber. "And so we're trying to make decisions up here for something that's very personal for a lot of people, when I think that perhaps a moment of silence allows people to personally do what they do."
Pontieri wasn't asking for the proposal to be withdrawn, but for it to be refined "to avoid something negative coming out of this in the future," she said. "That's just my fear at this moment."
Borkert offered a more regional example: the invocation at a localk government was given over, by rotation, to a Muslim Imam. The Imam ended the invocation by saying "praising Allah," the Arabic word for God that, for inexplicable reasons, tends to give some Americans apoplexy, as saying "praise God" in English, French, German or Swahili would not. "The city got emails from people that were appalled that occurred," Borkert said. "The answer to that is, if you open the door, everyone's got to be allowed through the door."
Pontieri's reserve was shared by Council member Cathy Heighter, who wanted to hear form the public about the matter (five members of the public spoke in favor of the policy Tuesday before the council), and by Klufas, but for different reasons. So the council left it to Borkert to refine the policy based on the day's discussions and bring it back for a vote in April.




The mayor seemed willing to narrow the scope of the invocations to shed explicit sectarian connotations. "I want to underscore the fact that the invocation is meant to address city council members. It's not meant to address the public at large or the visitors to the meeting," he said. "It's meant to address city council members to guide to spiritually guide them and help them in their decision making at these meetings."
Historically that may be the case, when legislative bodies were not as public as they are today. Today, however, that may be a distinction without a difference in the eyes of the law: it is still spoken in the well of a public meeting in the presence of the public.
Klufas did not buy Alfin's distinction: "If it's exclusive for us, I have nothing against even doing a prayer circle before the meeting," Klufas said. "We can do it in the back if we want. I just feel like this is potentially going to open up the door for conflict."
So Alfin, borrowing from another local organization he did not name, came up with a proposed invocation more ecumenical than religious: "We gather here today with the intent of doing good work as the City Council of Palm Coast. We seek to represent fairly and well those who have given us the task we promise to leave all of our political differences outside and come together at our meetings as brothers and sisters for our community. May our efforts be blessed with insight guided by understanding and wisdom. We seek to serve with respect to all. May our personal faith give us strength to act honestly and well in all of our matters before us."
Pontieri liked the invocation if it could lend itself to a slightly more religious tone. Danko objected: "I don't think we should be writing words for local religious leaders," he said. "I also don't think it's not just for us. It's for the community of Palm Coast. It's for the state of Florida. It's for this country." He then added the inaccurate but often-repeated claim, among contemporary conservatives, that "this country was founded on religion." The founders in Philadelphia would disagree, their founding documents–the Declaration, the Constitution, the Federalist Papers–being secular documents with a rarely passing nod to an undefined creator and, in the Constitution, a categorical prohibition against government establishment of any religion.
"It's more of supportive of God, whatever their religious beliefs are, whether you're Muslim or Jewish or Catholic or Protestant, it's all about God," Danko said a bit later, in what by then had turned into one of the more riveting, non-land-use discussions the council had had in a long time.




"Well, not quite," Alfin said.
"So what else would this be about?" Danko said.
"That's the problem, Councilman Danko," Pontieri said. "We by law can't can't say that it has to be about God. If we could,  we would be disregarding the First Amendment." She deferred to the city attorney, who referred to Alfin's proposed invocation as something that would start the meeting on the right foot, and could be read by anyone.
Alfin said he'd be willing to offer the example as a guide, leaving it to the volunteer to come up with his or her (or their) own words.  "It's not this way or the highway, but they'll understand our message and our intent," Alfin said.
Pontieri summed up the tone of the discussion when she said: "I just want to thank my fellow council woman and councilman for this discussion. I think it's been respectful and very honest, and I greatly appreciate that from all of you. And I think that this is how we govern the right way."
Borkert, who played her part in setting the tone, had earlier framed the presentation in constitutional precedent, which since 1983 established that "the practice of legislative prayer has coexisted with the principles of disestablishment and religious freedom" since colonial times.
A 2013 decision by the federal 11th Circuit Court of Appeals, controlling law in Florida, set out selection criteria when governments are inviting members of the clergy–or non-clergy members–to offer invocations. The court ruled that the criteria could not disparage against members of one religion or another, or even against atheists, if atheists wanted to offer an invocation.  The Supreme Court broadened that allowance in 2014, finding even denominational prayers permissible as long as there was no intent to dictate belief or adherence to that particular sect or religion.




"So this kind of establishes that yes, you can have a prayer at the beginning of your meetings," Borkert said. "However, that comes with a number of conditions or provisions that must be followed to make sure that you can comply with the dictate of the establishment clause."
Other local governments have thought about or implemented prayer segments into their public meetings, but without nearly the degree of analysis and discussion the council is undertaking. Bunnell city government's prayer segment at the beginning of each commission meeting is a custom. No policy regulates it. Commissioners themselves say prayers from the dais, as commissioners, under the city's seal.
An attempt by a school board member a few years ago to introduce an invocation at the beginning of board meetings was done by fiat, without prior warning or discussion at previous workshops. County commissioners a few years ago started speaking their own invocations at the beginning of meetings, also without prior discussion or grounding the practice in policy, though that practice appears to have stopped when Greg Hansen became chairman in November. All these governments also have a moment of silence.

invocation-policy

Reader Interactions