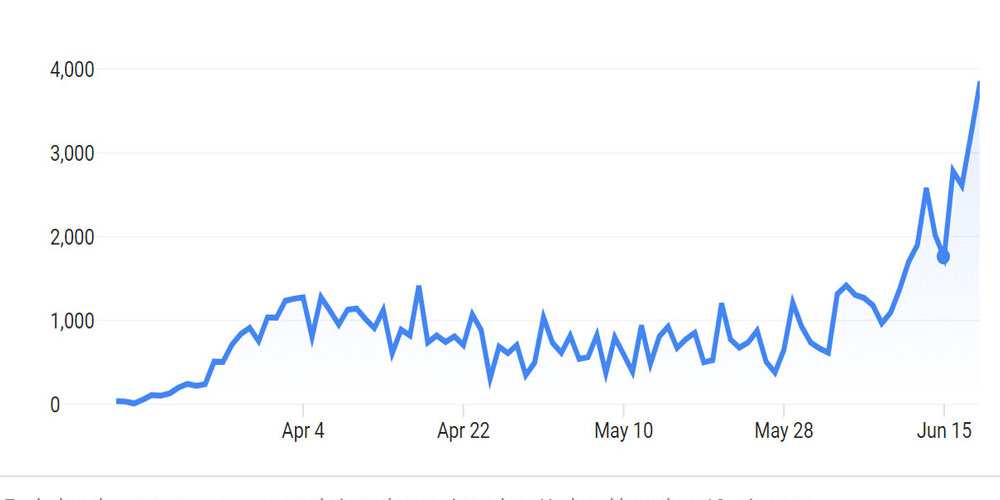 Last Updated: 4:01 p.m.
New single-day cases of Covid-19 in Florida set a record for the third day in a row, this time approaching the 5,000 mark–a day after the state exceeded the 3,000-mark for the first time.
New confirmed coronavirus infections on Thursday totaled 3,316. New infections reported for Friday totaled 4,061. At the previous height of the epidemic in early to mid-April, highs were in the 1,300 range. Daily tallies then fell.
Gov. Ron DeSantis appeared unconcerned at a news conference this afternoon. "Sticking with the program is the best thing to do," he said, referring to existing guidelines and phasing of society's reopening.
Florida's cumulative total is near 94,000. Flagler's total is 224, a one-day jump eight cases–one of the largest one-day increases since the beginning of the pandemic, and a warning sign that the county's relative success in containing the disease may be eroding. New Flagler cases recorded since June 16 include an 18-year-old man and two 19-year-old men. The two 19 year olds are not county or Florida residents, though the Department of Health tally does not show where they may have been visiting from. (Flagler County's rate of 222 infections per 100,000 population places it the 47th out of 67 counties in rates of infection.)
No deaths related to the disease have been reported in Flagler since June 3, keeping the county's fatalities at five. But Florida added 40 deaths Friday, for a total of 3,104. Florida is now among the nation's Covid-19 hot spots, along with Arizona, Oklahoma, Texas and South Carolina, all of whom pushed for a swift reopening of the economy in May.



Friday's total cannot be attributed to increased testing for the most part, as DeSantis claimed earlier this week. Testing has ranged between 25,000 and 35,000 tests per day over the past two weeks. The "positivity rate"–the rate at which those tested test positive–has risen as sharply as the number of those infected: it had fallen to the 5 to 7 percent range in late May, and was in the 3 to 5 percent range two weeks ago. It has been in double digits for the past four days, and reached 14 percent on Friday.
In the news conference this afternoon DeSantis again repeatedly downplayed the severity of the spike and at one point ridiculed the attention on the rising numbers: "I knew how that would be portrayed, oh my gosh, more cases, more cases," he said.
He focused on the median age of those testing positive, which has fallen, and saying that because the spike is trending younger, it will have fewer "clinical" consequences (meaning fewer people will end up hospitalized, he speculates). He did not suggest there'd be any changes in the state's reopening approach. "Most people are doing a great job," he said of social distancing guidelines–a statement contradicted by the numbers. He acknowledged that in "a few" places people are packing in together. "That is not what we're looking to do, we want to do it in a very measured way."
He also acknowledged that transmission is increasing, with a much higher rate of positivity in those tested. "Those are things we've got to tackle" he said, without providing specifics on how, different than what's being done at the moment. He mentioned masks only in passing, and spoke of the "mixed messages" on mask-wearing, repeating the mixed messages rather than stating the Centers for Disease Control's rather categorical message that masks are necessary in public places. "I've not pre-empted locals from doing what they think is right," he said, but noted that "statewide penalties" for not following certain rules "would be problematic."
One of the reporters called out the governor on masks, telling him his own staff isn't wearing masks indoors, at the news conference. DeSantis said as long as they maintain the proper distance, "that's appropriate." That's not what public health officials are recommending: masks indoors, where numerous people gather, are more essential than masks outdoors.
The governor, a lawyer, appeared as he has throughout the pandemic at his news conferences–alone, without public health officials, physicians or epidemiologists to provide explanations, verify the governor's speculations or answer reporters' questions. Repeating what is becoming an official talking point–"those cases are skewing younger, which is the less vulnerable population," and many who test positive are asymptomatic–DeSantis said people should follow Phase 2 guidelines. 'The system is doing well, and again, a case is just that, a positive test," he said. "You'd think the way it's framed it's some type of death sentence, and that's just not the reality of the situation."
DeSantis said hospitals have plenty of capacity and daily fatalities have "continued to trend down," and said he was confident the health care system would handle the spike. But the spike in April never reached the numbers in the last 10 days. "It just wouldn't be appropriate to take some of these actions given that we have the hospitals in good shape," the governor said, answering a question about stricter controls.
But hospitalizations and deaths lag by several days, with most models showing a subsequent rise in both–a lag DeSantis did not address today.
Other countries that are seeing resurgences of the virus such as South Korea and China are taking more serious measures, again shutting down limited segments of society and reducing interaction between people.
AdventHealth Palm Coast is reporting just three available beds out of 112, according to data provided by the state Agency for Health Care Administration today, with two of 18 intensive care unit beds available. The health department reports 24 total Covid-19 hospitalizations since the beginning of the crisis, but neither the department nor the hospital indicate how many patients are at the hospital now for Covid treatment.
Currently, one resident–at Tuscan Gardens–and one staff member–at Grand Oaks Rehabilitation–are infected with the coronavirus. Two staffers who work at two other long-term care facilites have recovered.
Rebekah Jones, a former state health department data manager who launched her own data dashboard since she was fired from the department, places total Florida cases at 97,346, with 24,692 recoveries, and total deaths at 3,197. Her data places Flagler's total at 240 cases and six deaths, with 104 recoveries and 55 new cases in the last 30 days.



County-level projections released Wednesday by PolicyLab at Children's Hospital of Philadelphia point to increasing risk over the next four weeks for Covid-19 resurgence in Florida, Arizona, Texas and South Carolina. "Among all of the worsening forecasts," the policy lab reported, "several areas in Florida had considerably more alarming predictions from last week—for example, new daily cases are projected to rise to 500 in Palm Beach and nearly 350 in Orlando by mid-July. New areas of concern are also emerging on the coast of South Carolina—from Myrtle Beach through Charleston and Hilton Head Island—and worsening disease burden in parishes around New Orleans are threatening virus resurgence in that city for the first time in two months."
"Understanding the underlying reasons why some communities are succeeding so far in containing additional widespread community transmission of Covid-19—whether due to differences in ability to contain local outbreaks in high-risk locations, like meatpacking plants, or vigilance in personal protective behaviors—will be key to informing community strategies to contain spread of coronavirus beyond this summer," said David Rubin, director of PolicyLab and a professor of Pediatrics at the University of Pennsylvania's Perelman School of Medicine. "Those bright spots should be receiving equal, if not more, attention than the hotspots as we prepare for what may be a difficult fall."
Reader Interactions