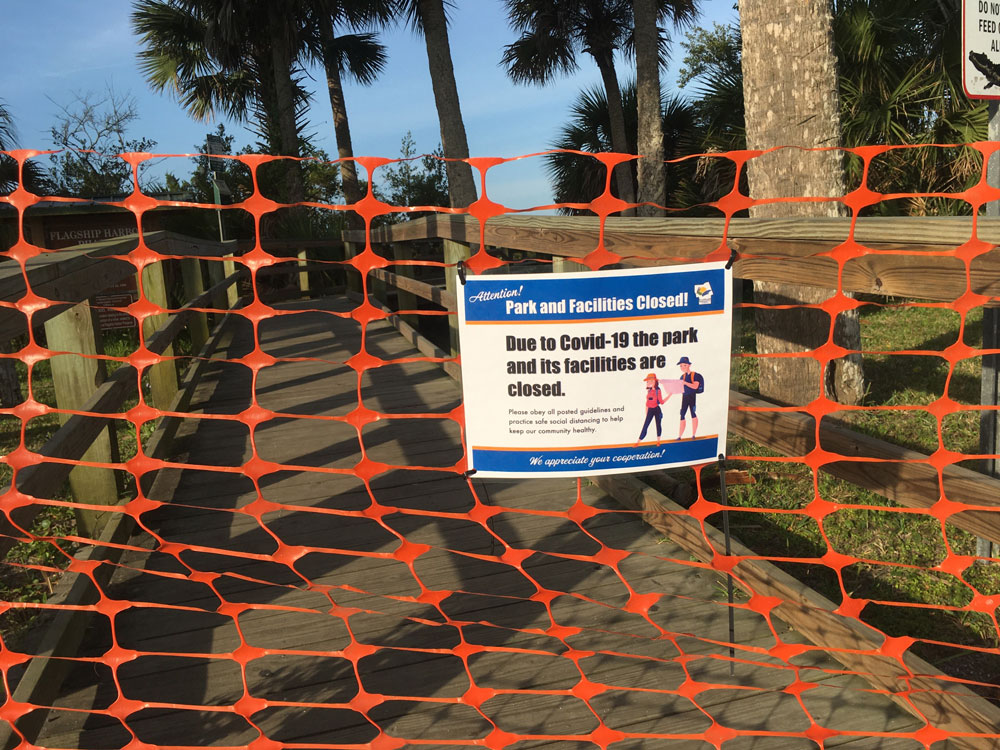 Last Updated: 12:14 p.m.
The number of confirmed Covid-19 cases in Flagler is now three, Department of Health figures indicate in the daily, midday update, up from one the evening before.
"One of the positive cases was diagnosed in a different county," Bob Snyder, director of the Flagler Health Department, said. The patient was swabbed in St. Johns County. "One individual is being treated outside the county."
The youngest of the three is 45, the oldest is 72. The cases involve one man and two women. Only one of the three has been hospitalized. But the origin of the disease for all three has not been determined.
The department lists cases according to the person's county of residency, not according to where the person happens to be in treatment or in isolation. But Snyder said he would provide those distinctions as soon as they are available. But he won't disclose more precisely where the individuals are being treated, citing patient privacy.
"As we expected with the additional testing capability, we are seeing more calls from the public related to folks who believe that they have been exposed," Snyder said. "So we are providing comfort, reassurance, guidelines and direction to all the phone calls that we're getting." The department is also conducting coronavirus testing today.
It is also kicking in its next phase in the response to the emergency: contact tracing. That's when health department nurses and epidemiologists turn into investigators. They learn from each infected individual where that individual has been recently and with whom the individual has had contact, including friends, neighbors and the like. The health department teams then seek to find and speak to each of those individuals.
"In most cases it's individuals who just require some counseling and guidance, but we want to make sure we're capturing all individuals who need to be screened, monitored, tested and treated," Snyder said. That, in turn, may lead to further confirmations of positive tests.
Contact tracing is very laborious and time intensive. Elsewhere in the country health departments have been overwhelmed by the task, and have sought out the help of volunteers. Flagler is not at that point. Three individuals are assigned to the task at the local health department, which also cross-trained employees to provide support. For instance, dental health personnel is now supporting the department's more urgent tasks. Actual testing will remain in the hands of registered nurses.
The department has two strategies for handling a surge of demand on its contact-tracing duties.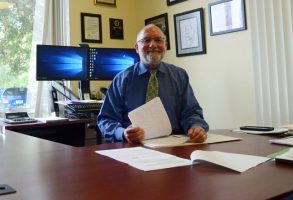 "What happens then if we need additional resources we will put in a mission request to the department of health in Tallahassee, for additional resources, whether it be nurses or epidemiologists," Snyder said. Second, "Jonathan Lord and I have discussed the need for additional resources for our health department when that need is identified, and through Flagler Volunteer Services, we have a list of retired medical and health care personnel whom we can call upon to train and help us, just like we did during Hurricanes Matthew, Irma and Dorian, when we opened the special needs shelter. We just have a wonderful group of retired or not-working-right-now medical and health care professionals in the community who gladly volunteer their time."Snyder is on the board of directors of Flagler Volunteer Services, which facilitates coordination. "We will definitely know when we need to call in for additional help," he said. "We are in the beginnings of this event, this crisis."
There are 1,171 confirmed cases in Florida and 14 deaths attributed to Covid-19. Ten days ago, there were just 42 cases in the state.
As of Sunday evening at 6 p.m., 49 coronavirus tests had been administered in Flagler County, according to the Department of Health, six of them at AdventHealth Palm Coast. That report is updated only around 6 p.m. daily, so it does not reflect tests conducted in the past 12 to 18 hours.
The department has confirmed that the first case to register as that of a Flagler resident, on Sunday evening, affects a 72-year-old woman, but the department could not determine whether the case was travel-related or whether the woman had had contact with another person who was confirmed to have had Covid-19. Absent those two criteria, the infection would be considered to be community transmission, or spread.
Broward and Dade continue to lead the state with confirmed cases, at 258 and 267 respectively. Duval is at 46, Volusia at 15, St. Johns at 18, Putnam at two.
Today's earlier developments are below.

Calling Covid-19 Emergency "Our Category 5," Palm Coast Mayor Holland Issues Voluntary Stay-Home Order
Stepping ahead of the state–Gov. DeSantis on Sunday said there was no shelter-in-place order on the horizon for Florida–Palm Coast Mayor Milissa Holland Sunday evening issued a voluntary stay-home order to all Palm Coast residents in the fight against the coronavirus pandemic.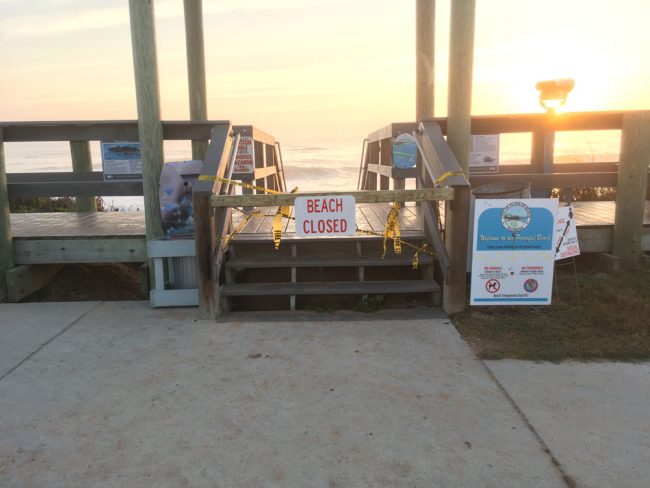 "The City of Palm Coast issues this call to action, and requests that all individuals currently living within the City of Palm Coast voluntarily comply with the terms of this Order," the proclamation Holland signed reads. The mayor is also asking that movements and gatherings be limited to immediate family members, and that residents should leave home only for certain functions.The voluntary order reflects sharply growing alarm among leaders, locally as well as across the globe, about the virulence of Covid-19, which spreads easily and whose more severe victims of of infection have been overwhelming hospitals, though that has not happened locally or in Florida yet. (The governor said Sunday there are more than 18,000 beds available statewide, including nearly 1,700 adult intensive care unit beds.) The virus can be slowed significantly, if not stopped, but it requires drastic measures, with stay-at-home orders playing a big role. In open societies, such orders depend on rigorous compliance by individuals.
"We are asking our residents to be responsible, to understand the implications of gatherings and to minimize contact by staying at home as we ride this out," Holland said. "Our law enforcement community needs to be as healthy as possible as we go through this. They still have to be on the job, answering calls and taking the necessary steps to keep our community safe. Just as our Firefighters and EMT's. So please, don't put them at further risk by minimizing contact in order to minimize the spread of Covid-19. We know that is our best way to counteract this pandemic."
Essential functions as outlined in the Palm Coast order include activities "essential" to health and safety, such as getting medicines, groceries and other vital supplies, visiting a doctor or a veterinarian or getting supplies needed for work, to perform work "providing essential products and services," to care for family or pets in another household, but with minimum contact, and to travel to and from work. "However," the order states, "all efforts should be made to work remotely. If remote work is not available, businesses should adhere to the CDC Interim Guidance for Businesses and Employers to plan and respond to Coronavirus Diseases 2019 (COVID‐19)."
"I have now been through two Hurricanes as Mayor," Holland said this morning in an interview conducted by text. "We ask our residents during those events to be prepared, to shelter in place as we weather the storm, to keep our first responders and employees safe by adhering to the rules in an effort to protect all impacted. This is our category 5. The only way we know to mitigate the impact and save lives is to avoid contact as much as possible. Stopping the spread of this pandemic. This is our moment as a community to come together, do our part and rise to the occasion."
The city order does not affect city services. Twice a week garbage pick-up is continuing, for example.
As of this morning at 6, Flagler Beach and Flagler County closed 18 miles of beaches until further notice. That's not a voluntary order. The state ordered all bars, gyms and restaurants closed, allowing restaurants to operate only on a take-out basis. Palm Coast and the county closed their parks and trails and all public access to government buildings except in certain circumstances.
With the beaches, the parks, the restaurants and bars, the sheriff "would assist, but it's not his order type thing," a Flagler County Sheriff's spokesperson said of Rick Staly this morning. "He is more focused on more educating the public and not going out and arresting everybody who's violating these orders." She added: "everybody is in a difficult situation right now so we're not looking to making that work by making an arrest."
As for Palm Coast, "the voluntary order to stay home, there's nothing we can really do for that," the spokesperson said.
The measures are designed to limit the spread of COVID-19, with upwards of 1,000 infections in Florida as of Sunday evening, and many more expected ahead. Flagler County officially only has one or two confirmed cases. That's expected to change rapidly as well. The figures are artificially low for now because of very limited testing. Holland said she is working with mayors from around the country "to get tests to our community quickly, as well as protective gear for those on the front line."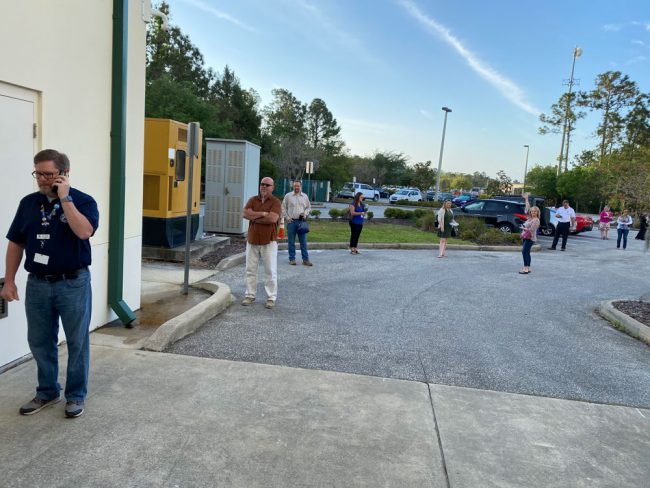 "This is only a recommendation at this time," Holland said of the Palm Coast order. "We will be getting this out to our residents by utilizing several communication methods. We hope our residents will stay at home unless they must go out for necessities only. We have closed all public facilities in an effort to encourage sheltering in place."New York and California have issued enforceable shelter-in-place orders. Local public health officials said at the end of last week that Florida might be moving in the same direction, though so far Gov. Ron DeSantis, who has resisted closing the state's beaches–he left that decision in the hands of localities–is resisting issuing a stay-in place order.
At the Government Services Building this morning, county and school district employees were lining up to get their temperature taken before going into the building, and keeping generous distances between themselves.
Sheriff Staly said that the social distancing recommendation "doesn't appear to be taken as seriously by some," while he also sees "a lot of anxiety" over how long the emergency will last and what consequences it will have. A hurricane can be visualized, approaching, striking, then passing. Coronavirus, on the other hand, "is an invisible enemy. You don't know where it is, you don't know who has it and who may be contagious, and don't know they're contagious."
Still, he said, "the only known way to stop the spread of this virus today is to stop and minimize the human interaction, the social distancing and all that."
Staly said that unlike the trends during hurricane emergencies, calls for service have not slowed down, with car breaks and Baker Acts continuing, if not increasing. He is especially concerned about mental health issues as people feel cooped up. There were 204 people at the Flagler County jail as of Sunday evening, in line with recent averages, with 23 of those incarcerated in misdemeanor charges. The rest have felony charges. The jail is at 50 percent capacity, Staly said, enabling the agency to take various measures if necessary.
Social distancing has been spreading across the country, though at a slower pace in the South. In addition to New York and California, Delaware, Louisiana and Ohio are enacting stay-at-home orders effective today or tomorrow. Kentucky has ordered all non-essential businesses to close. Philadelphia, St. Louis, Kansas City, New Orleans, and many other smaller cities have stay at home orders.
The United States is now only behind China and Italy in total number of Covid-19 cases, at around 35,000, with upwards of 450 deaths attributed to the disease. Thirteen Florida residents have died from the disease.
President Trump was suggesting there were limits to the measures being taken, tweeting that "We cannot let the cure be worse than the problem itself. At the end of the 15 day period, we will make a decision which way we want to go!"
Anthony Tucker, a long-time physician in Palm Coast, this morning posted the following: "I hear a lot of people getting upset about the lack of tests. Remember a positive test doesn't change your treatment. If your have symptoms without shortness of breath, including anosmia (loss of smell) then consider your self a positive and self quarantine for 2 weeks. You only need to go to the hospital if you are short of breath, if at that point the physician determines that a test will alter your treatment course then they will perform a test. The largest number of cases will only be mildly symptomatic, a positive test will not change your treatment or your disease course in anyway. If we all self quarantine for 2-3 weeks this could be over. Be smart people."