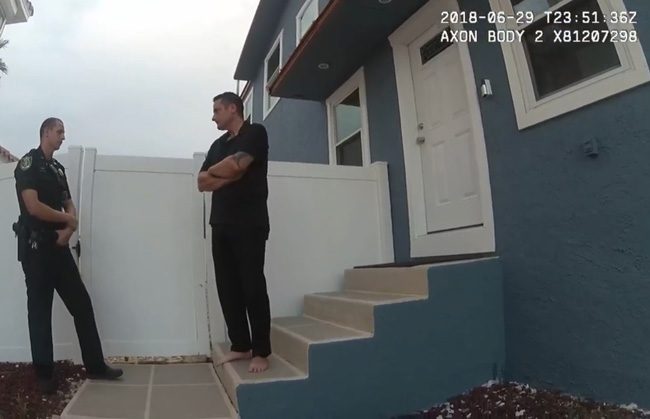 Sitting through his first City Commission meeting two weeks after his June 29 arrest on a battery charge, Flagler Beach City Commissioner Eric Cooley made the only public statement about the incident: "There has been no charge filed as of this point, so that is all misinformation," he said. He was at the time facing a charging affidavit from the Sheriff's Office, which made the arrest. "Should charges get brought, and should the outcome of those charges be unfavorable, I'll be more than willing to entertain anything that you all as commissioners would like to do. But I'm not going to make any other statements other than that I don't see that happening."
Cooley, elected to the commission earlier this year, has gone on to participate in all regularly scheduled commission meetings, missing one special meeting because of a prior engagement. He resumed managing his store soon after his arrest and release from the county jail on his own recognizance.
Last week, the State Attorney filed the charge, technically called a charging "information": a first-degree misdemeanor battery count resulting from allegedly striking Suzanne Kenna, his partner of many years at home and at work. Cooley owns the 7-Eleven on Ocean Shore Boulevard in Flagler Beach. The highest penalty for a first-degree misdemeanor is a year at the county jail, though that penalty is rarely levied even on multiple offenders. If convicted, Cooley would be a first-time offender, eligible for diversionary pre-trial intervention with conditions that, if fulfilled, could lead the charges to be dropped. But that assumes an initial assumption of responsibility for the charge. Cooley has pleaded not guilty.
A battery charge would not normally command much attention from press or public. It is doing so in this case because of Cooley's prominent position on Flagler Beach's political and business scene.
For the same reason, the case is being handled by Assistant State Prosecutor Jason Lewis, who usually prosecutes the State Attorney's Office's higher-profile cases: he was the prosecutor in the recent jury conviction on several felony counts of Kimberle Weeks, the former Supervisor of Elections. Whatever the charge, Lewis is known as a gloveless, unsparing prosecutor and a skilled tactician. There had been rumors last week that the charge could be dropped since Kenna, according to a court filing by Cooley's attorney, had left town and was no longer working at 7-Eleven (she is from Richwood, W.Va.), and an arraignment scheduled for last week had been continued. Lewis ended that speculation.
Cooley on his attorney's advice declined to publicly make a statement regarding the filing of the information. His attorney, Josh Davis, said: "Mr. Cooley is a pillar of this community and has always been there for those in need whether it be flooding due to a hurricane or serving on the Flagler Beach City Commission. We steadfastly maintain his innocence and look forward to his vindication in this matter."
FlaglerLive obtained the body-cam video of Cooley's arrest the afternoon of June 29 at his home, after Flagler Beach police received a complaint of the alleged battery. The Sheriff's Office said there was no 911 call. 
"We're conducting an investigation about what's going on with Sue," one of two sheriff's deputies carrying out the arrest at Cooley's house at 1617 Central Avenue tells him. 
"OK," Cooley says.
"So what happened over the weekend?" the deputy asks. 
Cooley, standing barefoot in black pants and a black t-shirt on his house's steps, appears perplexed, gesturing with his hand as if to say, what do you mean.
"With the kicking and all that, grabbing her by the chin," the deputy continues.
Cooley looks surprised. "I had cameras," he says.
"Would you be willing to show us?" The deputy asks him.
"I'd entertain it," he says. "Where's all this coming from?"
The deputy speaks of the allegations from other people, who'd reported altercations going on at the store, and of bruising seen on Kenna that's consistent with abuse.
Cooley acknowledges arguments about inventory and job performance. "It's all business," Cooley says, shaking his head no when the deputy asks him if he'd at any time struck Kenna. He gives the same answer about that morning or the night before. The deputy asks him about the bruising on Kenna.
"And she's saying that from me?" Cooley asks. 
"That's correct."
"She's entitled to say that," Cooley says. "We have been arguing a lot. We have not been getting along. We get in each other's faces. We don't cross lines." He speaks of living with her off and on over the years, but repeats that there's just been "a lot of arguing."
At that point the deputy tells him he's being placed under arrest for battery. The deputies allow him to go back inside to collect a few things and care for the dogs, who had been barking all the while. Before Cooley goes in, one of the deputies asks him about a mark on his neck. "That's from the dog," Cooley says.
Moments later–according to Florida law body cam footage may be censored inside an individual's residence absent the individual's permission for the footage to be released–Cooley is walking toward the deputy's car, where he is soon handcuffed behind his back and placed in back of the patrol car. The deputy tells him he'll be out of the jail by morning: all individuals facing a domestic battery charge must spend the night in jail awaiting first appearance before a judge, done by video link to the courthouse. Cooley is fully cooperative and courteous, the tone of his voice identical to the even, controlled tone he uses when he used to address the County Commission before his election–and since his election, when he speaks on any topic from the dais.
Cooley is aware that he won't be able to have contact with Kenna. He speaks with the deputies about trying to figure out how to deal with the no-contact order and still be able to work the next day. "She's the key to the operation" he says of Kenna at the store. He wants to make sure he can make calls to "at least keep the business open."
The second deputy explains to him the process of getting booked and how to set aside the phone numbers he needs to call, suggesting to him to wait until his first appearance before a judge before making contact with people, "because you only get one free phone call to each number," the deputy tells him. 
"The problem is we have a volatile situation where I don't know what to expect from her," Cooley says. "And she's the gatekeeper to everything. I know I'm not supposed to talk to her and I respect that, it's–I hate saying it but it's almost essential because I have to get some questions answered about the business and everything."
"You've got a business to run, I got you."
"The personal stuff, I'm not concerned about that, it's just I've got the dogs and the household, and I don't know what to expect from her because they're her own unpredictable behavior," Cooley says.
The video ends.
A pre-trial conference is scheduled before County Judge Melissa Moore-Stens on Aug. 29.