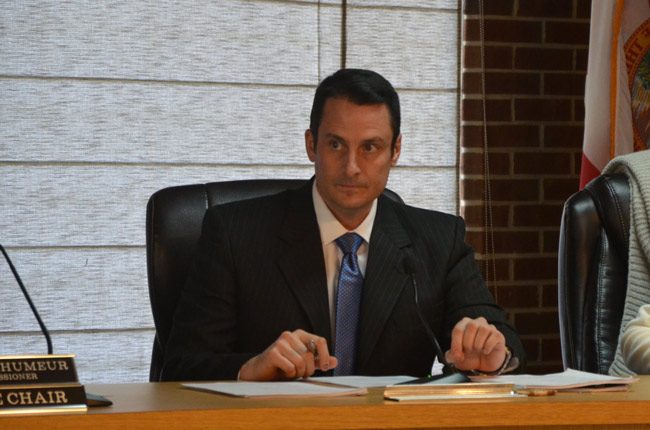 Flagler Beach Commissioner Eric Cooley hadn't been seated more than a few minutes at the beginning of this evening's meeting–his first commission appearance since his arrest on a domestic battery charge almost two weeks ago–when David Frank, a resident of South Central Avenue posed a question.
"What are your plans as a group in light of the charge brought against Mr. Cooley as far as disciplinary action or what's going to go on with this," David Frank asked.
"This isn't the venue for that," Commission Chairman Rick Belhumeur said, stumbling over a couple of sentences before saying he'd defer to the city attorney, who said he knew "very little about it except that it exists as a charge."
The attorney specified it was a misdemeanor charge. "The reason that's significant is because if action were to be taken officially it would be through the governor's office, and that only happens if there's a felony issue," the attorney said. "That's not the case. I don't think it will be, but you're free to write to the governor and ask what you'd like." As a body, the commission is "limited" as to what it can do, the attorney continued, with either the charter or a recall signaling the potential steps. Other attorneys would have to advise Frank, the city attorney said. But commissioners don't have authority "to discipline one another."
In 2015 Commissioner Marshall Shupe publicly upbraided a fellow-commissioner during a commission meeting over a controversy unrelated to commission business. "We must realize that what we say and do reflects on the city as a whole," Shupe said at the time, referring to statements the other commissioner had spoken outside the commission chambers, related to an ongoing criminal case then. "Maybe we as an elective body needs to censure any positions so that it doesn't portray the city or any residents in a negative light," he'd said.
Supervisor of Elections Kaiti Lenhart said late last week that she'd received "a couple" of calls from residents inquiring about the recall process in Flagler Beach. She referred them to the city clerk.
Cooley was arrested on June 29 when a store employee alleged he'd kicked and grabbed Suzanne Kenna, a store employee who shared a house with Cooley. Cooley was released from the county jail on his own recognizance.
Cooley, for his part, took the occasion to make his first public statement since the arrest. "Just for clarification, there has been no charge filed as of this point, so that is all misinformation," he said. Cooley was referring to the State Attorney not filing a charging information. The Flagler County Sheriff's Office has, in fact, filed a charging affidavit, though it would have to be followed by the charging information for the prosecution phase of the case to go forward: domestic violence charges are often dropped when the party pressing the charge decides against it, or when the State Attorney finds insufficient evidence to pursue.
But the arrest is not erased, nor are the conditions pursuant to the arrest pending arraignment on July 31, including a no-contact order with the alleged victim. Cooley intends to enter a written not-guilty plea at the arraignment. He's asked not to appear in person.
"There is only an accusation made," Cooley continued, "and the other thing is that, you know, just informally, should charges get brought, and should the outcome of those charges be unfavorable, I'll be more than willing to entertain anything that you all as commissioners would like to do. But I'm not going to make any other statements other than that I don't see that happening."
Frank then, speaking directly to Cooley, referred to a "class-action lawsuit" being brought against 7-Eleven by Cooley's employees (Cooley owns the 7-Eleven on South Oceanshore Boulevard). Belhumeur stopped Frank, telling him to direct his comments to the chair. Frank then immediately moved to a different issue.
Cooley has retained Josh Davis, a former assistant state attorney and now a scrapping defense lawyer, as his counsel. Davis immediately moved to amend the no-contact order, as it would have prevented Cooley from working if Kenna was there, or living at the house: County Judge Melissa Moore-Stens granted the amended order on July 5, allowing Cooley to return home and work at Seven-Eleven, since Kenna "has left the area and is no longer employed at the 7-Eleven," according to Davis's motion. All other conditions of the court's pre-trial release order remain in effect.
At Thursday's meeting, which lasted less than an hour, Cooley spoke on two other occasions, once regarding sea turtles, and once to commend July 4 festivity organizers. The commission took no action on anything other than routine matters.