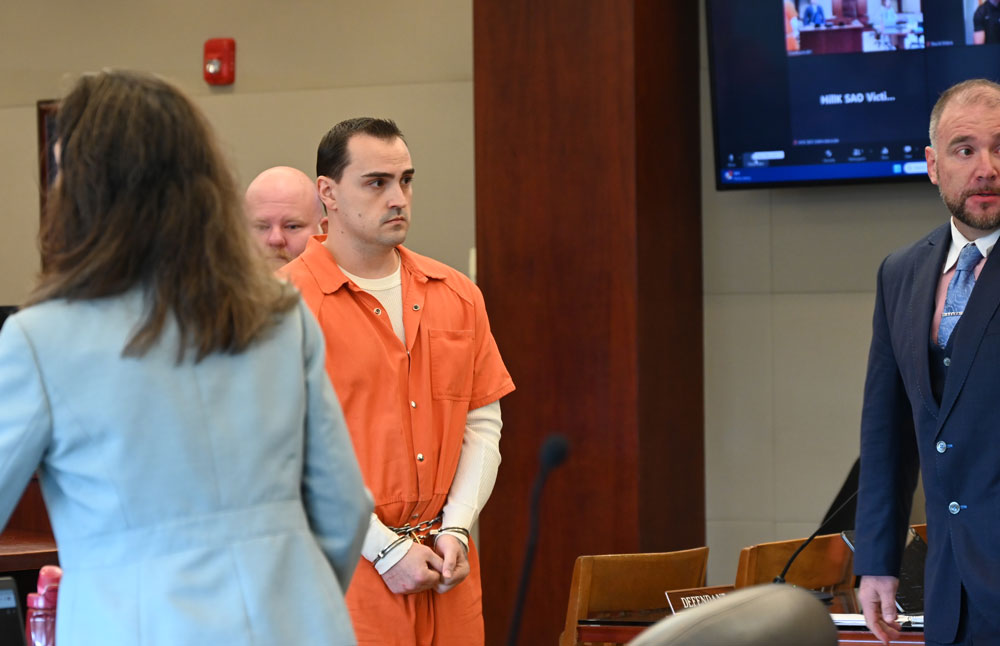 Around midnight last November 20, sheriff's deputies converged on Smiles Nite Club on Palm Harbor Village Way in Palm Coast after 30-year-old Connor Anderson, drunk, had armed himself with a gun, attacked and threatened a woman at the bar, wrestled with patrons and the bartender who tried to disarm him, pointed the gun at the bartender's head and fired a half dozen shots before escaping.
Anderson's attorney today described him as terrorizing the patrons. Somehow, no one was shot.




Sheriff's deputies apprehended Anderson shortly afterward in nearby woods. He's been at the Flagler County jail since, facing nine charges, eight of them felonies. His maximum penalty was 101 years in prison.
Today, Anderson was sentenced in an mostly agreed plea to eight years in prison on six of the counts, to be followed by five years on drug-offender probation. He was sentenced to additional, but concurrent, time on two other counts. The plea agreement had left the judge to decide prison time between five and 10 years. Anderson has almost a year's credit for time already served.
"Frankly, it's just luck that this wasn't a homicide case," Assistant State Attorney Melissa Clark said. "This was an extremely scary, extremely violent, fairly unnecessary episode in Mr. Anderson's life that could have resulted in the death of one or many people inside of this bar. And I think it's frankly just luck that that's not what occurred."




Clark argued for "more than just five years" in prison even as she commended Anderson's family for providing the support he needs to rehabilitate himself from a serious problem with alcohol. "Five is too light," she told the judge, even taking in account the testimonies of his family and friends, and his young children. "Those children existed when he did this," Clark said.
Aaron Delgado, Anderson's attorney, told the court he agreed with 95 percent of what Clark said–it was luck that nothing worse happened. He also agreed that punishment was the primary purpose of today's sentencing. Rehabilitation is second. Still, that support for rehabilitation, and Anderson's own willingness to stay in jail and sober up all these months rather than bond out, warranted the court going with the bottom of the guidelines.
"This is an extraordinary circumstance judge, and we ask you to do something extraordinary," Delgado said, referring, among other factors, to the fact that Anderson will have a job waiting for him upon release.
"We see a lot of things in the court system that defy understanding and this case has several elements of that," Circuit Judge Terence Perkins said before imposing the sentence. "So I certainly don't pretend that I understand all of it, and I don't understand why someone that is kind and loving, a great father, a great family, takes a loaded gun into a bar and shoots it six times."




Perkins said when he saw the case on paper he thought it was due 35 years in prison, day for day. But the morning's testimony mitigated his approach.
"I was not in the right state of mind, I don't remember the vast majority of it," Anderson told the court. "It's appalling. I can't even express myself." He described himself as disgusted with himself, and said it was his choice to remain in jail since then and get sober, the shooting having been a culmination of a grave problem with alcohol.
It was the first time that the bartender, David Ghiloni–who was awarded a sheriff's Lifesaving Award–described the incident in open court, doing so by Zoom (he has moved to New York). Almost two dozen friends and family members of Anderson's were in court, ready to lend support or testify to sway the judge toward a lesser sentence.
"The first shot occurred after my left hand was directly on the barrel, he shot it with my hand on there," Ghiloni said.




"After he fired that shot what did you do?" Assistant State Attorney Melissa Clark asked him.
"Kept my hand on the gun."
Anderson had been at the nearby bowling alley earlier with his girlfriend, where tensions began. The couple and friends then went to Smiles. Anderson attacked 27-year-old Brittany Cartier–not his girlfriend–unprovoked as she sat at the bar, grabbing her neck, with a gun in his other hand, then violently pulling her from her seat in a headlock before Ghiloni jumped over the bar and with other patrons wrestled Anderson away from the woman and against a wall.
Several people briefly gathered around as Ghiloni and another man continued to struggle, taking him down. He freed himself and fired the gun several more times before running out. Ghiloni and others were still in the bar when he fired more rounds. Six 9mm shell casings were found in the bar.
When Clark asked Ghiloni what sort of sentence he thought should be imposed, Ghiloni said: "I believe that that decision is entirely up to the court and you guys, for sure."
"I would like to apologize to David especially. I've known him, I consider him a friend," Anderson told the court.
"So you basically terrorized people that you knew," Delgado told him.
"Yes," Anderson said.




Delgado had also filed 10 character-witness letters on behalf of Anderson, along with a confidential medical report intended to mitigate the sentence.
"There's an army of people in the courtroom that are here to speak on Mr. Anderson's behalf," Delgado told Perkins.
Some wanted to add to their letter by addressing the court in person, describing a man entirely different from the violent man at Smiles, though not with a recurring theme: alcohol had undone Anderson to such a point that his family opted to leave him in jail since last November so he could sober up. (He was held initially on $542,000 bond, later reduced to $225,000.)
Ronald Steadman, a friend of 11 years who considers him as close as a brother, said Anderson "has a good heart," and that he knew "for a fact that what was done that night is not him. It is not. He is a good man, a father. He was going to be the best man at my wedding." Steadman was at the bar that night, but had left before the incident. He said he had himself been sober two years. "I can speak for myself that I've had a lot of bad things happen in my life due to alcohol," he said, speaking to the benefits that treatment could accomplish for Anderson.




Kyle Anderson, Connor's younger brother, also spoke, and described a profound change Connor experienced after he went to the military. He had also suffered what Delgado described as "a traumatic brain injury" from a vehicle crash. "Alcohol was a way out," his brother said. (Delgado described the crash as a DUI–driving under the influence. It led to Anderson's discharge from the military.)
"He loves his daughters, he loves his family," his brother said, his voice breaking.
Tara Smith, his older sister by 21 years, had traveled from Virginia for the sentencing. She was already crying when she walked up to the lectern. "It just hardened him, it changed his whole thought process," she said of Anderson's time in the military, with "recklessness" setting in after his vehicle crash. "He didn't think the way he should think," she said, before describing the Smiles incident as a "horrible, horrible mistake."
Joseph Merrill, the owner of a local construction company that employed Anderson for four years, told the court he was willing to keep the job open for a man considered to have been "an excellent employee" as a diesel mechanic who world in the company shop and carried out anything that was asked.

Disclosure: Aaron Delgado is a member of FlaglerLive's Board of Directors. There was no contact or mention of this case at any point in its evolution, including today, between Delgado and FlaglerLive.